When we decided to homeschool kindergarten, I knew we would have homeschool expenses. But, I didn't know how much I'd spent until I added it up and wrote this post! So how much does it cost to homeschool kindergarten (or elementary aged kids)?
You're going to find it can vary a ton and I'll show you why! I know people who spend almost nothing, and people who spend way more than me! Ultimately, you will need to figure out what your family can afford and go from there.
I'll break down our curriculum expenses and hidden costs for you to get an idea of how much money you may have to spend if you homeschool. Good news is when you homeschool multiple kids there are fewer expenses per kid due to shared costs and hand me down curriculums.
While money is a big consideration for homeschooling families living on one income, it's not the only thing to consider. Plus, you will be avoiding certain public school expenses like constant fundraisers, teacher gifts, and more. Here's my big list of pros and cons of homeschooling that helped me weigh if it was right for our family.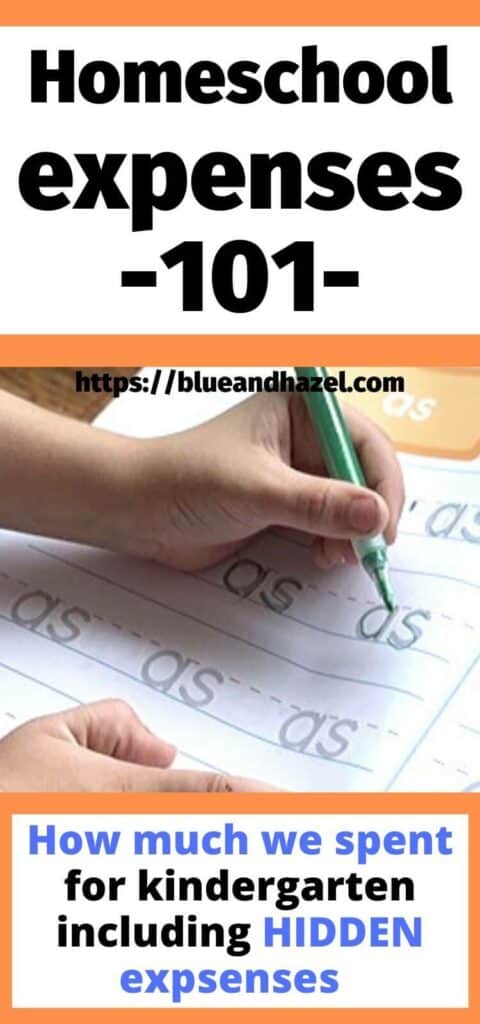 More homeschooling posts you may enjoy
How to homeschool preschool: Getting started
Review of Busy Toddler's Playing Preschool 190 days of hands on learning activities
How to reduce screen time and get your kids to play again
Why boredom is good for your kids and how to respond to "Mom I'm bored"
Typical homeschool expenses
Here are general categories we spend money on homeschooling kindergarten.
Curriculum (largest expense)
HSLDA Fees for legal protection (optional)
Cover School Fees (depends on your state)
Memberships to zoo/science center/etc. (optional)
Field trips (gas)
School/Art supplies
Home library books (optional)
Organization (filing/shelving/homeschool storage)
How much does homeschool curriculum cost?
This is likely to be your largest expense. For us, this meant purchasing curriculum for reading, writing, and math for kindergarten.
There are some inexpensive options, with the cheapest being a well known FREE online curriculum called Easy Peasy Homeschool. And then there are some VERY expensive options, (especially if you buy all the recommended reading books new) such as Sonlight's full kindergarten curriculum at just over $600. You'll probably be somewhere in the middle.
What we purchased for reading
Teach Your Child To Read In 100 Easy Lessons.
Cost: Usually under $20 (depending where you buy it). It's also available at our library but I prefer to own it. After that, we simply rent from the library and read out loud, which is free! My son also reads a lot to himself now.
What we purchased for writing
The Good and The Beautiful Handwriting has amazing bound handwriting books.
Cost: $13 each. I bought the pre-k doodle book, and the level k book.
Kumon reusable write and wipe lowercase flashcards (price varies on Amazon)
What we purchased for math
The Good And The Beautiful Level K
Cost: $117.40
The good news is that if you end up liking and using the same curriculum for more than one kid, you'll save a lot of money! But, one of the benefits of homeschooling is choosing a curriculum that works best for your kid. Which sometimes means "curriculum hopping" until you find one that your kid responds well to.
What we purchased for studying nature
Exploring Nature With Children by Raising Little Shoots: $18
Blank nature Journals: $10
Hidden Costs of Homeschooling You Might Not Think Of
I knew I'd be spending money on curriculum, but here are a few less obvious areas you may spend money on.
Co-op Fees
My co-op Fees: $244/year
I am part of a brand new small nature co-op run by a few moms in the area. We meet between a few people's homes, and hire an art teacher and babysitter for kids under age 4.
Classical Conversations: $540 or more/year per kid + required books. We do not do this, but many homeschoolers I know are part of a co cop called Classical Conversations. These are based all over the United States. It's a one day a week Christian based co-op from K-high school, and it is a chunk of change! While not as expensive as private school by any means, you will be looking at around $540 per child per year in tuition and fees, plus required books (can be around $200). Here is a detailed breakdown of the cost for 2020-2021 school year.
HSLDA fees
To be a member of the Homeschool Legal Defense Association, it will cost $130/year. That's for the whole family. Pastors & missionaries get a $15 discount.
If you can afford it, it's just such peace of mind knowing that they will fight for your legal rights to homeschool should you need it.
Cover School Fees
Depending on what your state requires, you may have to homeschool underneath an "umbrella school". The cover school turns in records to the state for you. Some cover schools are very hands off and literally just require you to submit attendance/grades/whatever is required by the state. Others have more activities and requirements.
I went with the least expensive one in my area, and spent $125 for one child for the year. This will increase with 2 kids.
Cost of membership Fees
This may be unfair to add under homeschool expenses, because likely you would do memberships to places even if you didn't homeschool! If the money's there, it's easy for me to justify spending it "because we're homeschooling"!
Science center fee: $110/year
Zoo pass: $250-350/year depending on the pass type (skipped that this year)
1 month membership to a trampoline park: $40
Cost of field trips & gas
On average, I figure I spend about an extra $50 of gas/month now that we homeschool.
If you're a big homebody or not part of a co-op, you'll save money!
I drive 30 minutes each way about 2-3 times per week. Once to our co-op, once to Bible study fellowship with the kids, and usually another day for a nature outing or to visit someone (the homeschool crowd can be sprawled out ya'll!)
In addition to gas are small fees. Many places we visit have entrance fees around $10 for myself and the kids (national parks mostly). And then there's the occasional drive through that happens on the way home.
We definitely saved money when we used to be a one car family. I just stayed home all the time. Life was slower. And I may want to get back to that pace a little more…but we are figuring it out as we go.
Cost of art supplies
I'm not an artsy mama, but man my little one is and she makes me want to buy all the things! It all gets used and I can't imagine a better use of homeschool money honestly! Creating something from nothing is like gold to me. We buy paints, brushes, paper, marker sets, more marker sets, coloring books, Do-A-Dots, and more.
Yearly estimate: $100
Cost of homeschool organization
We don't have a homeschool room. I don't feel I need one yet. However, it is wise to find a place for all the library books, art supplies, and curriculum. Otherwise you will end up despising your space. This year, I bought my first rolling cart. Best. Decision. Ever! I may want two!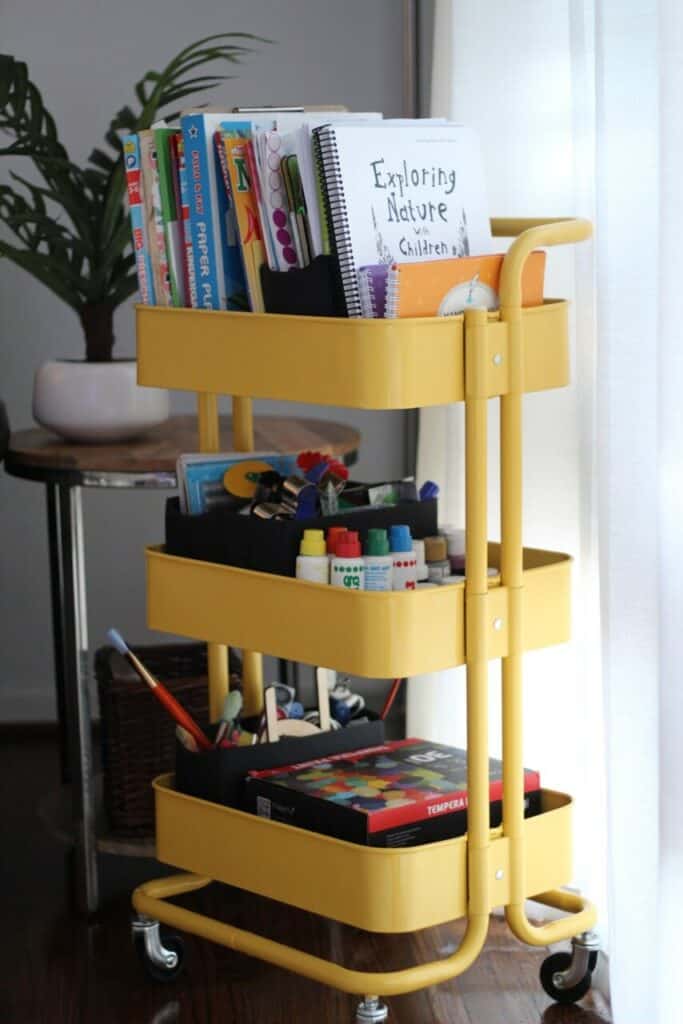 Another thing to keep you organized you may want is a homeschool planner. Those can be anywhere from $10-$50.
Total cost to get organized: $60
Cost of adding to your homeschool library
This expense can be a lot or a little! My cost for books this year: $0. But it could easily be $200 for just a few solid read aloud books, children's books, and nature books. Used is always better!
We are so lucky that we live 5 minutes drive from our library. We visit here once a week, and have any book at our fingertips. For now, I've chosen not to buy books.
Yes, someday I dream of having a gorgeous library filled with all our favorites. But my husband is in residency. We have 1-2 moves ahead of us in the next 3 years. And not spending money on books right now is a way to simplify my life.
Cost of homeschool conventions
On a tight budget, this is easy to ditch. I personally have no interest in attending one of these, but many do! I'm aware of the Wild & Free homeschool convention and The Good And The Beautiful does them too.
Think registration costs, hotel costs, food, and gas.
So how much did it cost us to homeschool kindergarten?
After adding in all of the things above that we spend money on, my grand total came to $1,287 for the year. WOW.
First thought…that seems like a LOT to me. Especially since I factored in that $400 of that is gas just going extra places. But…I guess at this point it's a priority to me to have a homeschool support group. Which means driving. It's important for me that my kids get outside and explore new places. But, I could cut the gas expense if needed.
My next thought is how much of this would I be spending anyway if we didn't homeschool? Or a better question, how much additional money is homeschool costing us? Well, here's what I'd say for this year:
Curriculum total: $200 ish
Co-op fees: $244
Cover school fees: $125
Art & craft supplies: $100
Homeschool cart & planner: $60
Total cost $735 not including gas, or membership fees which I'd probably buy anyway.
If I cut the co-op next year, and didn't have to purchase as many art supplies or a cart next year it may be as low as $375 for my oldest who will be in 1st, and about $200 with my middle child who will be in kindergarten (because she can reuse some of our curriculum). But then I'll probably be starting to pay the $130 HSLDA fee next year, so there's that.
Bottom line, homeschooling does cost money. And hopefully this will give you a rough outline to prepare your budget for a little jolt. Also, be sure to look into if your state provides homeschoolers with money! Mine doesn't, but some states do!
Homeschooling multiple kids is way more cost effective per kid than homeschooling just one
The good news is I won't have to double costs having a kindergartener and a first grader. My gas bill won't double. I won't double the amount of art supplies. The science center fees include the whole family. And the younger kids will reuse many of the curriculum books and math manipulative pieces.
Expenses that will go up homeschooling 2 kids:
New curriculum
Homeschool co-op fees may change
Additional cover school fee for another kid
Share your homeschool expenses with me!
I would love it if you would leave a comment with any homeschool expenses you have, or ways you've been able to find used curriculum and be more frugal!