I'd been eyeballing Night Zookeeper for a while before using it, but to be honest it seemed like a complete mystery to me. Cartoons? How would it help my then 2nd grader who avoided creative writing like the plague? Why did people seem to like it? How would we manage the extra screen time between 2 kids using the program? I'll answer all these and more in this Night Zookeeper review.
We began using it last year at the end of 1st and 2nd grade, and picked it back up in the middle of 2nd and 3rd grade.
While I initially tried it for one month as a partnership with Night Zookeeper (you can watch my YouTube video here), my kids liked it enough that I bought one year's access with my own money. It's a pretty unique writing and language arts program but also has it's own set of flaws to be aware of.
If you've heard of Night Zookeeper but have more questions than answers, this post is for you.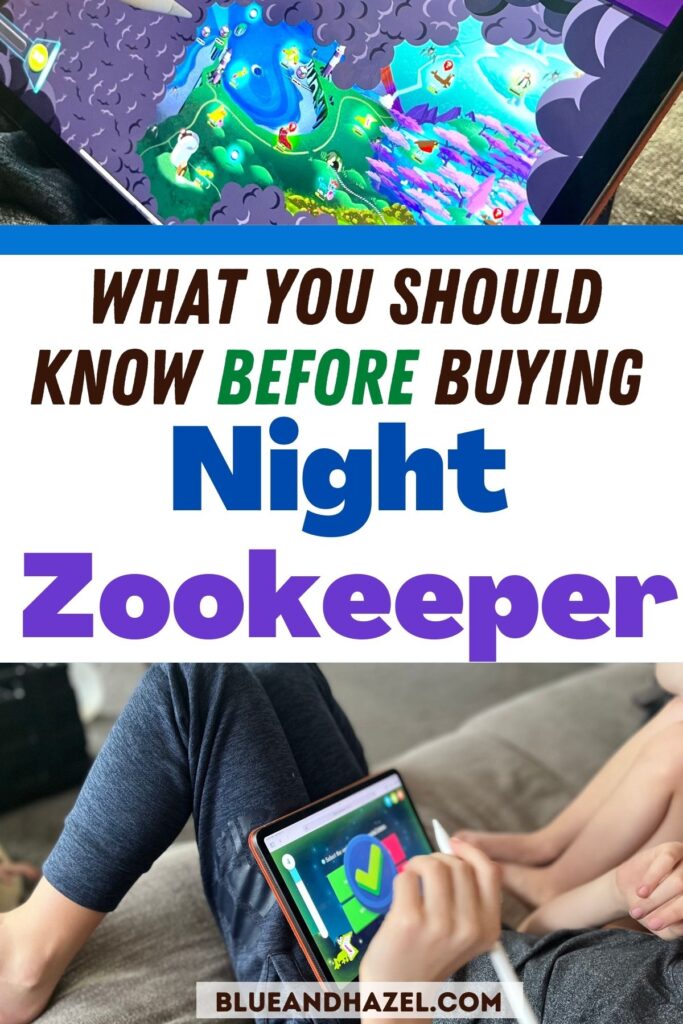 Check out:
This post contains affiliate links. If you buy through them I may receive a small commission at no cost to you.
What is Night Zookeeper?
Night Zookeeper is an online "game-ified" creative writing platform that helps kids write their own stories in the Night Zoo.
It also has learning games focusing on spelling and grammar that are adjustable by grade level in the parent dashbaord so it's easy to make them harder or easier.
Kids can choose to spend their time more on the learning games, or making new animals for the zoo which requires them to write about their animals. As they complete challenges and writing pieces, they get rewards to use in the Night Zoo that help them uncover the cloudy areas and "explore" the Night Zoo.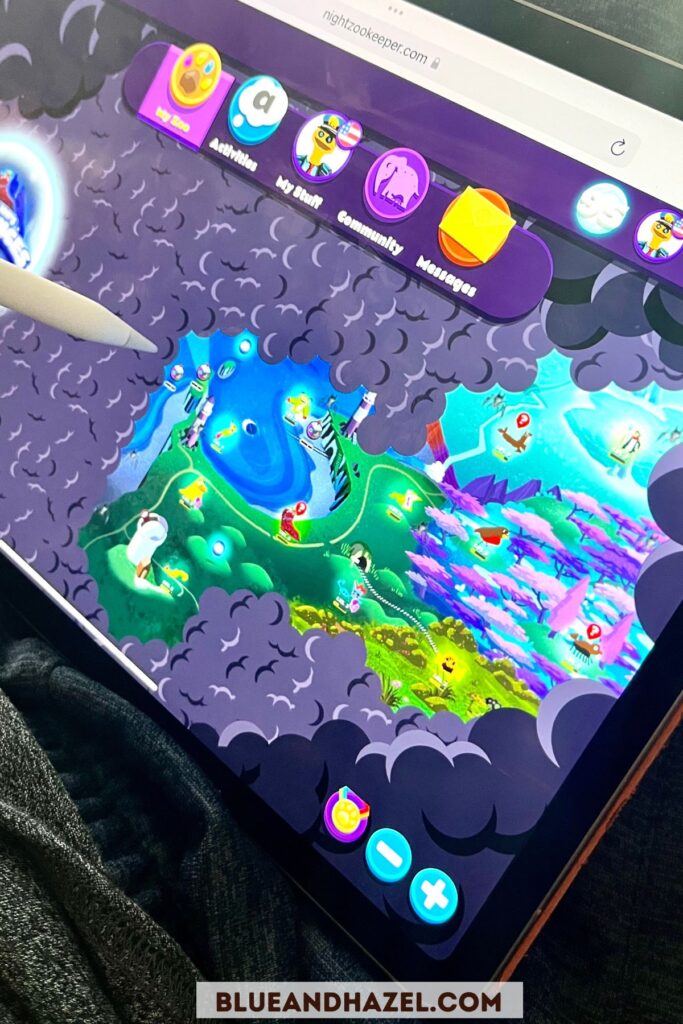 One of my kids tends to favor the games and challenges more, where's my other kid seems to enjoy writing detailed short stories about his characters. So they are getting different experiences on this platform.
A big part of the writing feature is feedback from the writing tutors. They respond to every story your child finishes about their zoo animal. There's always:
A compliment on their story or writing
A suggestion for improvement
It's often pointing out a wrong spelling word or asking a question to get them to further describe something in their writing. Then they can either update it, or not. The motivation to edit is that a reward is offered in the game if you resubmit with improvements.
There's no set "path" to get through the program
Unlike my son's favorite video game Zelda, there's no start and finish with Night Zookeeper.
Kids can wander around the ever growing Night Zoo, make new animals and write stories about them, or go to other areas in the menu like the word games. However it does keep track of what they get right and wrong to help the program get progressively harder within their level.
For example a 6 year old might be given challenges asking them to use capital letters correctly, my 7 year old might be asked to pick the word that makes the most sense in a sentence, and my 9 year old might be asked to spell words in a game.
Here's an example of scrambled words that my 3rd grade son put in order.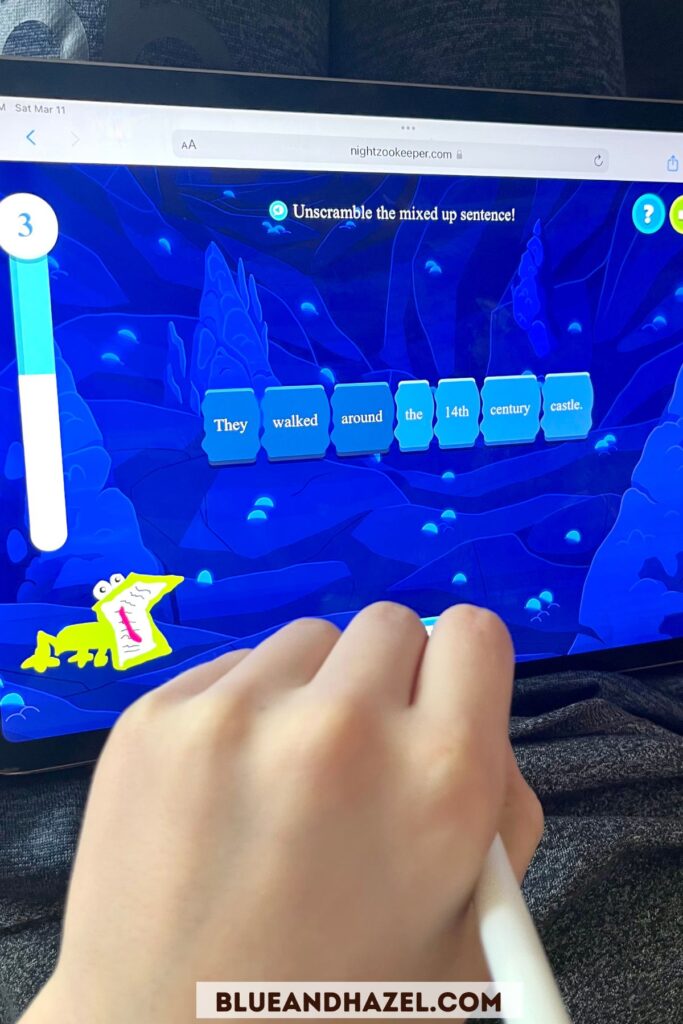 For the best "visual" of the platform, check out this parent guide pdf. You can also watch my review below after 1 month of using it with my 1st and 2nd grader.
How will my kids write stories on Night Zookeeper if they can't type?
For the writing area, you can type for them, or they can use the keyboard to chicken peck.
We haven't used any typing program yet so my kids use the voice to text a lot, and go back to edit words that it gets gets wrong. But this has allowed me to be fairly "hands off" which I like.
Personally, if I'm going to use gaming for school, I want it to be hands off as possible, which is why I'm not a fan of using this with my almost 6 year old 3rd child. He benefits more from being read to and learning how to read than anything in Night Zookeeper.
How we've used Night Zookeeper in our homeschool
As for homeschooling, we've using Night Zookeeper two ways: Exclusively for 1 month, and as a supplement alongside our other curriculum throughout the year. I prefer it as a fun supplement.
Using ONLY Night Zookeeper for language arts curriculum for 1 month:
We paused our Brave Writer Darts for a month and instead let the kids play on this an hour a day or so each. This really let me watch them learn the platform. I think small doses of this would actually get frustrating…like they barely had time to do much. (Say if you were to limit it to 30 minutes.)
I began to see how it worked, and saw a lot of learning happening. Things like:
reading directions (there is an option for non-readers to press the audio button (which has a British accent)
identifying things in games like adjectives, spelling, verbs, etc
reminders about capitals and punctuation
putting a bunch of jumbled up words into a sentence
finding letters on a keyboard
adding detail to their stories
Editing stories (for game rewards)
Once my free month went away after partnering with Night Zookeeper I didn't renew for a while. The kids (my 1st grade daughter especially) kept asking me to renew but I waited.
Instead we focused on some hands on Writing Projects great for 1st and 2nd grade. Things like labeling pictures, writing lists, mini books, and Star Wars Mad Libs.
There's something about hands on writing projects (even if I'm scribing for them partially) that can't be replaced by Night Zookeeper.
We also dabbled more in Jot It Down which is Brave Writer's creative writing projects for kids 5-8 ish.
Thennnn we had a 4th baby, and prepared for a cross country move.
Fast forward about 6 months later I purchased Night Zoo for the year at 50% off, and now it's more of a fun supplement for language arts.
We are pretty eclectic and pull from Brave Writer Darts and Partnership Writing, Night Zookeeper on occasion, and All About Spelling.
Challenges using Night Zookeeper
What I've found is that when allowed to play video games OR Night Zookeeper, my kids don't choose Night Zookeeper. Not surprised!
Instead, we have to reserve days where we don't allow other screen time and instead let them do Night Zookeeper so there's no competition. Maybe once or twice a week.
Another challenge is that since they can choose to write or do grammar games, they don't usually choose both. One of my kids prefers the games and challenges while the other prefers writing details about his critters. But I'm happy for them to get more of what they like in a fun way, I just don't feel comfortable with relying on it to teach my kids everything.
Lastly, I just seriously LOVE using the Dart literature guides with my kids and couldn't ditch it for Night Zookeeper. That's why I prefer it as a reinforcement, as it's very fun and colorful and video game like.
Here's a YouTube update on the Dart and how we use them. The way we learn grammar family style while reading awesome books together is one of the highlights of our homeschool for me.
Is this a safe platform for kids without parents watching?
I feel like this is a very safe platform to let the kids use. Even though kids can comment on other kids stories, every comment is moderated before it's approved.
Also, very important to me is that there's no live chat feature.
What age kids can use it?
It's best for ages 6-12.
However, my almost 6 year old tried it (I made him his own profile with activities tailored for 6 year olds) and it was just too much.
He wasn't able to figure out how to use the features (independent of me) and I feel at his age it's pretty unnecessary.
How learning games and shows have taken some of the pressure off of me teaching everything
We are definitely a tech family, even though I often have to pause and do some screen time breaks.
When it comes to "learning games" and "learning shows", I feel they engage my kids so much better than I could (without me teaching or it feeling like "school")!
Plus, I like knowing that they are learning engaging their brains and learning new things without me having to spoon feed curriculum to them. It's a more natural, enjoyable way of learning in some ways! Low pressure and a break for me.
Things we've dabbled in the last couple years:
Wordscapes app (spelling)
Wild Kratts (Amazon prime)
StoryBots
Outdoor Boys YouTube channel (camping and adventures)
Primal Survivor on Disney +
Bear Grylls (survival DVD's)
But adding in tech time to an already full "tech" allowance means making a new plan.
Two ways we've handled screen time while using Night Zookeeper
Only Using Night Zoo
When we first tried Night Zoo, I wasn't sure how we'd add in screen time with my then 1st and 2nd grader. I decided to pause other games for a month to just do NIght Zookeeper…and honestly that worked really well. It kind of elevated Night Zookeeper as a "treat" because it was their only game.
I gave each kid around an hour to play each session. We didn't use it every day, but most days. I think initially there's pressure to see if you like it enough to buy it…which means using it a LOT to get the feel of the program.
That's one suggestion I have to improve Night Zookeeper…increase the free trial period so parents can better get a feel of what's inside.
It wasn't sustainable for our home though. The kids really wanted to play some other iPad games but I couldn't justify so much screen time.
Alternating Night Zookeeper and Other video games
This is how we currently do it.
I reserve some days each week where we don't have other electronic games. The kids know those days we can do Night Zookeeper since it's an "educational game" and it doesn't add too much daily game time in that way.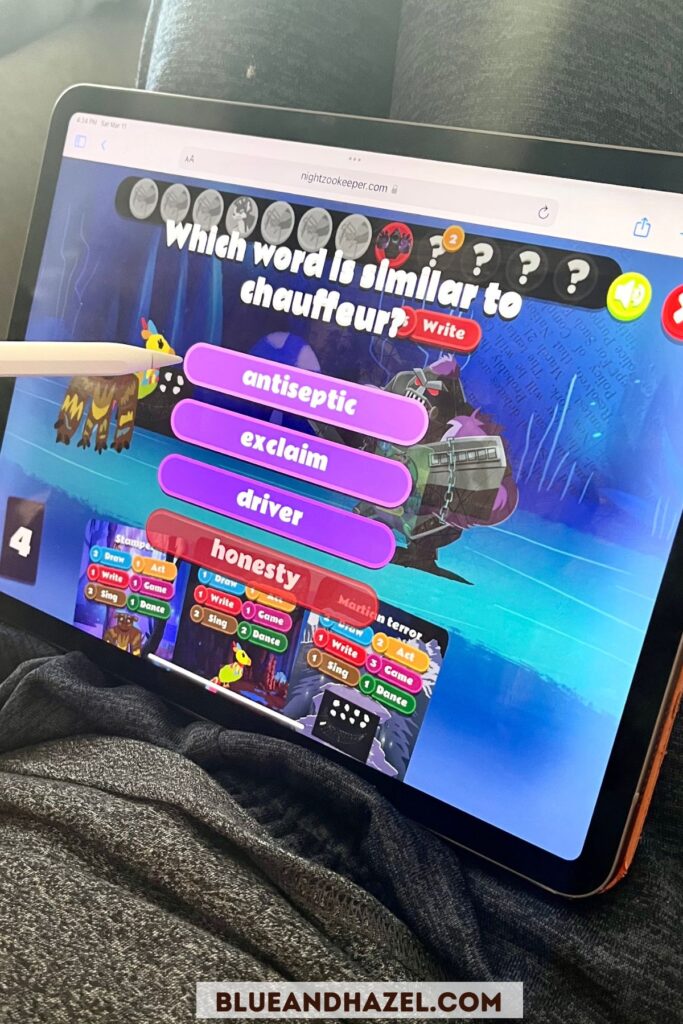 I've found this to be necessary do it this way if we are going to have other sources of gaming in our home because simply put…they never choose Night Zookeeper over other video games. Makes sense to me…they have to use their brains more.
But when it's the only "treat" they play it and enjoy it!
Why I don't recommend using this as a complete language arts program
You can 100% use this as your language arts program, but I don't think that I'd like that in our homeschool. A few reasons:
My kids don't tend to use the writing parts as much as the gaming/grammar parts.
I really prefer our literature based language arts program…we use Brave Writer Darts for books and grammar, and Partnership Writing for creative writing projects. Night Zookeeper is more of a gamified way to reinforce grammar, and my son actually writes stories (about his characters in the Night Zoo) which is not something he's doing in Partnership Writing.
Beware that the voiceovers have British accents
One thing that is very noticeable (but not necessarily an issue) is the voiceover is British. Some words are hard to understand at first, but I don't think it's a big issue. And you'll only hear this if you press button for it to read to you. Otherwise, it's just text on the screen.
Two kids can play on different devices at the same time
One question I had was if my two kids could both be logged into their separate child profiles and playing simultaneously.
YES!
One was on an iPad, and the other next to her on my Mac. They were both logged into their indiviual profiles on different levels of difficulty. I'm so glad to have discovered this because I can have a "quiet time" with Night Zookeeper for them both at the same time.
Don't be afraid to level down in the parent dashboard
I think Night Zookeeper is a bit advanced for our family, and I've had to level down my 2nd grade daughter to the 6-7 age range instead of the 8 year old age range. We don't do a rigorous approach for language arts in the early years…so there's just some gaps in knowlege and spelling that they have to learn as they play.
I like that Night Zookeeper works on those gaps in a video game like way! It's not drill and kill to them like a worksheet.
The main thing I've noticed being hard for her is vocabulary. Some of the words it'll ask her to find similes for or to spell are just way beyond where' she's at. I'm not planning to start any formal spelling with my 2nd kiddo till 3rd grade, same as we've done with my oldest using All About Spelling.
I'm 100% ok we level down in the game! Don't panic if your kids are "behind" and frustrate them with a level that's just too hard. Level down, and let this program work it's magic. My kids are seeing new words, sounding out/reading the subtitles, and self correcting when they get answers wrong.
There are things we haven't covered or quite frankly things they just don't remember. Antonyms were my 3rd grader's puzzling thing this week and I think now he knows they are opposites!
How much does it cost? (Get 50% off with the link)
With this 50% offer for a year of NIght Zookeeper, (no coupon needed) you'll get a free 7 day trial and then be charged $59.99 for one year for one child. You'll get that same rate each year, and can track all that in your account dashboard.
I needed it for 2 kids, which increased yearly for me to $69.75 for up to 3 kids. I think it's a pretty great deal so long as we continue to use this. If my kids lose interest in it, then we'll probably call it quits.