We just finished our second cross country move for medical training, and man it's not cheap. We sold most our furniature, packed and loaded our 3 bedroom home ourselves, shipped our stuff, shipped one vehicle, and drove across the country with kids for about 10 days. I've added up all our expenses, mainly to satisfy my curiosity of how much a cross country move REALLY costs for everything. Curious? Read on!
We had heard numbers from other resident families in the ballpark of $10,000 to $15,000 (for everything), and sadly we found that to be about spot on.
There are so many ways to make that number go up, and it's hard to make it come down. I'll share our exact numbers and what we spent money on so you can have a starting point while planning.
I'll also briefly share our experience using U-pack and Mr. Car Shipper, both of which I highly recommend!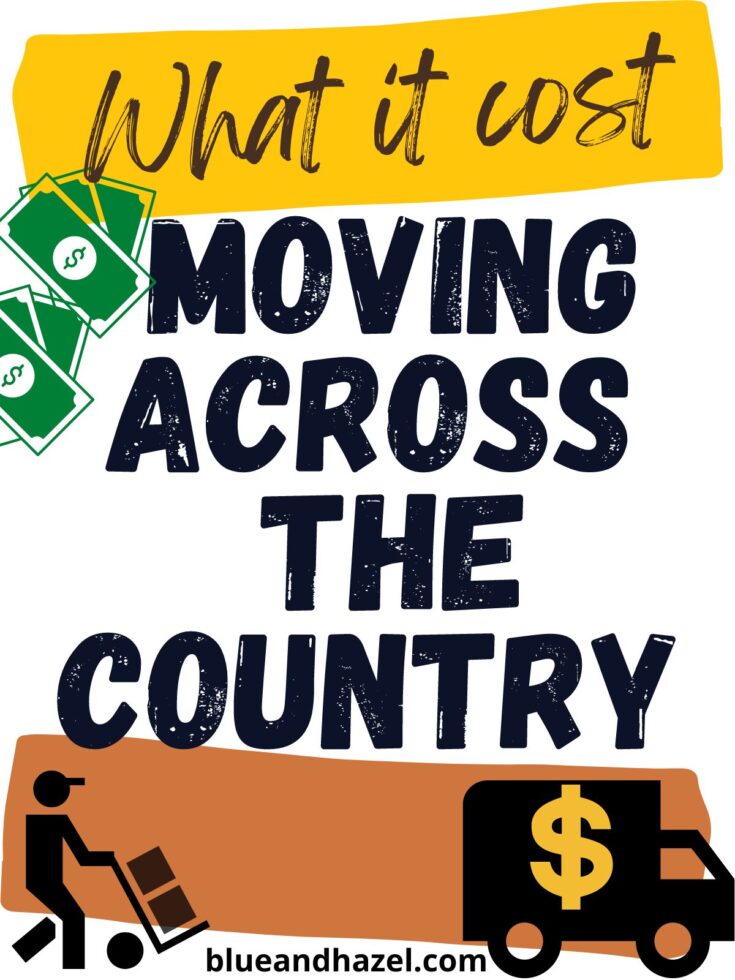 Major categories we spent money on to move cross country
Moving truck via U-pack
Shipping one minivan via Mr. Car Shipper
Moving boxes/supplies
Gas
Hotels
Food
Ways we saved money on our move
I'm honestly not sure how we could have done this for much cheaper unless we sold one van and almost all our possessions. We packed ourselves. We didn't hire movers. Instead, a few dear friends stepped up big time to help load. And unload.
We shipped our stuff for us so we didn't have to haul it ourselves. I really wanted to do a road trip, and not have the burden of towing a huge truck. We found this was not only most convenient, but also the cheapest way to go with gas nearing $5 a gallon.
We got all of our moving boxes free. People post free boxes often on neighborhood Facebook pages, and Chic Filet will also give you as many of their big boxes as you ask for, FYI!
We stayed with as many old friends as would have us on the way home, and planned our route partially around that. This saved us about 5 nights of hotels, or approximately $1000 total (the price of 5 nights at a Holiday Inn Express).
Here's a great article explaining common moving expenses and average prices for moving based on house size in 2022.
How much it cost to ship our belongings using an ABF shipping container through U-Pack
Total Cost: $4,663 for 11 feet of trailer space.
To get a cost estimate, there's a calculator online. We put in where we were moving to, where we were moving from, dates, and how many bedrooms in our home.
We were moving a 3 bedroom house, but didn't end up bringing any furniture besides our kitchen table and 3 large beds.
Our home had 3 rooms. They estimated 13 feet of trailer space for that. The quote they gave us was $4,844.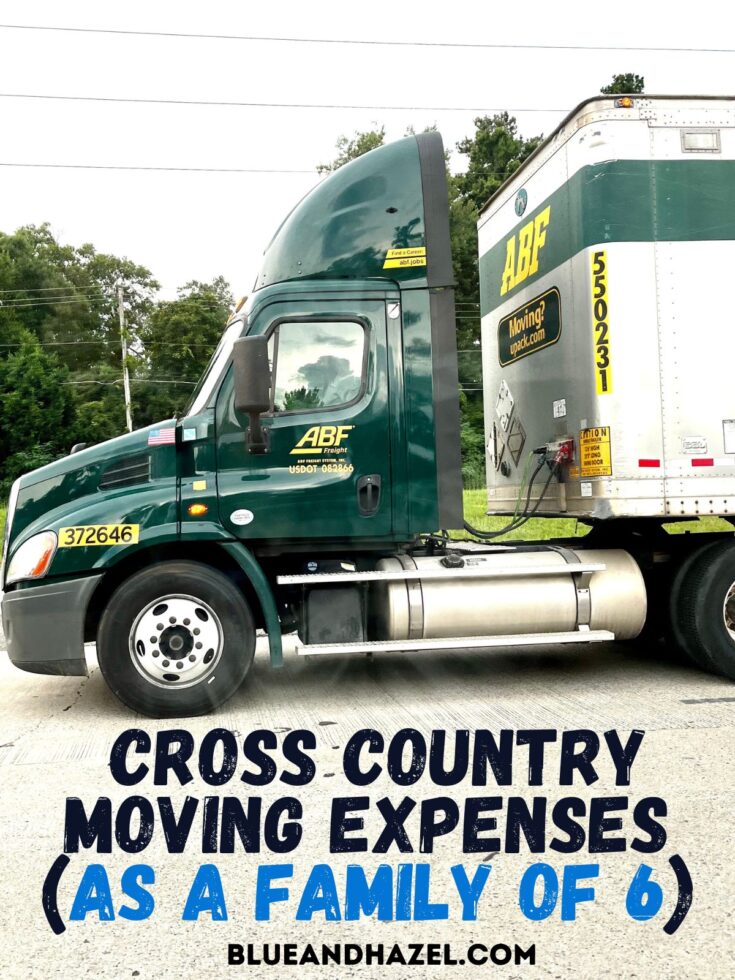 What's the minimum and maximum price using a U-Pack trailer?
While you can save money per foot of space you don't use, the minimum amount we could have been charged was $4,120 (or 5 feet of trailer space).
The maximum charge for the entire 28 foot trailer would have been $6,386.
This is summer of 2022 pricing.
So while it's a worthy goal to take less and stack boxes perfectly to the ceiling, we decided that a few hundred dollars wasn't worth stressing over the perfect "tetris" arrangement…especially at the end with things that don't stack like a lawn mower and bikes.
Why we chose ABF shipping via U-Pack
Of all the quotes I got for shipping pods and trucks, a U-Pack truck was the cheapest. Specifically their truck option, not their pod option.
We had a good experience using them our last move.
They deliver an empty trailer to your home and you have 3 days or so to fill it as full as you need.
They drive it to your new home, so you don't have to!
love that we could pick a date to have it delivered on the other side too, which gave us plenty of time to take a slow cross country vacation home.
Get your own U-Pack quote instantly emailed to you here.
For starters, you pay a base fee around $4,000 for 5 feet of space, and then it's about $100 per foot of space you use in the truck after that. (So you'll want to stack all the way to the ceiling, though this would be tricky if you are not very tall!)
You put up a wooden divider once all your stuff is in. This is to separate your stuff from freight they will add, which is what keeps your cost for the truck low.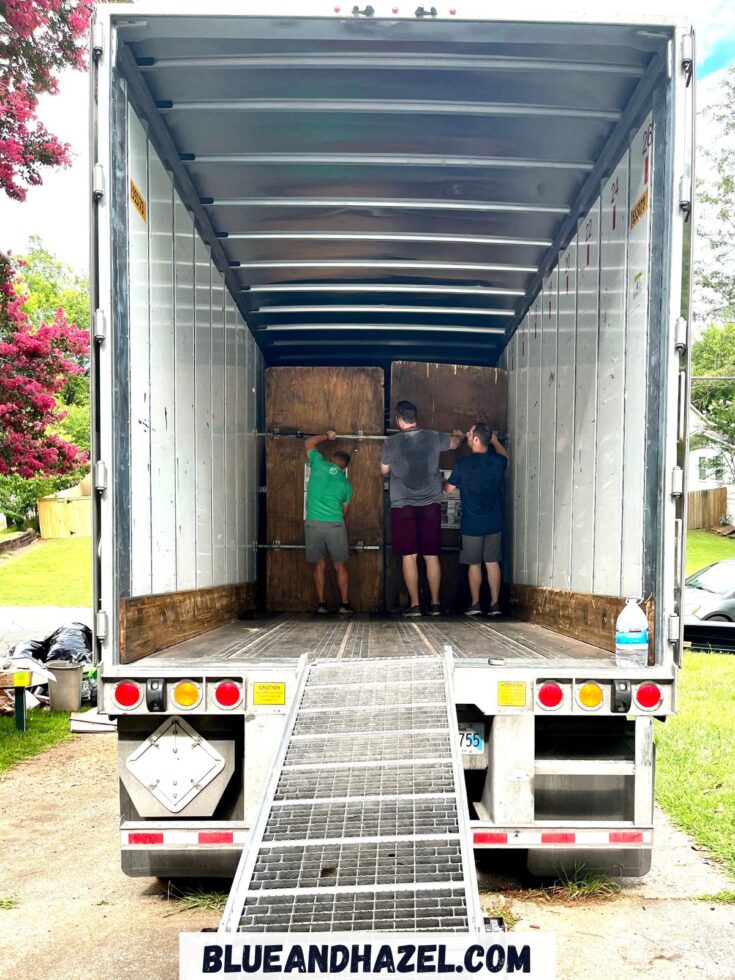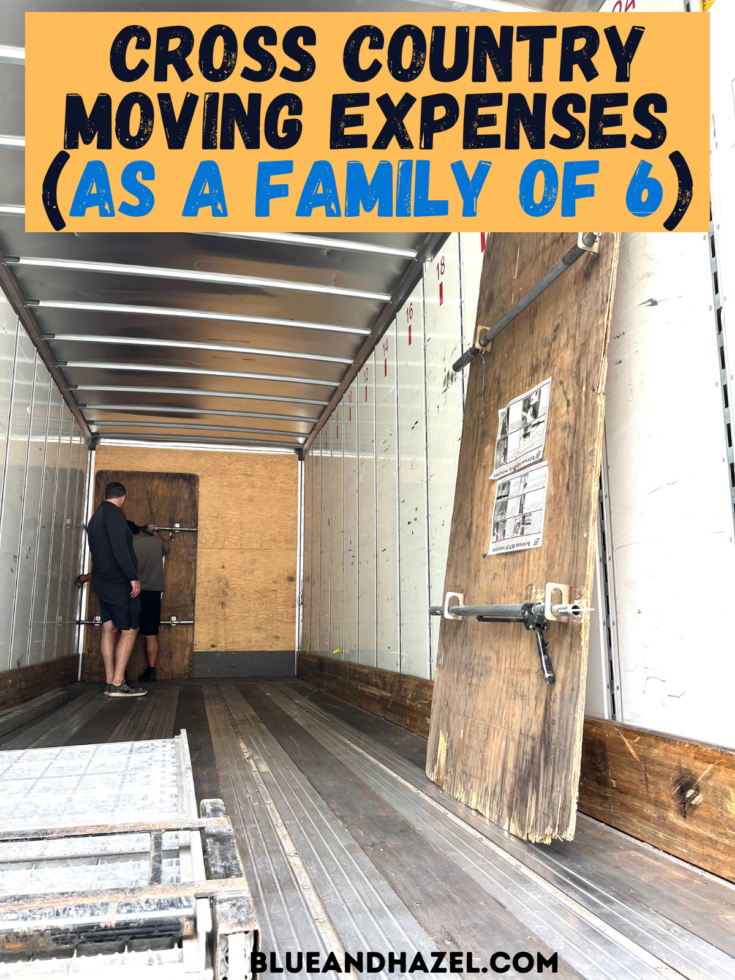 They then drive it away, fill the truck with some kind of other freight (never anyone else's home belongings), and ship it to some spot on the route to wherever you are shipping your truck.
How much does it cost to ship a vehicle across the country?
Cost to ship our minivan across the country: $2,525.
How do you ship a car?
This entire process was surprisingly easy!
The hardest part was researching car companies and feeling very confused how it all worked. I'll take the scariness away for you by explaining how it all works.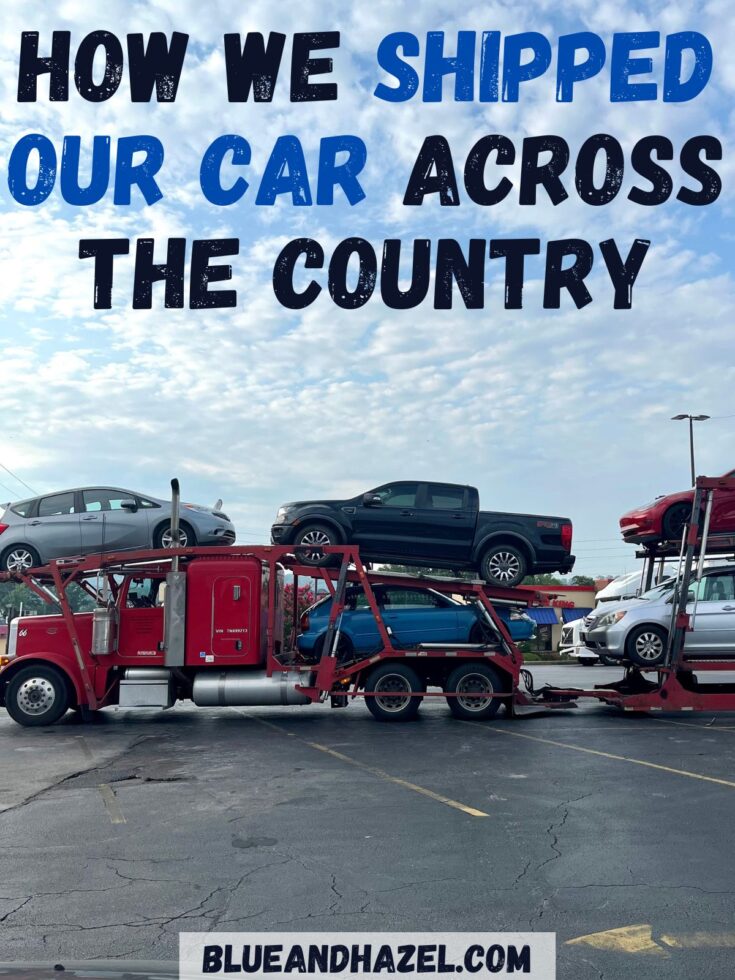 You get a quote from a car shipping company, and they connect you with a driver. The driver calls you to coordinate a meet up in a parking lot on pick up day (probably near the interstate), and then you (or a friend/family member) picks it up on the other side from the driver.
After hearing some firsthand recommendations for Mr. Car Shipper, I decided to go with them. They were actually $200 more than another place I'd heard good things about called Corsia logistics, but 100% worth that money and I'll explain why.
Why I recommend Mr. Car Shipper over every other car moving company
99% of car shipping companies (all but Mr. Car Shipper) have you pay them a percentage (something like 15% upfront), and then you pay the rest to the DRIVER with cash or money order when you pick it up on the other side.
The drivers are sort of independent contractors and the car shipping companies just take a small slice. It seemed sketch to me at first…but it's pretty normal.
I went with Mr. Car Shipper because you pay them 100% of the bill on the day of pick up, and they pay the driver. SO. SIMPLE. If there's any issues with a driver, they take care of it. There's no having to go get thousands of dollars in cash or a money order on the other side.
They assign you someone who is your contact start to finish at Mr. Car Shipper should you need anything. It's a nice personal touch.
I also recommend them because they include another layer of protection for coverage over damage. Drivers with other companies have "insurance" if something happens to your vehicle, but I learned that the contracts will usually have a deductible so high that you'd pay around $2500 before the insurance kicks in.
Mr. Car shipper will stand behind your vehicle with their own contingent insurance so that if there is anything problematic and you have before and after pictures to prove it, they can settle that BEFORE paying your driver.
And you won't have to pay any deductible 🙂
How much we spend on gas moving across the country
Cost of gas to move across the country: $800
Plus an $85 oil change including a new air filter for the trip.
We didn't take the most direct route. We went almost exactly 3,000 start to finish, and drove extra while going to see a few national parks and also took a longer route in order to stay with friends from residency.
During the summer of 2022, we found gas to be close to $5/gallon.
How much we spent on hotels
Cost for 3 nights in a hotel: $700
This part could really increase or decrease the cost of your trip. When I was looking up flights as an option…5 tickets across the country would have cost us $4,000 minimum for ONE WAY TICKETS! What happened to airline prices? I know July is the expensive time to fly but wow.
And if we flew, we would have had to add an additional $2,525 for our second car to ship home. So in my head, I knew that if we road tripped home for less than $6,525…we were saving money.
We did one Air B&B and two Holiday Inn Express Nights. We also drove through the night on our last leg which I will NEVER do again! Too tiring and with kids we were good for nothing for a couple of days after that!
We stayed at 5 people's homes, saving SO much money. Thank goodness for nice people who graciously hosted our crew of 6.
How much we spent on food
Total: $520
Clearly over the course of 10 days we ate out a lot, bought coffees, splurged on treats, and enjoyed ourselves! Food wasn't part of the scrimp and save…and the trip was more enjoyable for it!
We stopped daily at a grocery store to get fruit, veggies, chips, and drinks.
I can still taste the cajon meal we had in Louisiana, and that much needed cold brew coffee we enjoyed in Salt Lake City 🙂
I don't know if I should count food, since at least part of it is an expense we'd have anyway if not moving. At least some of it.
Additional Expenses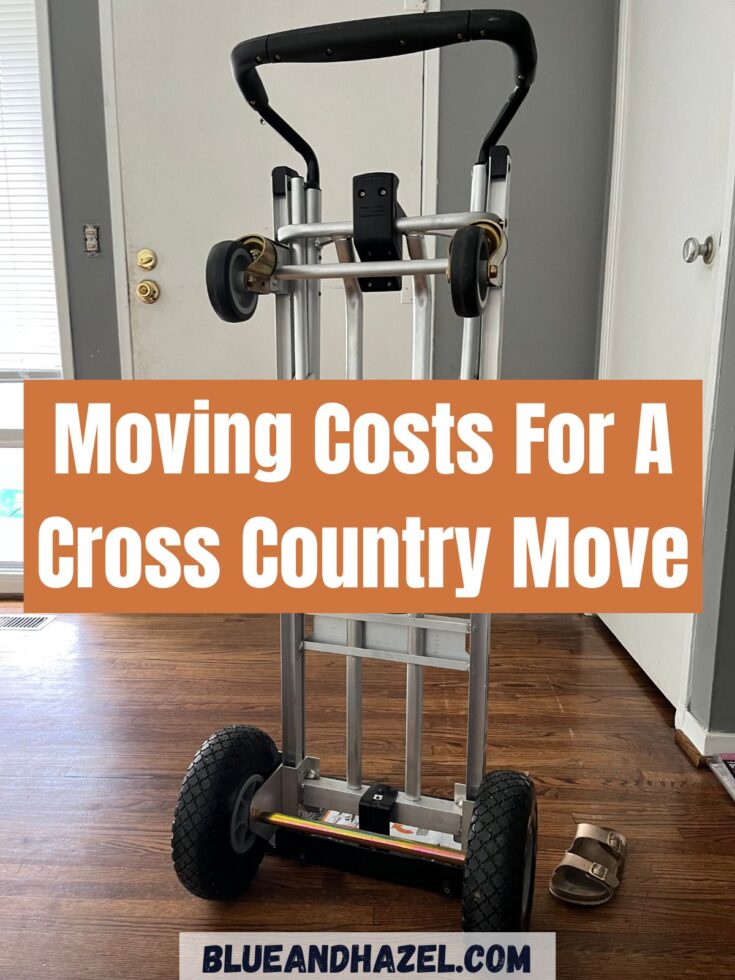 I thought we were going to have to buy a dolly for loading boxes, but our friend had one he loaned us and my in laws had one on the other side for unloading.
We also stopped by the U-Haul store in town to buy:
Strong brown packing tape (no scissors needed and recycles!)
Plastic wrap for wrapping a few boxes and our lego drawers shut.
Plastic bed covers to protect our mattresses from dirt and grease (see pic below).
A lock (you'll need your own lock for the moving truck for the nights it's parked outside your house so nothing gets stolen).
Total we spent on the above items: $72
**Note about locking the truck with your personal lock…you'll want to make sure it's unlocked and open when the truck guy comes to pick it up. He'll crawl inside and make a note how much space you use.
If it was locked with your personal lock, and you weren't there to unlock when they come to pick it up, you would get charged for using the whole truck.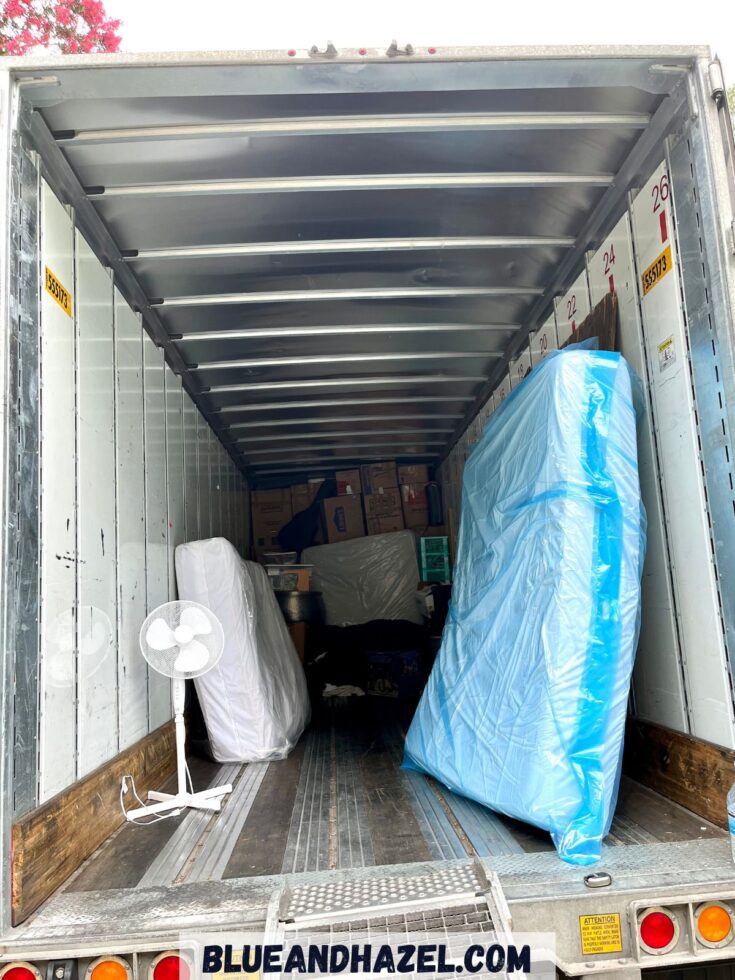 Grand total it cost us to move across the country
The total I've added up for the basics to move our family of 6 across the country: $9,280.
This includes shipping our stuff, shipping one car, gas, hotels, and food.
It does NOT include extras that we purchased on the trip like souvenirs from different national parks and such, or tickets to places we visited along the way.
It does NOT include things we had to buy for our new spot since we got rid of all our furniature (like a new-to-us used couch, triple bunk beds, side tables, and kitchen chairs).
I am ready to do another no spend month now, yikes!
It could have been way more if we'd have had to hire people to pack anything for us, hire movers to lift, stayed at a few more hotels, or had to buy our own boxes. It's just mind blowing how expensive it is. I don't know how we could have done it any cheaper!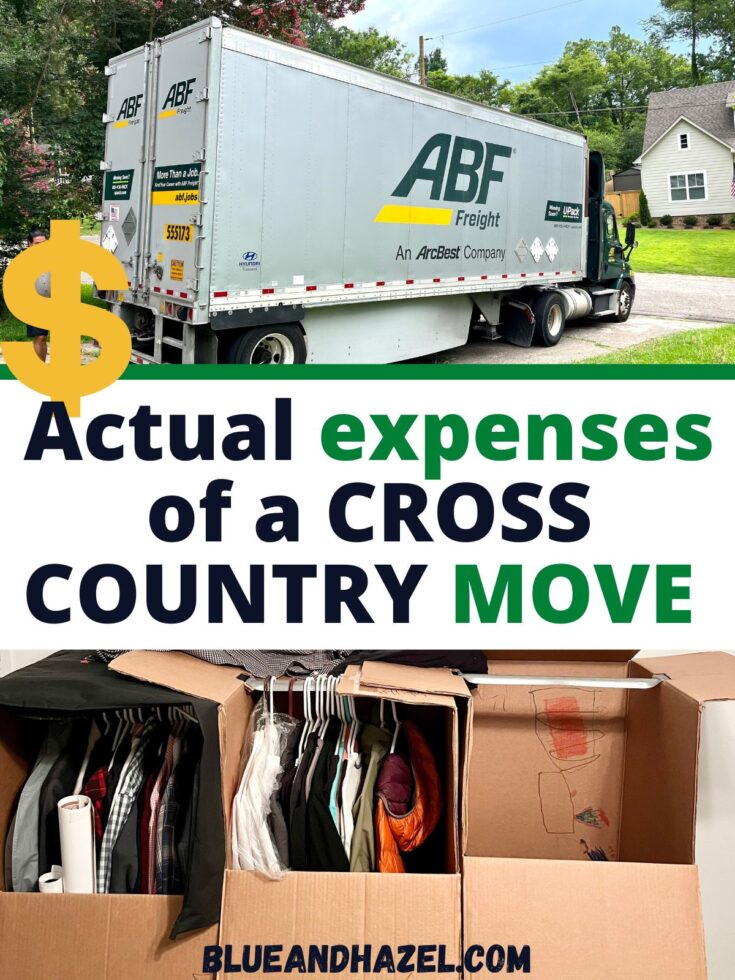 Pin this post for when it's time to move!