We finally have an easy system to declutter piles of paperwork! It's super simple, and doesn't include color coding or buying fancy labels. At one point, we were keeping and filing so much paperwork. It seemed as if we would have to buy a new filing box every year, which made my head spin.
The paper clutter was taking up space, it was hard to find if I ever actually needed a file, and our kitchen counters were spilling with papers. O yeah, and I'd find unopened letters all the time, important ones, from a month ago. Not good!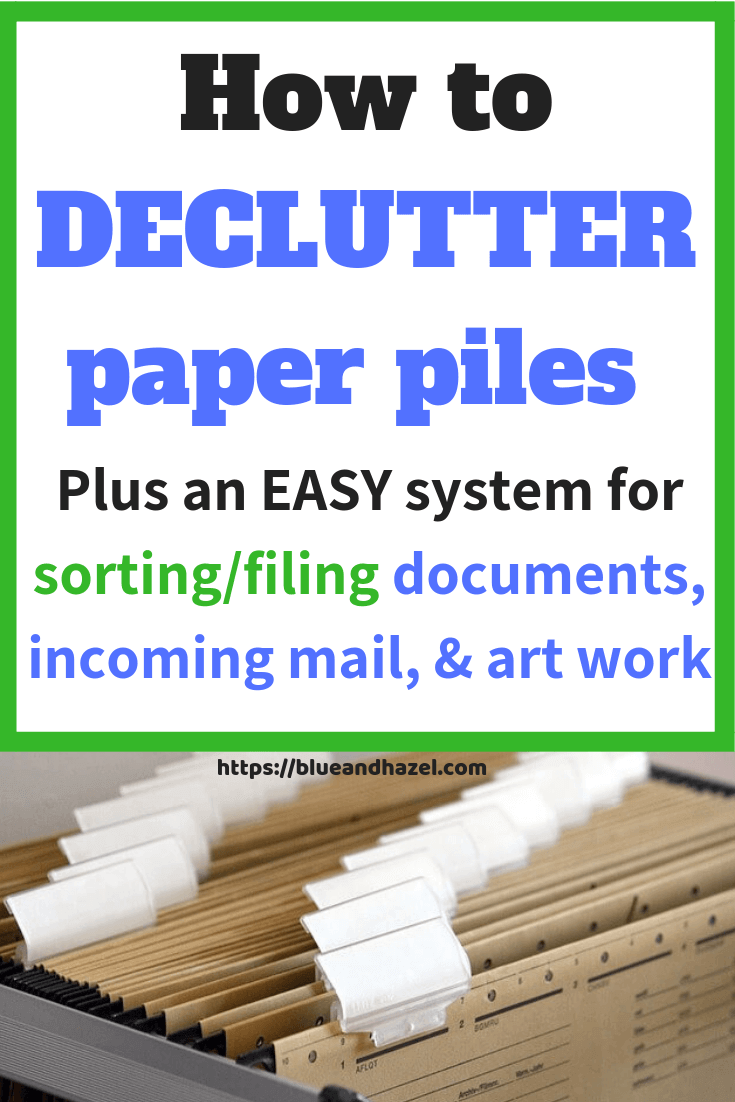 This post contains affiliate links. We are a participant in the Amazon Services LLC Associates Program, an affiliate advertising program designed to provide a means for us to earn fees by linking to Amazon.com and affiliated sites.
How to Declutter Piles of Paperwork
I've set up a very simple system to handle incoming mail, deciding what to keep or toss, and now we only file minimal documents.  They can fit into one portable filing box as a family of 5! Check it out and try this for yourself.
Also, next year we will be homeschooling my oldest who will be in Kindergarten. I plan on using a separate filing box for that as I am expecting more paperwork to turn up along with that.
Step 1. Get a basket just for incoming mail.
We used to just put it on the table, kitchen counter, or couch, and it bothered me. There was no place where mail "belonged" so it went from countertop to countertop.
Then I bought a pretty basket that sits on a shelf in our living room just for mail. (I admit we tend to add other things too like our cell phone, keys, and wallet.)
Having a place for everything helps keep our house less cluttered and I open it when I have time within a day or two. I've heard a lot of people do this daily as it comes in, or even weekly!
Step 2. Gather all paper piles lying around
The first time you do this you may have a HUGE stack. It will be papers from your purse, drawers, the counter, your desk, and maybe even on top of your fridge. Plus, kid's art if you have kids!
I admit to using the top of the fridge for anything I don't know what to do with! If I can't see it, it doesn't exist, right?! Bad habit 😉
Step 3. Pay it, respond, and shred or file.
Go through every paper one at a time. When I do, I think "What do I have to do with this?" One at a time, I:
Sign/respond to/ or postpone (in which case I put it back in my mail bin on the shelf)
Shred/burn/or toss
File
Hang on the Fridge Short Term (like a party invite or online coupon)
If you can have your filing box/cabinet right next to you with categories labeled, then you can file anything needed as you go.  Otherwise, you'll be making a pile to "file later" and then have to touch and sort all those papers AGAIN.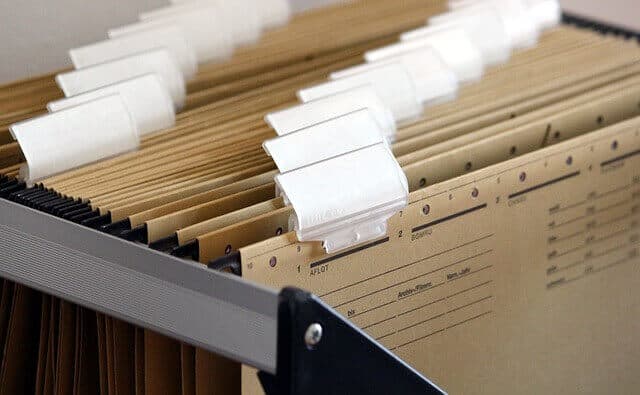 Step 4. Know what to shred/burn
It's really important for protecting your identity to not put certain papers into the garbage, including:
Bank statements
Bills/Medical papers
Anything with a username or password or pin
Papers with your signature
Pre approved credit card offers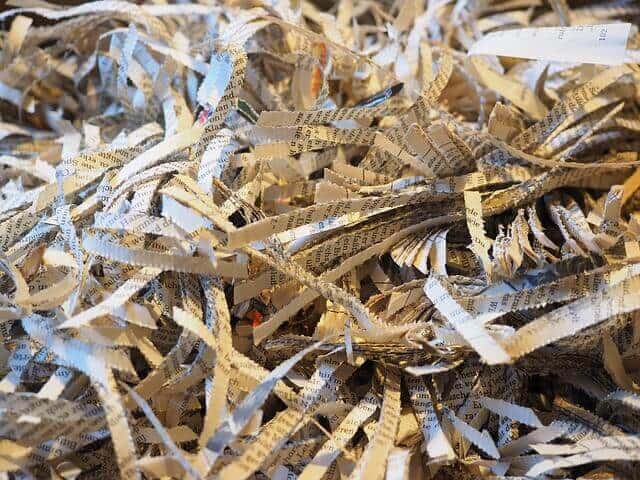 Here is a great master list of all documents that you should shred.
Step 5. What to do with kid's art work.
I actually toss about 99% of everything they make, keeping only my very favorites.
For most things, I hang them on the fridge for a few days and toss it when they're not around.
The few that I do save get filed into our filing cabinet under a tab called ART. We like to write which kid drew it and the date on the back. As that folder gets too big, I'll start a file for each kid. It's my "plan" that by the time they graduate I'll have a small box for each kid that I treasure, with files inside separating categories.
I also saw an awesome idea to start a binder for each child and put the really cool pieces in plastic covers. That would be a great way to enjoy looking at it more often and in a more accessible way!
Step 6. Designate a spot for your spouse's important documents
Not going to lie, trying to declutter piles of paperwork that belong to my husband is an ongoing challenge. But I never toss or deal with his papers without him standing right by me.
He's a resident doctor and brings home a lot of paperwork. Some garbage, but important documents too. Only he can really go through it.
If it's something that needs dealt with soon, it stays in the mail bin till he takes care of it.
For all the papers, research articles, and print outs he brings home that I can't get rid of, I bought him his own small plastic filing box. This is just for his "doctor" papers or things he may want to find quickly.
Step 7. Sentimental papers
Things like notes, and, well, pretty much just notes, are really special to me. My husband and I each have a special box for that. You could also just keep a file named "Letters".
How to organize paper clutter into a filing system
There are tons of ways to do this. The point of filing to me is NOT just to have everything "somewhere filed". It's to be able to (hopefully) find it within 2 minutes of looking. Here is my system and what you will need: 1. A filing box
2. Hanging files with tabs
Basic categories we use for organizing all our paperwork
Taxes 2017 (and a folder for each tax year for the last 7 years)
Loans
Credit Cards
Medical School
Derm Residency
Lease
Receipts Worth Keeping
Car Insurance
Car Expenses
Kid's Art (Eventually I'll have a hanging file for each kid)
Important Documents (Marriage Certificate, Passports, Birth Certificates, Social security papers, etc)
Medical Records (every person has 1 hanging file labeled with their name)
How to decrease paper mail or junk mail
1. Permanently Opt Out of Pre Approved Credit Card and Insurance Offers
If you do nothing, your information is given by consumer reporting companies to credit card companies and insurance companies. That's how you get mail offers for pre approved credit cards you didn't ask for all the time. It's easy to stop that junk mail.
Just follow the FTC's instructions. I have done this twice! They have a link that takes you to an opt out form, and you can choose to be removed for 5 years or permanently so your information will not be shared with credit card and insurance companies! It took me about 2 minutes.
2. Sign up for online bill pay for everything
I finally made the plunge to go paperless for everything. It's awesome!
I'd been holding out for a while because I like to look over every charge on our credit card and bank account on paper. However, now that we use Pocket Guard App, I can see it all from my phone.
It's hard to remember all the places you get paper mail from. So what I did was this: Every time a bill came in the mail, I'd log in to my online account for that bill and sign up for paperless.
If you do this, you will be paperless within 1 month!
3. Unsubscribe to magazines you don't care about anymore
We recycle a lot of magazines. It's on my to do list to unsubscribe to a couple that I no longer care about. I prefer to view online sales anyways!
Enjoy your clutter free counters
To keep your counters free of paper, make a place for every single paper in your home. (Even if that means a temporary pile to be dealt with). It will give you so much peace of mind!
As our family grows and more responsibilities roll in as a mom, I'm always looking for ways to improve systems in our home. I'd love any suggestions you have for dealing with paper clutter, meaningful kid's art, and filing! Let me know in a comment.
Be sure to check out: 
Follow Blue and Hazel on Instagram!