When it comes to picking out gender neutral baby shower invitations, you are going to love Basic Invite! There's something incredibly special to me about receiving real mail amongst all the bills. And at our house, baby shower invitations hang on the fridge right next to our family photos.
If you want to make your guests feel so-so-special and be able to go hog wild when customizing colors and fonts, then see how Basic Invite can help you make those gorgeous baby shower invitations.
Gender Neutral Baby Shower Invitations
Wait, what's Basic Invite?!?
This is a sponsored post and I was compensated to share my honest opinion and experience.
Basic Invite is known for their truly custom invitations, announcements, holiday photos, and even business cards. Any event you can imagine, they've got you covered.
7 Reasons to try Basic Invite over other brands
1. SO many colors!
At Basic Invite, you have almost any color you could want and can instantly preview online! I had so much fun trying this out! To show you what it's like, I customized 6 baby shower invitation samples. First I chose a category (so baby shower invitations), and then narrowed it down to the gender neutral baby shower invitations only.
From there I could swap out any of their 180 different color options. It was very user friendly! As you see each of the large color circles corresponds to a part of the card or font. Just by clicking the circle, I can quickly try another color and instantly see if I like it.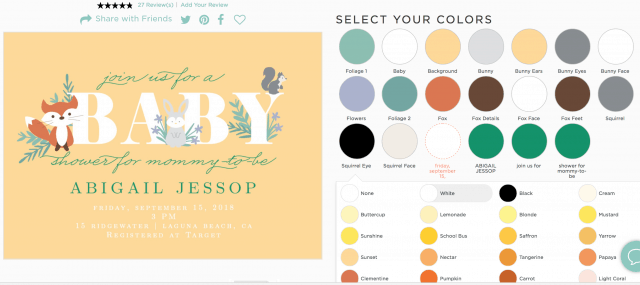 You can really get any look and personality to come through with this feature! Heck, I could easily turn a gender neutral invite into a pink or blue invite, it's that easy.
2. Custom Samples
Basic Invite is one of the few websites that will let you order a sample to see how it will look before buying them all. This is gold if you are really particular, since we all know there can be a difference in color from our computer screens to the actual color.
The downside is that it can take at least a week to get your sample, and then you will need additional time to order the actual batch. To give yourself enough time for that, plus sending them, you would need to start at least a month and a half before the date.
Each sample is around $3. What do you think about these gender neutral baby shower invitations?!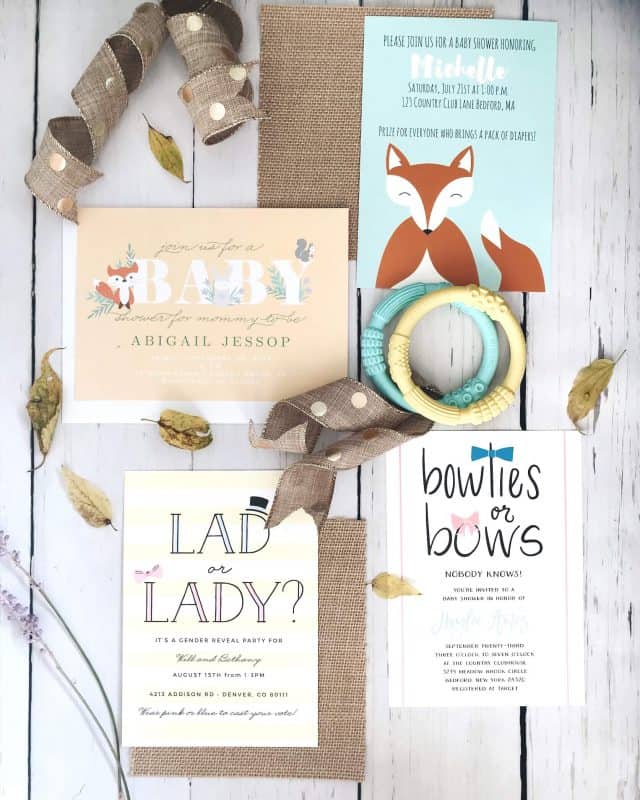 3. Over 40 Different Colors of Envelopes
Envelopes can be colorful too! There are 40 different colors. That's probably the fastest way to get my attention when checking the mail…I'd go straight for the pretty one please. All envelopes are peel and seal to quickly close and stay closed.
4. Address Capturing Service
This is so cool. Especially for you busy mamas out there, or ones like me with less than pretty handwriting. Addressing 20 envelopes doesn't have to take long now!
Just use their address capturing service and share a link on Facebook, Twitter, or Instagram to request your friends and family's addresses. These are then stored and you can later select them when designing the envelope!
5. Foil
You can customize some cards with foil in gold, silver, and rose gold. Sooo pretty! Flat or raised foil is available on all foil invites.
Right now Basic Invite is offering 15% off with coupon code: 15FF51
6. Matching Thank You Cards
What a cute way to have your thank you's match your theme, and be ready to go! Each thank you card comes with an envelope that you can customize.
A little tip: If you don't use the Basic Invite address capturing service, then bring these to the baby shower and have each guest write their address on one. Collect them, and you are that much closer to sending all your thank you cards! A gal did that at the last baby shower I went to and I thought it was genius.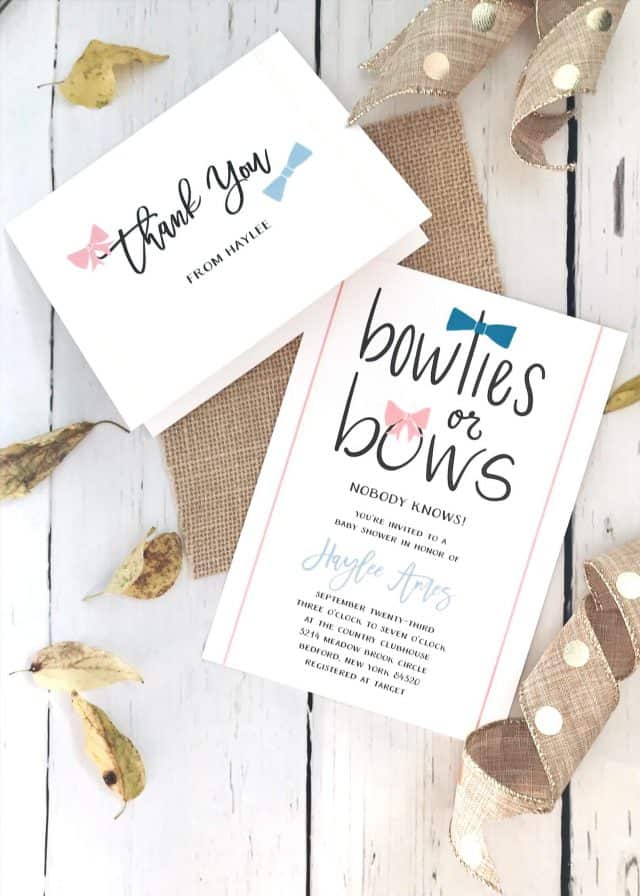 7. Instant online support
I was SO impressed with their online support. I asked the little "live" chat box in the corner a question and a real person starting typing back to me, even on the 4th of July. My problem was fixed quickly and I went on with my order. So if you have any questions or problems, no need to wait on email with Basic Invite!
Woodland Baby Shower Invites
I customized one of the woodland baby shower invitations because it makes a perfect gender neutral theme. It turned out beautiful! There are over 41 options to choose from and you can customize colors and fonts from there.
P.S. If you look closely, I wrote "Prize for everyone who brings a pack of diapers". As a mom of 3 under 5, I can tell you that there is no greater gift you can give! How fun that you can customize what you want to say on each card like that.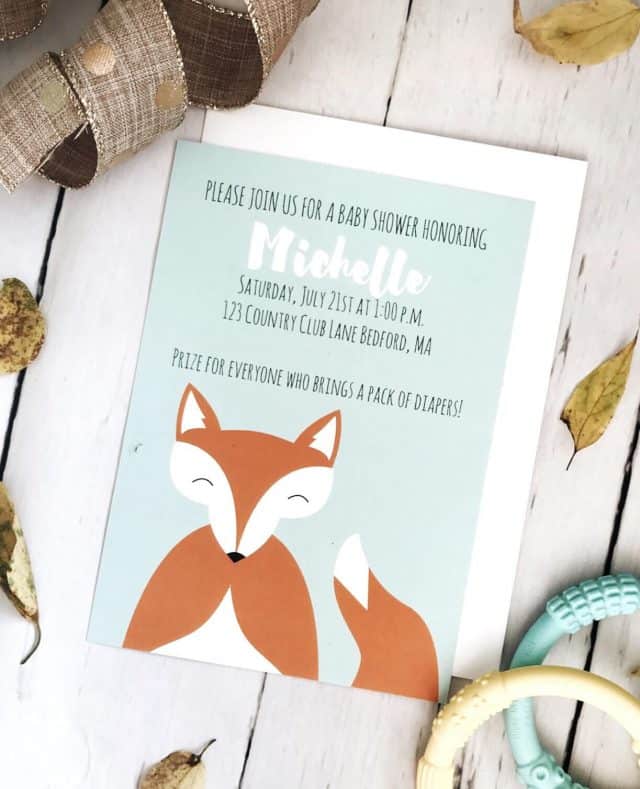 Christmas in July
Ya, ok, this may be early, but imagine having your Christmas cards checked off the list in July. O man, winning! Choose from 132 designs as low as 0.82 cents each plus their 30% off holiday sale. Here's how ours turned out.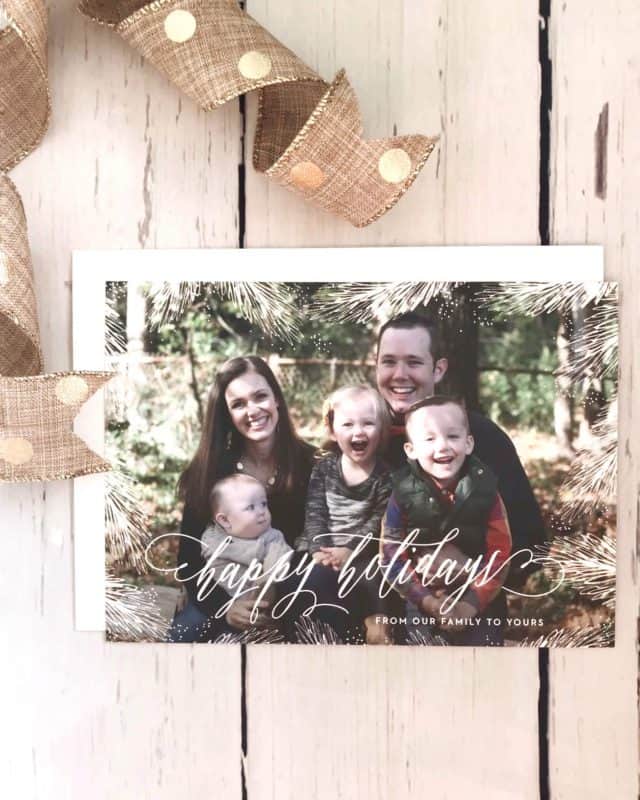 Overall I was so pleased with the ordering process and the final product that I would be confident to order through Basic Invite any time. If you are new to them, I can put my stamp of approval on it having gone through the process and seeing the quality at the end. Be sure to check them out on Instagram and Facebook to stay up to date on special deals and offers!
Follow Blue and Hazel on Instagram
Posts you may also love:
DIY pregnancy silhouette photo using natural light
Does an epidural hurt? What to expect before, during, and after birth
How to use your purse as a diaper bag
Boba vs Moby review: What are the differences?
What's in my hospital bag for labor and delivery round 3
Tips for avoiding sibling jealousy with a new baby
Pin for later!