I'm sharing Nerf party ideas we used for my 9 year old's birthday at home! He asked if he could have a Nerf party, and this is really the magical age for it so we said yes. The kids all had so much fun and it was very simple to decorate for!
All you really need for a Nerf party is one other Nerf loving family…and we were lucky enough to have two. We added in some REALLY easy and cute Nerf party decorations I'll show you too. If you have a color printer and a Nerf stash, you should be all set to replicate this.
If you're not yet into group birthday parties, read my post on how to create a special family only party. We've done that in different seasons as well.
Here's the supplies we used for a Nerf themed party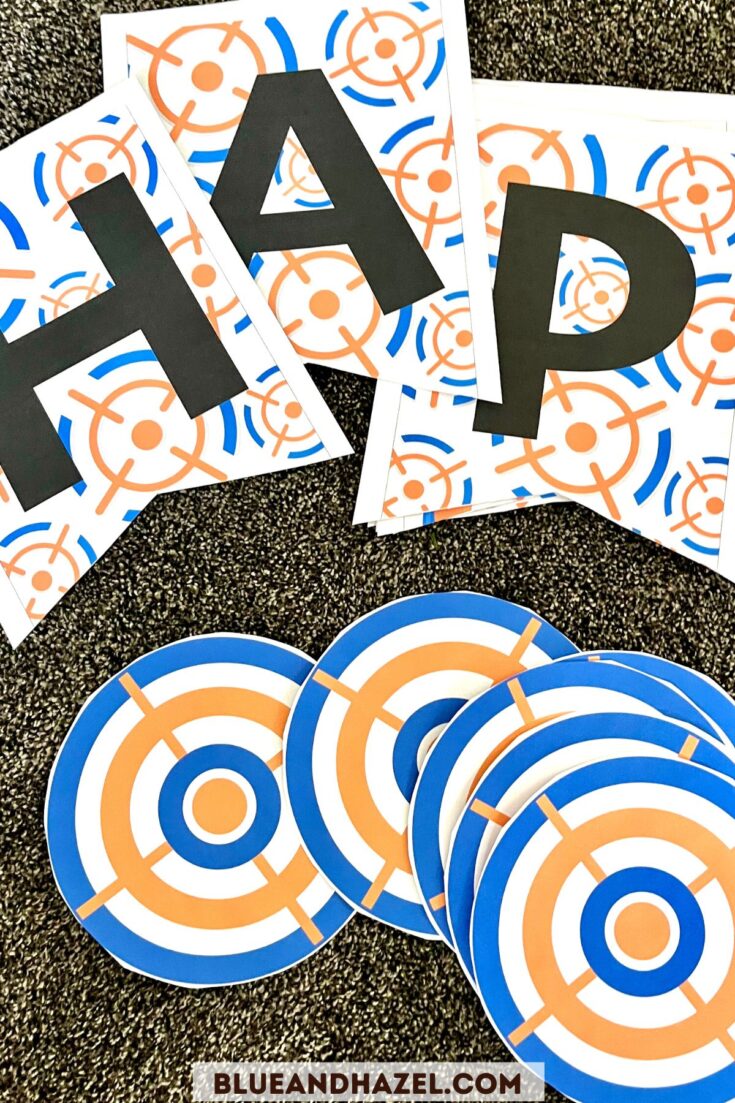 What activities did we have for the Nerf party?
I'm convinced kids are the BEST at making their own fun. We had a Nerf fight planned, lunch, cake, and a few presents at the end. The rest was just play!
I will say, one unplanned activity that was a BIG hit after the kids finished their Nerf fight was playing with our Snap Ships. Almost no one seems to know what they are, and yet it's the FAVORITE toy of boys that come over to play ages 5-10 or so.
We have about 6 ships, though the kids just build their own creations and the more sets you have, the more options there are to build random cool space ships from their imagination!
We also had some girls over from the families that weren't into the Nerf fight, and they went to town playing inside while the boys mostly played outside.
How we decorated for the Nerf themed party
If you have a color printer, you can purchase these on Etsy and have them cut out and taped up in less than an hour. Ahem, we may have been doing this the morning of the party, because I didn't have decorations yet. I know, I know. Next time I'll do it ahead of time!
Here's a visual for you.
A festive birthday banner
You can download and print this Nerf themed birthday banner on Etsy. We just cut along the edges (my kids helped!) and taped it up on the wall.
My son loved this! He says a party needs decorations (I agree!) so this did the trick and added to the theme well.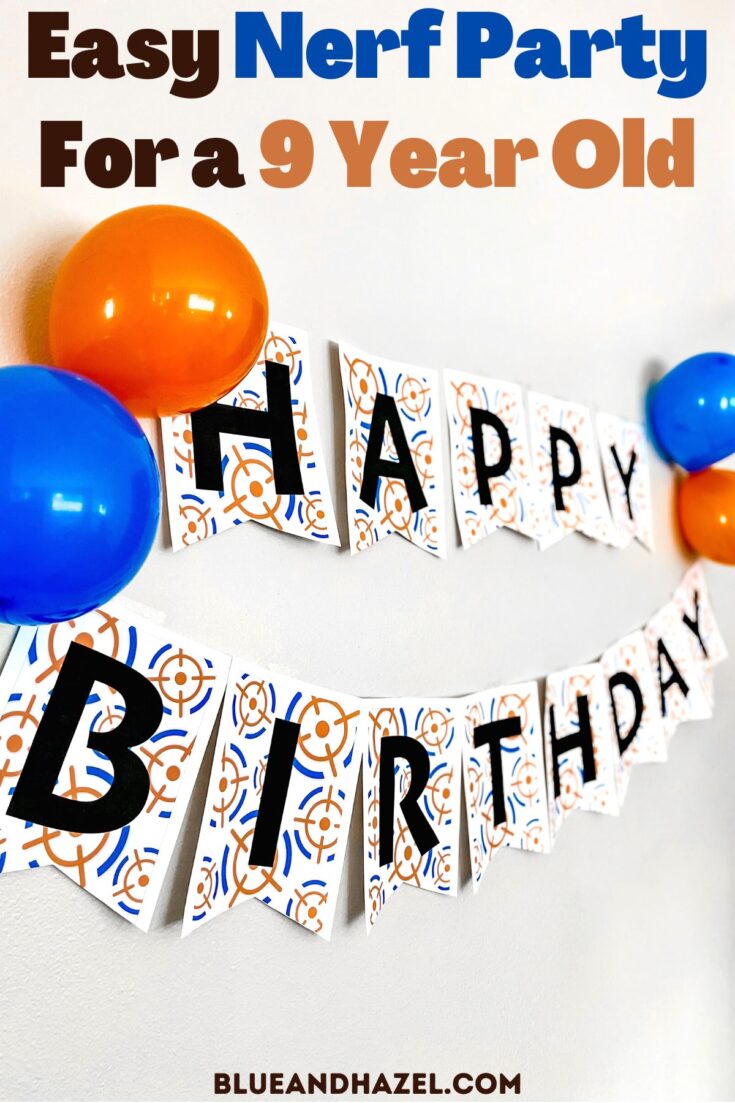 Battle fuel
The kids helped me cut out and tape on about 20 of these "battle fuel" labels I got on Etsy. I set these outside on our table with a pack of new 200 SOFT TIP darts.
Note: Soft tip darts are the ONLY darts we allow here! They just don't hurt nearly as much if you get hit by one in close range. We've accidentally had the hard tipped ones before…lets just say I got rid of those those VERY quickly after too many tears.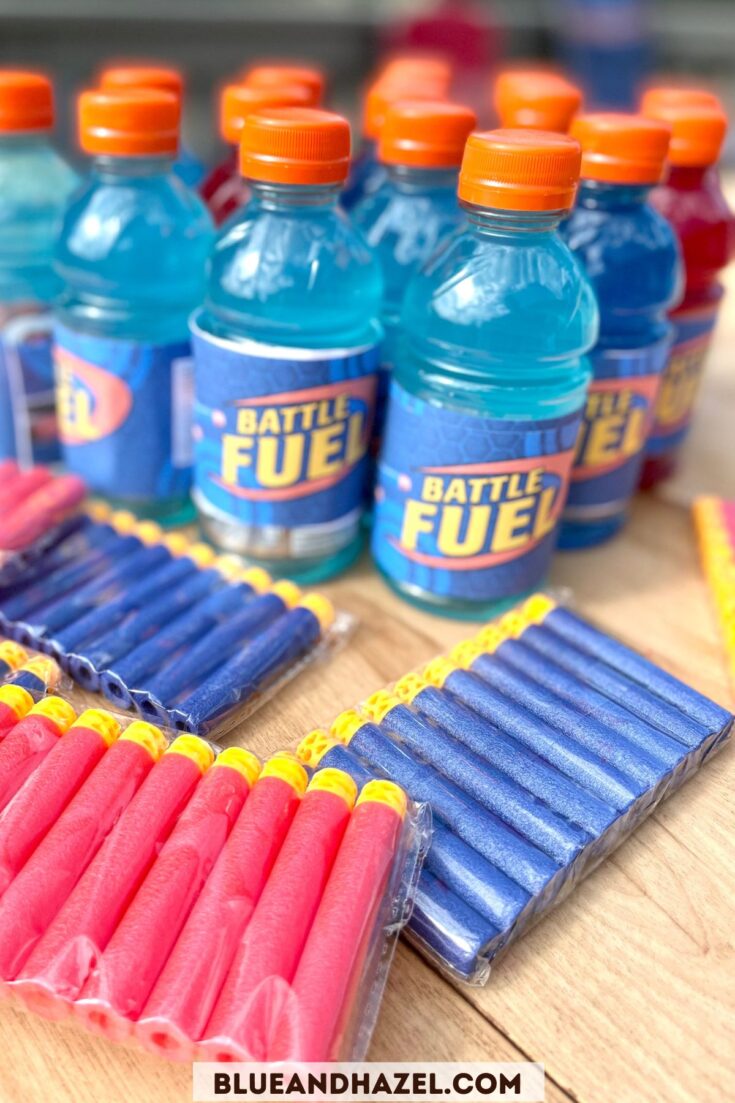 We bought a pre made chocolate cake from Costco and a big family size bag of M and M's. I picked out the orange and blue ones to kind of go with our Nerf themed I was aiming for!
This easily fed about 15 cake eaters, if you are wondering.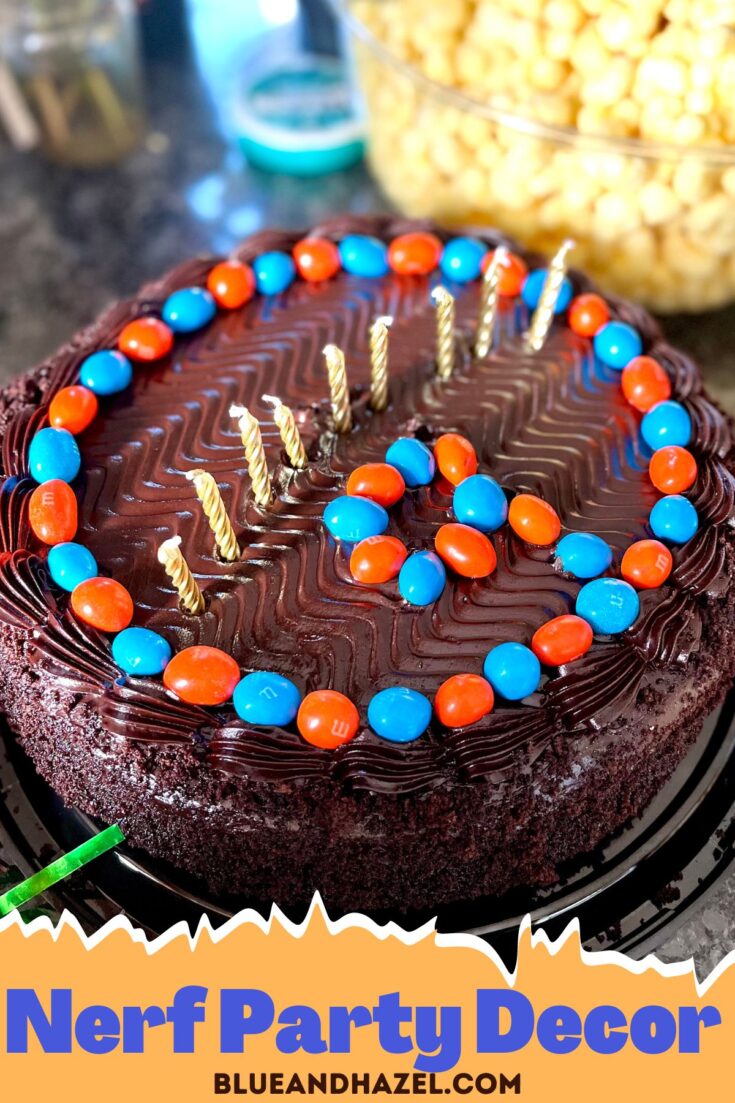 Print out some targets
Our orange and blue printable targets didn't actually get used as much as I thought they would, but they did look festive! My son hung them up on our fence with some tape.
I've also seen people print targets and tape them to popsicle sticks so they'll stand up as decor on a table. Either way, it's a festive addition to the theme!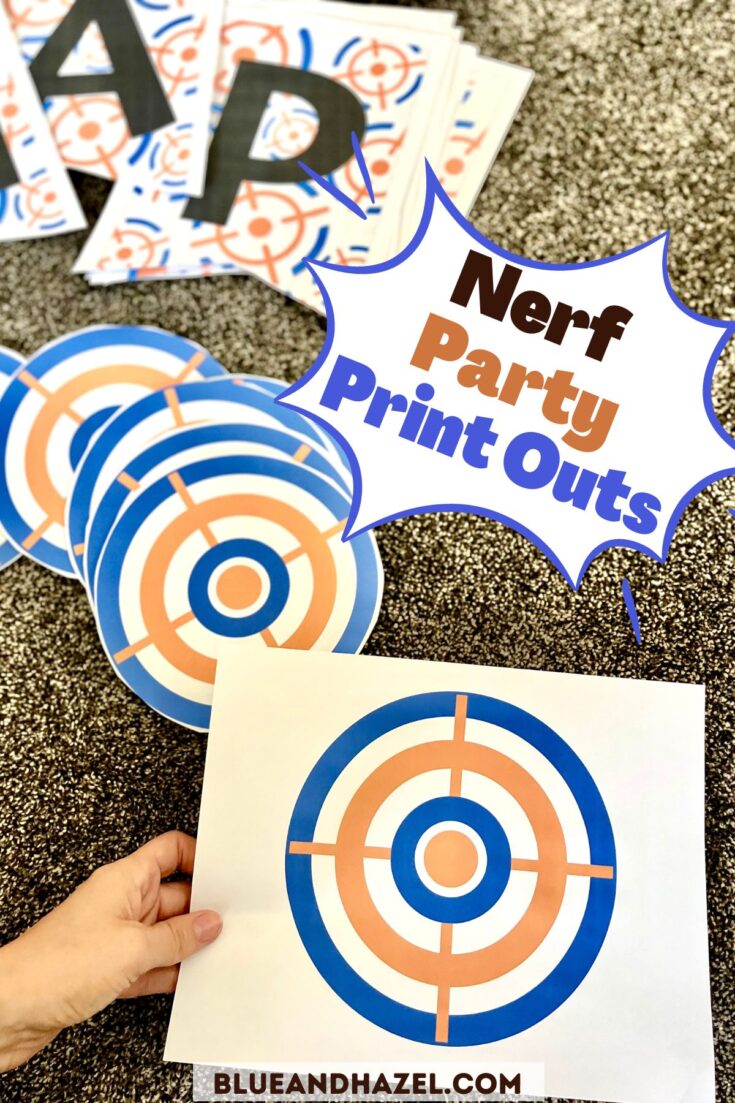 Have some extra Nerf gear for friends
Probably the most important part is just having Nerf gear around and darts to play with. We let each family know they could bring their own if they had them.
The kids all loved showing off their stuff from home and taking turns with ours too.
I kind of wish we would have gone one step further for this and gotten each kid this "tactical kit" (a Nerf Vest, darts, and eye protection). Partly to add to the festive feel but also as a just in case measure for the eyes!
But thankfully no one got a face shot.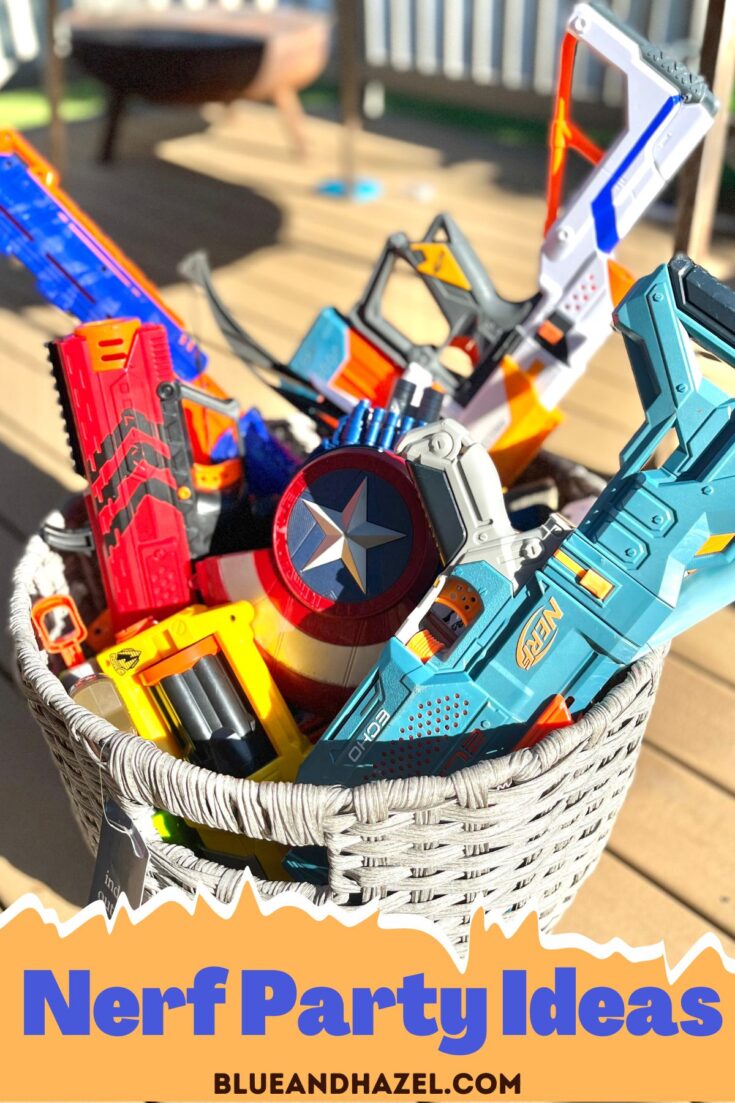 Keep it simple
There are so many ways I could have done more, spent more, made a cool course, etc. And while we may aim for more fun items in the future (3 boys having birthdays here!) this version was EASY and FUN and worked planning it last minute.
So if you wan't to go bigger, do! But just know the boys really enjoyed this level of at home party.
To see some other inspirational Nerf Party ideas that are actually doable, check out Sometimes Homemade blog and Southern State Of Mind blog.
Their decor was TOO cute, although it would have required more preparation than our party and some additional purchases on Amazon.