It's no secret that Handwriting Without Tears is a tried and true, old, effective program. I'd resisted trying it but added it to my kids' 1st and 2nd grade homeschool curriculum lineup. I'm so glad we did! We mainly just used the student book and also the chalkboards in the very beginning.
I wanted my kids to have some short daily handwriting practice to revisit letter formation, writing within lines, going slowly and neatly, etc. Plus, I needed it to be open and go because homeschooling multiple grade levels is time consuming and we had a new baby on the way.
In the Handwriting Without Tears Review I'll share how my kid's handwriting has improved over the year, what it's been like to use this with another language arts program, how to choose the right level, and what makes Handwriting Without Tears unique.
If you're just beginning to homeschool, browse through my homeschool resource page, and read this post on everything you need to know to start homeschooling.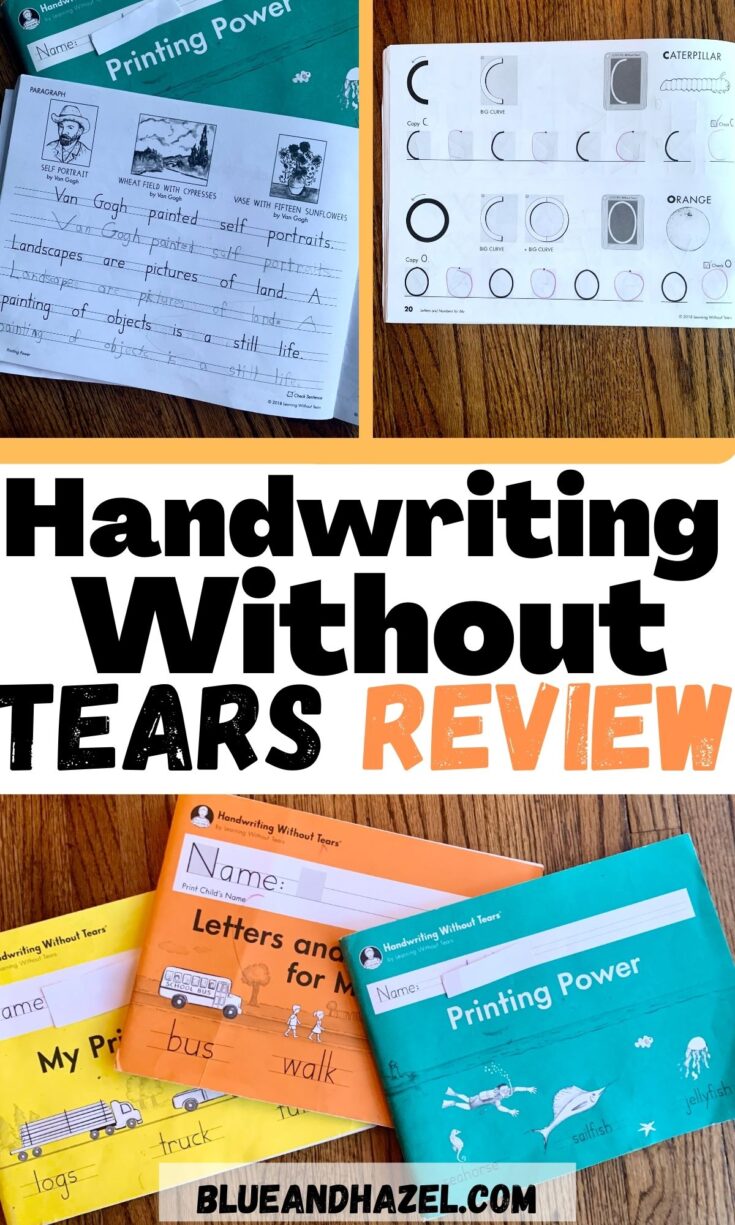 Why is Handwriting Without Tears Unique and Effective?
We did not utilize all this program has to offer, and I'm still a happy customer. But this program works for so many different learning styles and kids because it has a lot of tools that reach different needs. You don't have to use all the tools.
There's:
the chalkboard with sponges
Mat Man where you can form letters with wooden pieces
music to help remember techniques
memorable terms for groups of letters like "frog jump letters" and "magic c letters"
teacher's guide (almost all reviews online I found said this was unnecessary)
workbooks available in Spanish (no teacher's guides in Spanish)
cursive option at the 3rd grade level
Hand strokes are taught, as well as tips for correctly holding a pencil and tips for left handed kids too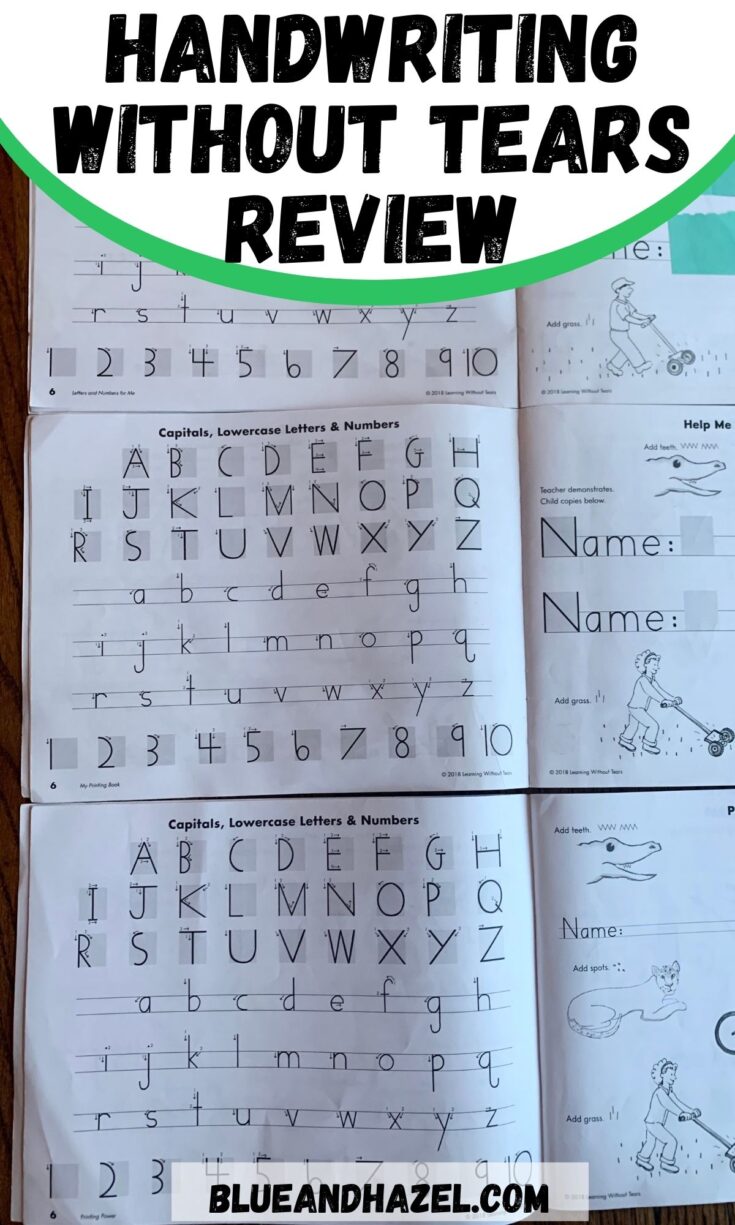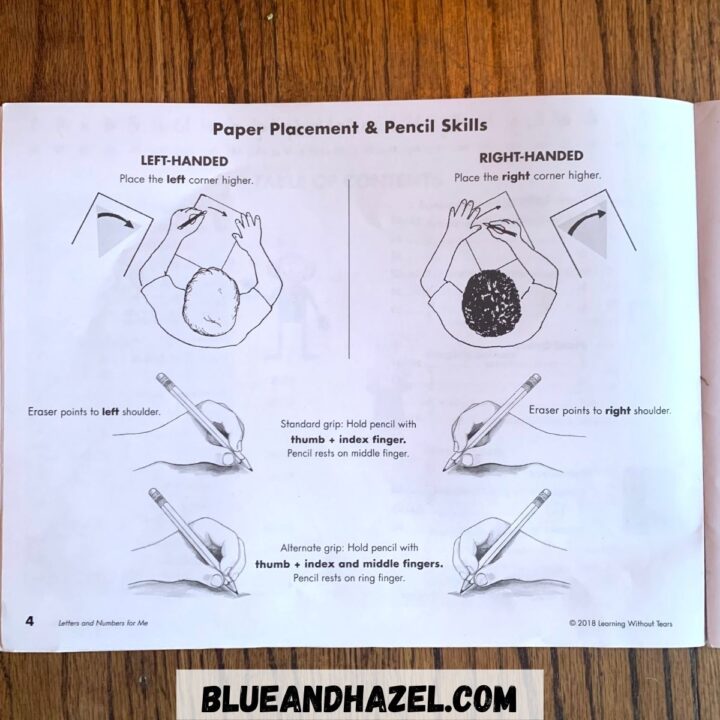 Do you need the teacher's guide?
We didn't buy this. I needed something open and go to help my kids get daily handwriting practice in.
But I didn't feel like we had any specific reason to need the extra sensory materials. If you do, you might want at least 1 level of the teacher's guide to browse.
Here's what Rainbow Resources states about the teacher's guides:
"Teacher Guides provide the overall teaching philosophy, techniques and applicable multi-sensory activities, but do not provide the daily lesson plans."
Since they were older and knew the basics of letter formation already, (we did go back with a chalkboard and review each letter initially) a lot of the other stuff was too much fluff.
It would have required me to spend 15 minutes with them before they even got to their workbooks. There's a picture in front of each book that will help you to know what to teach your kids. It looks like this: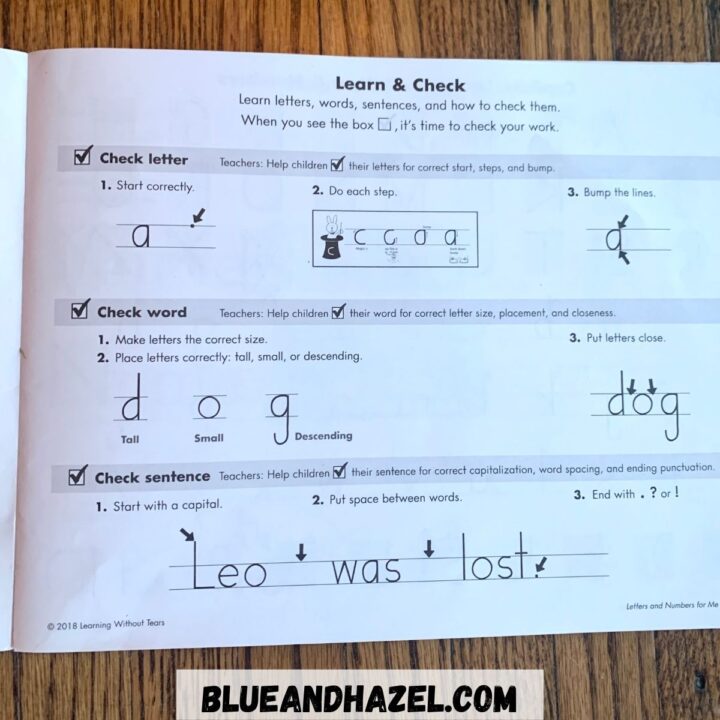 Do you need the chalkboards?
I think this was a worthwhile purchase. i got 2, so we could do it family style. It would have been nice to have 3 so I could do it at the same time rather than 1st and then erasing for them to do.
The Handwriting Without Tears chalkboards are small, and have a smiley face where you start a lot of the letters. Plus, in the kindergarten orange book there's pictures of the chalk boards as you are learning the letters so it is nice to have them.
I got my mini chalk pieces from the dollar store. The mini size is better for pencil grip, according to the company. You can buy any school chalk, just make sure you break it into small 1 inch pieces or so.
You can buy their sponges or just cut normal sponges from the store to do the erasing. Kids will erase with the same strokes they write with.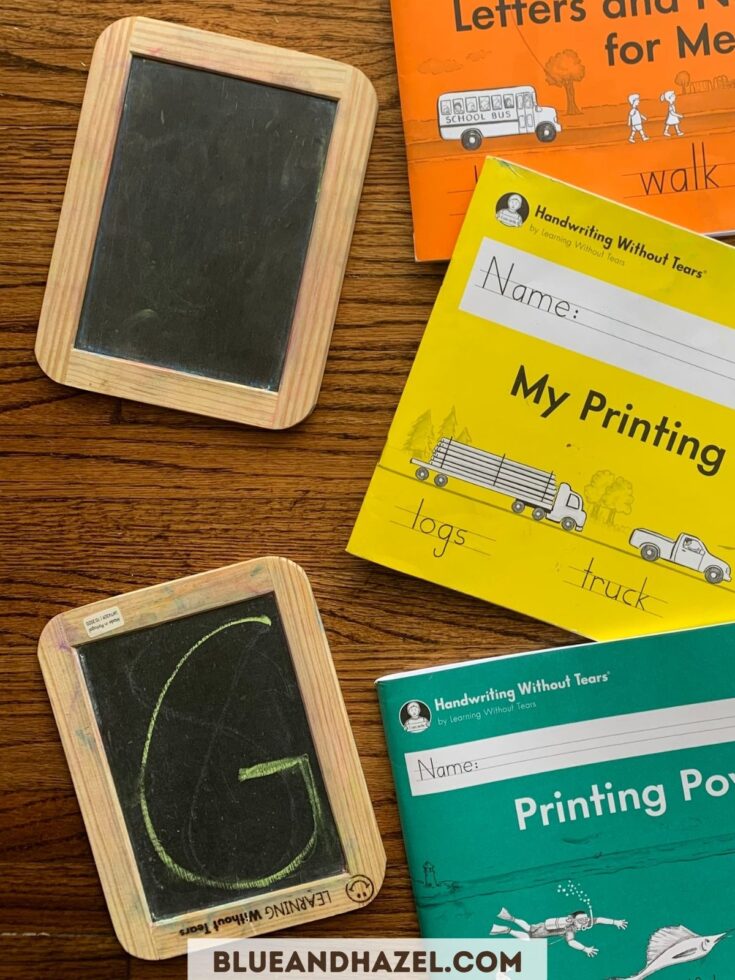 How I used Handwriting Without Tears Alongside Another Language Arts Program
This year for Language Arts we used:
Jot It Down by Brave Writer for creative writing (here and there)
Handwriting Without Tears (any day we didn't do any other form of writing or copywork)
While I didn't know if we needed an official handwriting workbook…something in me kept thinking we should try Handwriting Without Tears. I wanted my kids to slow down and relearn the basics.
Letter formation review, things like remembering to touch the top and bottom line, to space out words, etc.
What if you choose a handwriting level that's too easy?
I started my 1st grader on the kindergarten level (orange book) and my 2nd grader on the 1st grade book (yellow).
I'm so glad I did. It was too easy, but it allowed us to review letter formation. That's something that's taught more in the kindergarten and 1st grade level. 2nd grade does have some letter review, but it picks up quickly to include sentences.
They just flew through it because they were able to complete a few pages a day. But once they each bumped up a level they slowed down to a page a day or so because it took longer to complete.
I wouldn't worry about getting it too easy…but I would worry about ordering one too hard.
How many minutes is reasonable to practice handwriting each day?
I have been influenced by Julie Bogart, author of Brave Learner and creator of The Brave Writer programs. She, in very true Charlotte Mason style recommends starting short.
Even 5-10 minutes at a time is fine, so long as their work is careful and neat as they can do. If it's sloppy, or they are speeding to finish, or if it's taking too long to do one page, then shorten the time.
In the early years copying or writing a few letters may take the full 5-10 minutes. Then it turns into a few words. Eventually a sentence…and then several sentences.
I usually have the kids do one page a day (and only on days we do no other writing) which takes about 10-15 minutes. That's going slowly and carefully.
They have to concentrate more than free writing here. When it was to easy, they could easily do 3 or 4 pages a day. Once we got to the level that challenged them, 1 page took the full time.
Which level of Handwriting Without Tears should you choose?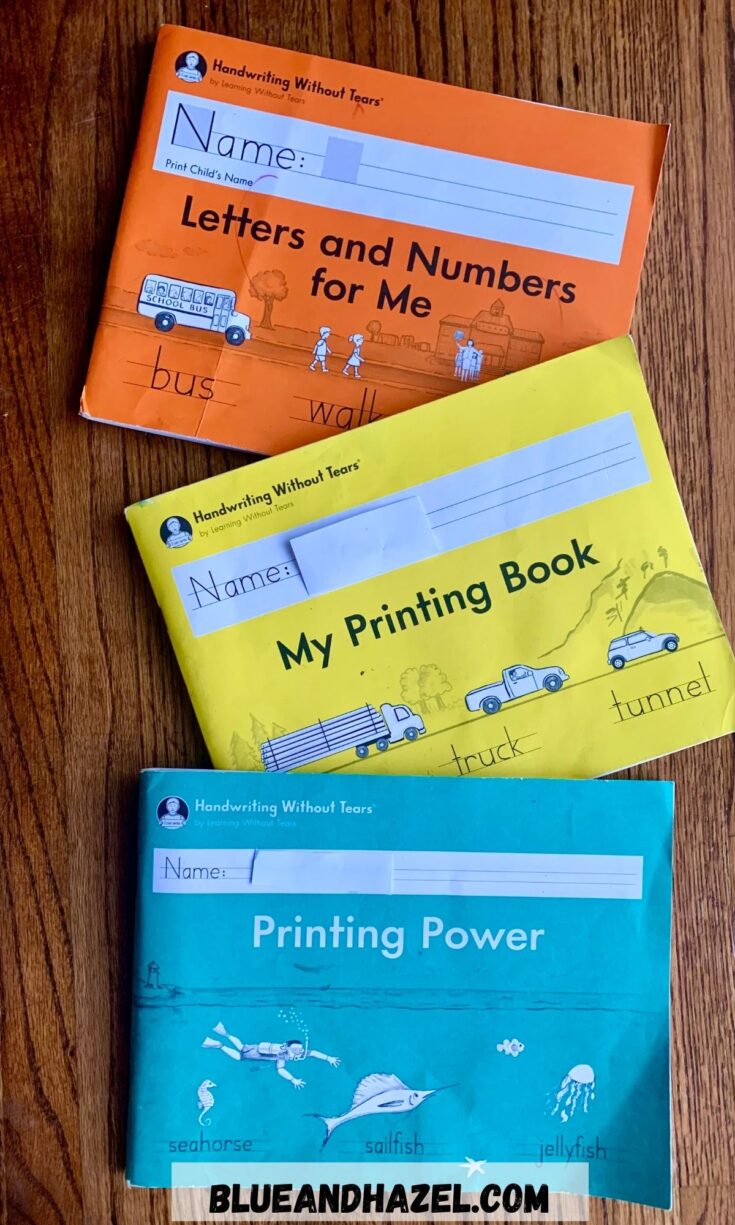 This curriculum is designed by grade level, although you won't find that on the cover of the books. Rather each level has a color and a title. Here are the levels and a little bit about each one:
I found so little on the internet for choosing a level, that we ended up going 1 level down just in case. You can watch my YouTube video below to see the differences in the levels for kindergarten, 1st, and 2nd.
Or, keep scrolling to read about that.
Kickstart Kindergarten
Introduces capital and lowercase
Age appropriate activities
Made for 2nd year preschoolers going into kindergarten
I haven't used this personally, and will be skipping this with my 3rd child. I've just found I prefer the sensory side of letter formation at this age, till hand strength and dexterity improve through play.
Until kindergarten (ages 5-6 ish), I've been happy with my kids using these large dry erase letter cards that come in uppercase OR lowercase, and this Tracing Trails prewriting workbook.
(My daughter loved Tracing Trails…you trace parts of pictures and shapes and different types of lines).
For numbers, I designed my own tracing pages for numbers 1-10 where kids follow the dinosaur and butterfly.
Kindergarten: Letters And Numbers For Me
The kindergarten level book includes:
Capitals
Lowercase letters
Numbers
Fun activities
Once letters are learned, you'll see short sentence writing, rhymes, simple poems, and more.
Includes pictures of the chalk board and wooden letters, where's older levels don't have this.
1st grade: My Printing Book
The 1st grade level book includes:
Reviews capitals
Lessons focus on correct use of lowercase letters in words and sentences
Activity pages combine handwriting with simple, language arts lessons
different styles of lines presented
2nd grade: Printing Power and Cursive Kickoff
There are 2 books at second grade level. Printing Power is as far as I've made it with my kids (they are at the same handwriting level, both finishing up Printing Power at the end of 1st and 2nd grade).
Then there's Cursive Kickoff which we will do next.
For Printing Power:
Handwriting and copywork part of this level
Punctuation, paragraph, poem, and language arts activities part of the pages
Lines get significantly smaller in this level
My kids zoomed through the other workbooks until we got to this one. One page a day has been about perfect, taking 10 minutes or so.
For Cursive Kickoff:
Transitions from printing to cursive
Step by step continuous letter formation
Letter review with words and sentences
Activity pages combine handwriting with paragraph writing, poem, and language arts activities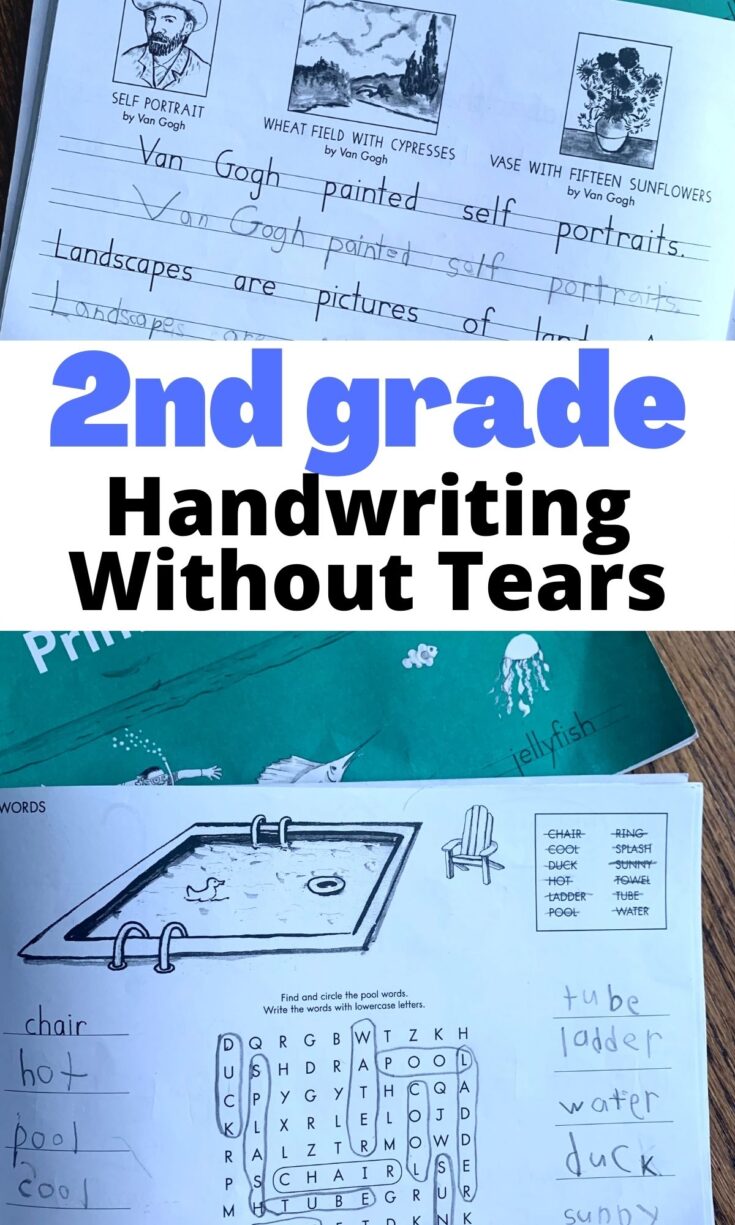 3rd grade: Cursive Handwriting
Cursive Handwriting book includes:
Cursive Warm-Ups
Review with words and sentences
Language arts activities included in the handwriting
Introduction to keyboard symbols
Book orientation changes from short and wide to your typical longer workbook shape
4th grade: Cursive Success
Cursive Success book includes:
More advanced language arts activities at 4th grade level
Reviews letters and connections
Word and sentence writing
5th grade: Can-do Print/Cursive
Two 5th grade options: Can-do Print and Can-do Cursive
Can-do Print overview:
Thorough review of printing
Practice pages with language arts lessons
Grammar and Greek/Latin word roots
Paragraphs, poetry, and thank you notes
Lesson plans incorporate letter review with words and sentences
Activity pages combine handwriting instruction with paragraph, poem, composition, and language arts activities
A comparison of kindergarten, 1st, and 2nd grade pages from Handwriting Without Tears
To give you a sample of what the inside of these 3 levels looks like at similar pages, check out the pics below. Kindergarten level (orange book) will be on top, 1st grade in the middle (yellow book), and 2nd grade Printing Power (teal) on bottom.
Beginning of the book at each level: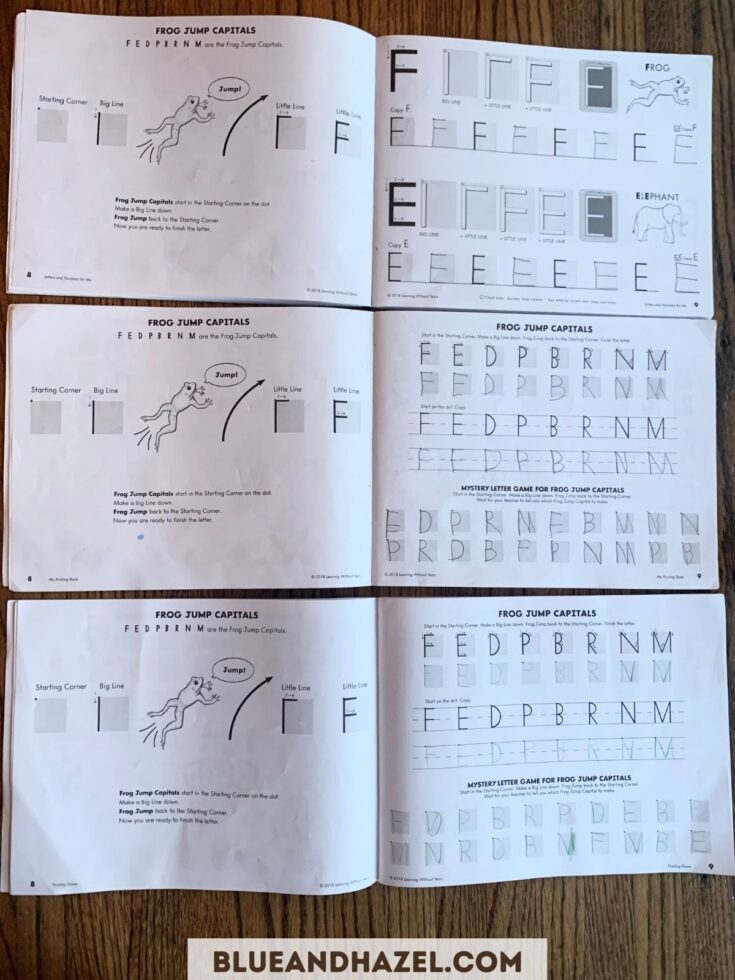 End of each level: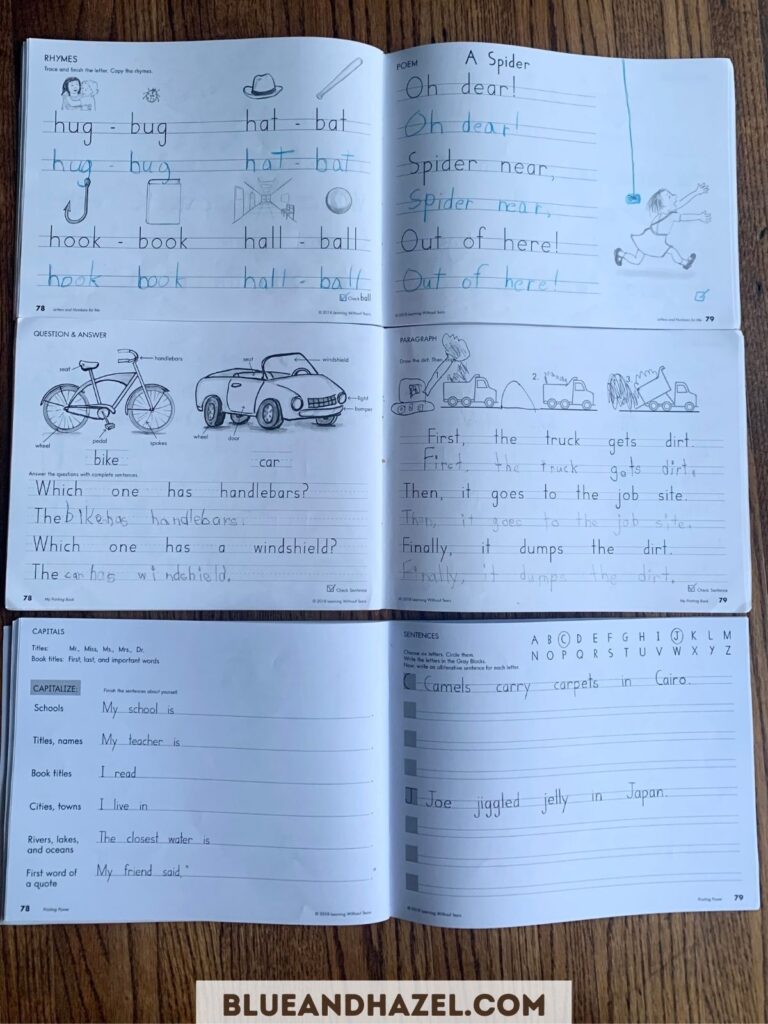 Other handwriting programs out there
Dash Into Learning has a handwriting program that looks very cutesy. We have all 3 packs of their beginner reader books and like the style of this company.
Use code BLUEANDHAZEL20 for 20% off any of their products or bundles.
Good and the Beautiful
We initially used these when my oldest was in kindergarten. It's open and go, and and includes drawing little pictures (which my son never liked doing), and other activities that seemed cute and fun.
I stopped half way through because the copywork and sentences bothered me. They said things "Pray to God." and "Always tell the truth" and I just found that to be weird that I was making my kids write this. I want these morals to come up in conversation with me so I can talk about what the bible says about them, not in random moral copywork.
If this doesn't bother you, it would be a fine option.
Did I see improvement over the year?
For sure! It was SO nice to have a no prep way to practice handwriting several times a week. I emphasized going slowly and doing their best work.
I can definitely see improvement in my 1st and 2nd graders' handwriting and we will finish their books over the summer and begin cursive in the fall!
I also love how HWT reminds them to start a sentence with a capital and end with punctuation. It's gentle on grammar and easy to follow directions, and compliments any language arts curriculum well.
All the books start with review which is nice (except kindergarten which teaches strokes with lots of practice).
More homeschool curriculum reviews
Lets connect!