This past year, I discovered a golden nugget in our homeschool. The kids and I (ages 6.5 and 8) started dipping into watercolor for beginners…specifically birds! I found FREE online watercolor tutorials by Lily and Thistle of 12 birds!
Over the course of the year we've slowly been learning how to trace and paint them for a really beautiful keepsake. Each tutorial is under 20 minutes, and it's a short activity that brings us together.
I'd consider myself a "non artistic" person, clueless with a paintbrush. So if I can do this, you can too! And if my 2 kids could figure it out (one art lover one not), then yours can too.
Let me show you how it works, what the steps are, and lots of finished examples from ordinary VERY beginner art students here!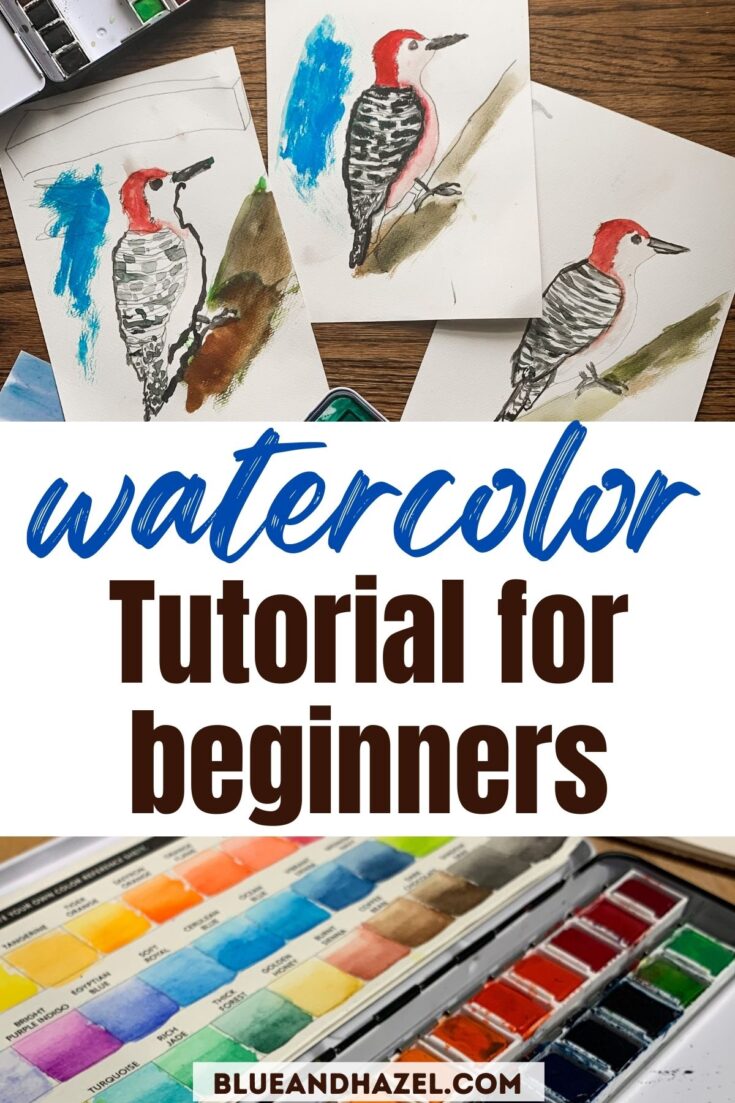 Are these watercolor tutorials really for beginners?
Yes! This is for adults and kids old enough to be interested!
My 1st and 2nd grader are doing this. And you can bet I'm counting it as art class which I share in our 1st and 2nd grade mid year homeschool update! We do maybe one a month on average.
When I first started, I'd never done watercolor before. We chose to try out the watercolor bird tutorials and I'm SO glad we did! It complemented our nature study curriculum really well, especially the bird nesting week. But we watercolored birds all year, even when we weren't studying them.
Hannah, an artist in Idaho who also homeschools her kids walks you through the process start to finish.
She talks the whole time, as though you're doing the class in the same room as her.
What do some of the bird paintings look like?
I love showing you the finished product from my 1st and 2nd grader next to mine as well! You can see 3 people following the same instructions…with their own artistic spin.
While we haven't worked through all 12 birds yet (we've done about 6 so far this year), I intend to keep learning with my kids. When we finish, I'll move on to some of her paid courses for more tutorials.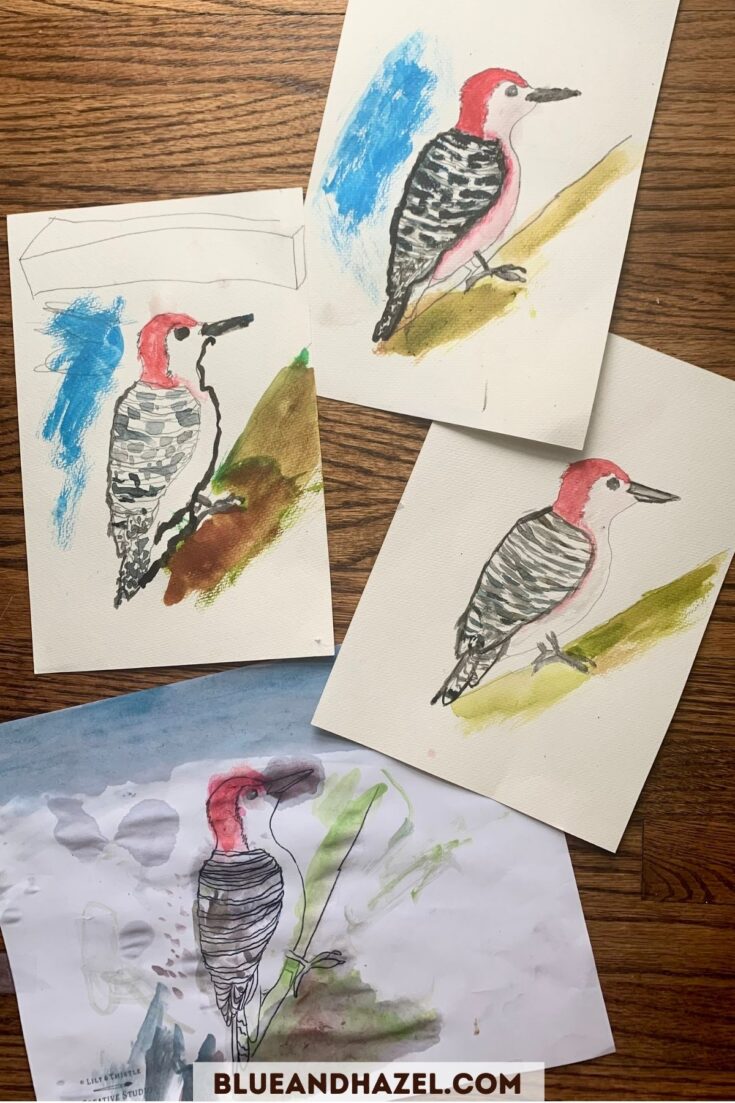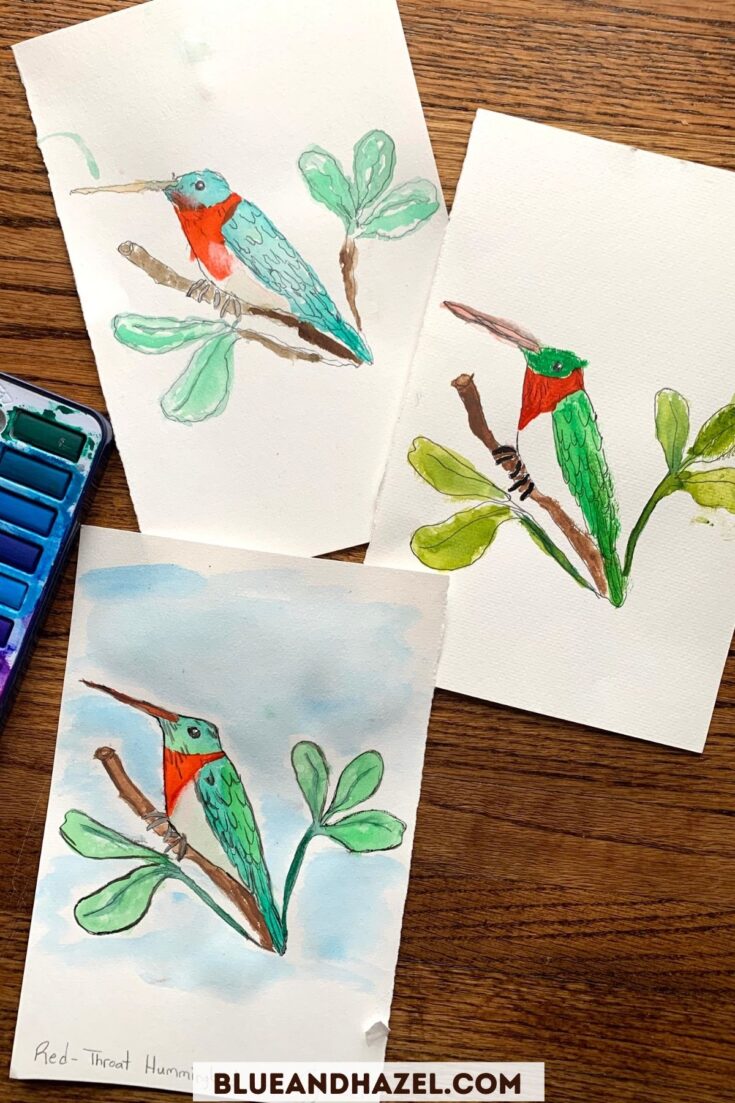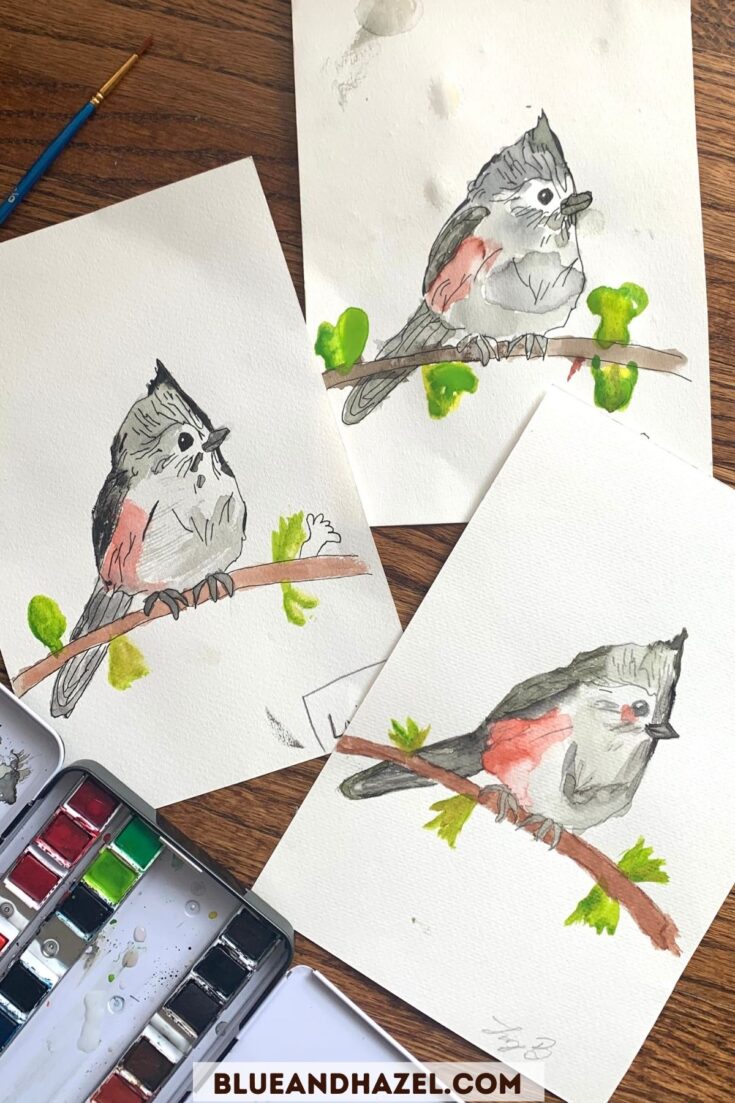 How to access this online watercolor bird tutorial
You can find the FREE tutorials for 12 beautiful birds here.
You can do the calendar version with a mini bird on top of each month, or JUST the bird. I found we enjoyed doing just the bird without the calendar.
Each video is online. So after you sign up with your email you'll get access to the online platform called "Teachable" where she stores her watercolor courses online.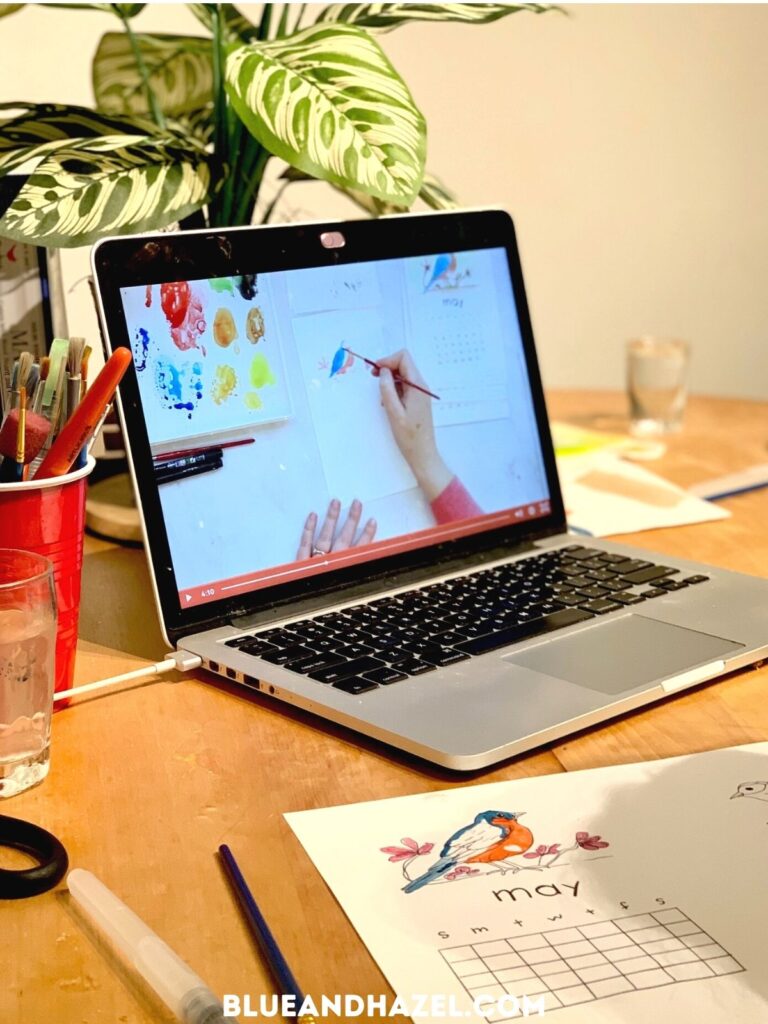 We press the space bar a LOT or pause the iPad so the slowest person can finish up each step.
It's also really helpful that AS she paints, there's also the finished version in the backdrop you can look at if you are wondering where colors go on your tracing.
What you will learn by painting birds with Hannah from Lily and Thistle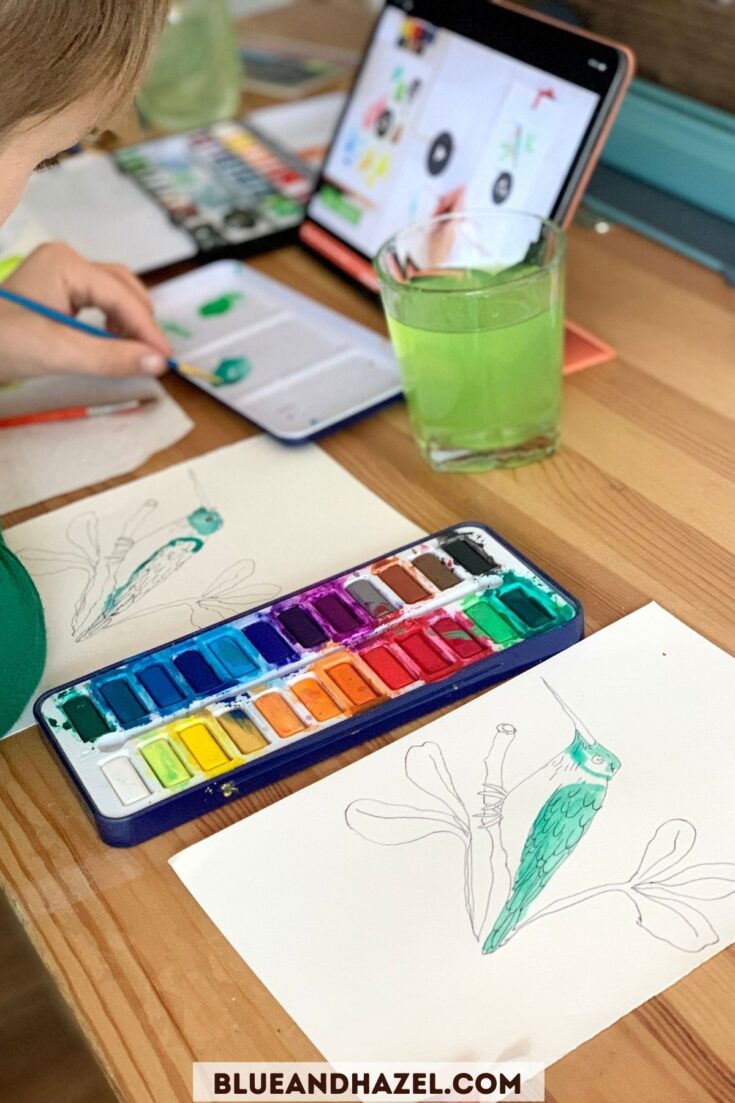 Going from having no memories of watercolor to doing a bunch of these birds, I've learned a ton and I hope my kids have benefited from the exposure. Here's a few things I've gained:
You'll learn to mix colors and how to blend them
You'll learn how to use water to lighten up a shade, and how to blend two colors together. We blend in the lid of our watercolor set and wipe it clean at the end. It's easy to do after all!
Hannah announces all the colors she'll use before the painting starts, and shows how she mixes some to get a shade. If we have a similar shade I can use without mixing, I'll use it. If not, it's helpful to see her add some brown or gray to a blue to make it darker, for example.
I don't have her paints so the names are different. I might not see "Sienna" on my watercolor set, but will see it needs to be a bit of reddish brown color. I just try to choose a shade close to hers and call it a day.
This is the set I love with lots of shades for minimal mixing.
You'll learn how to trace onto watercolor paper
If you're not a freestyle drawer, no worries! These tutorials work by having you first print off the outline of what you'll paint, which looks like a black and white coloring page.
Then, you'll tape that to a window, with watercolor paper over the top like below. This allows you to see the lines and trace! It's very easy, and takes about 5-10 minutes.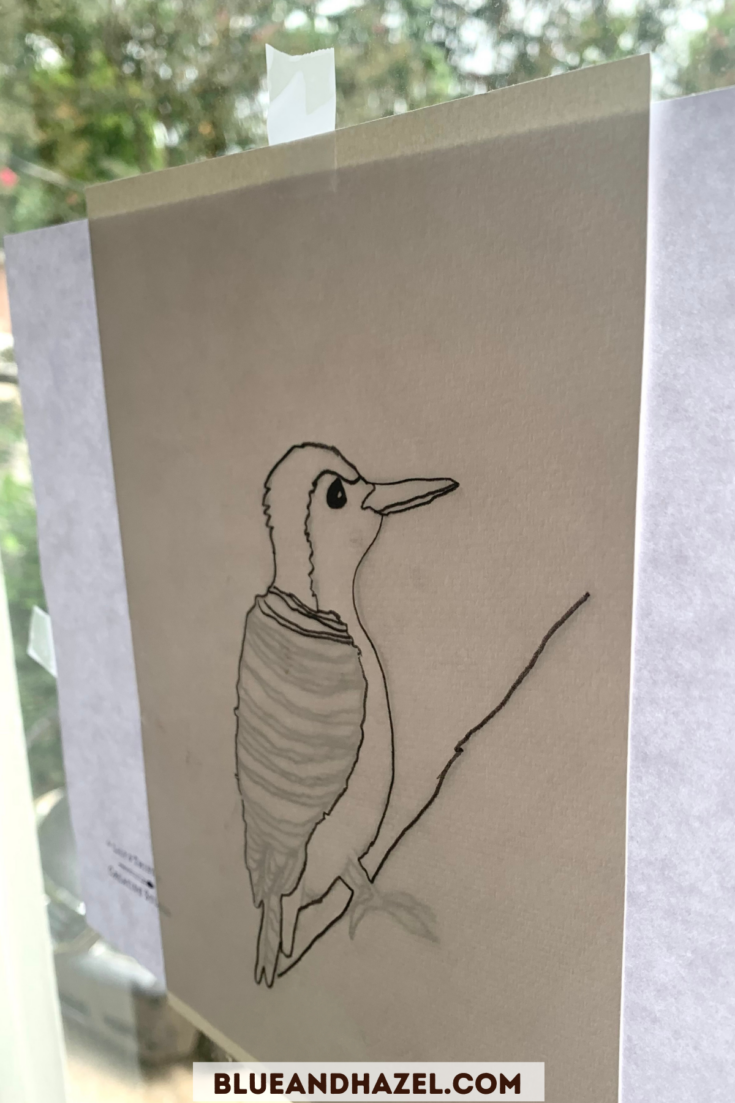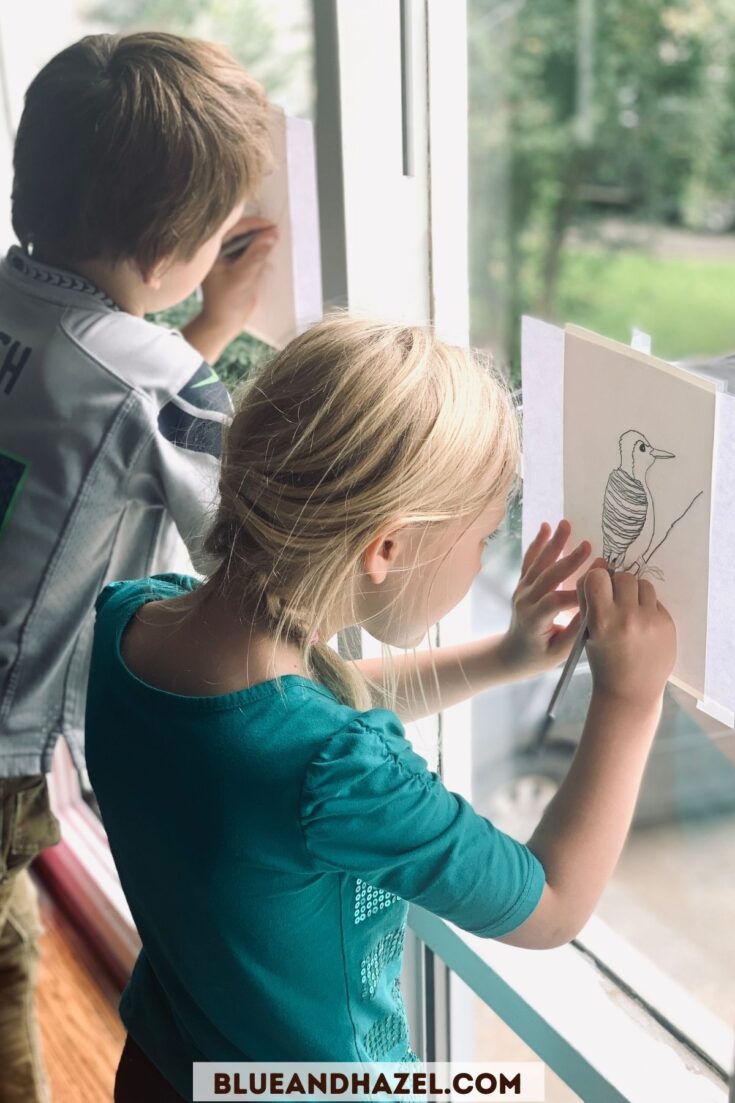 Then, you've got your canvas for painting using the tutorial.
You'll learn how to notice patterns and colors on birds!
One of the things this has taught me is to notice colors and lines on birds in REAL life. So awesome! One of my favorite things to do now is sit in my backyard with a cup of coffee and try to identify the birds I see and hear.
Since painting them, I now take note of where the colors touch, how I might paint the head, the tail colors, etc. I NEVER noticed this before.
Below is a close up of my 2nd grader adding red detail to his bird. What I love is that HIS interpretation of where it should go was different than mine or my daughters. I love it.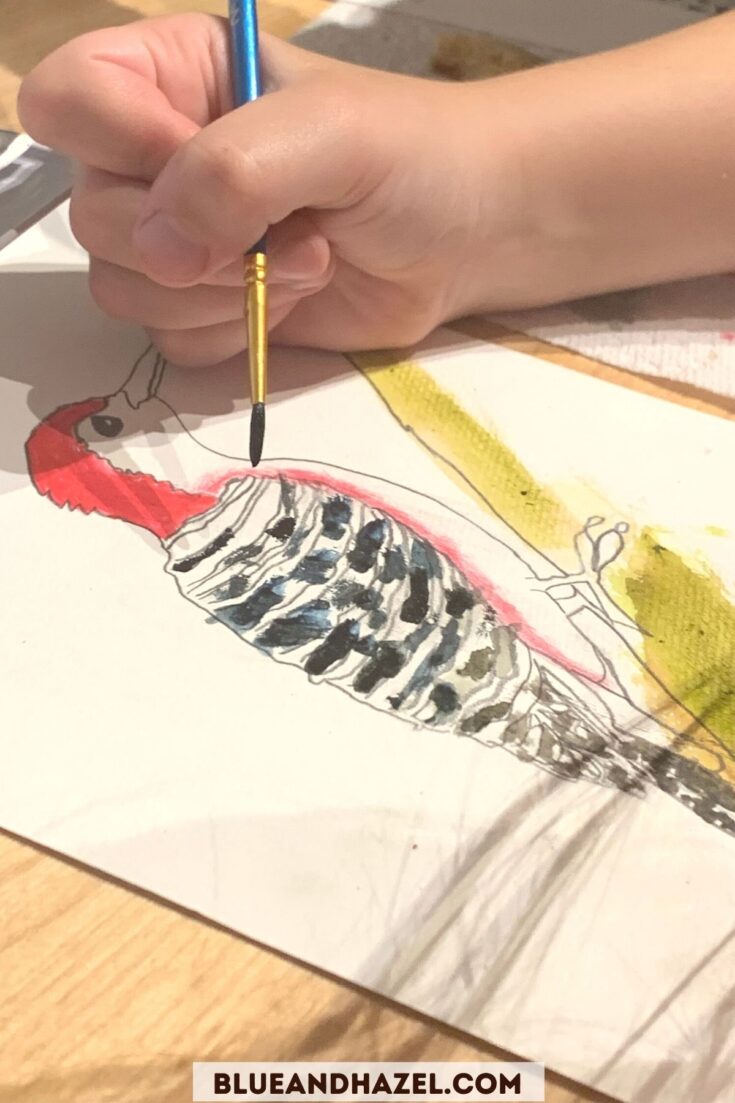 Which watercolor paper, paint, and brushes work well?
I got my watercolor paper at Target because it was cheap. It works for this, and is great for beginners! However, when we've used too much water at times it makes the paper a bit warped since it's not quite as thick and high quality. So I'd probably go up in quality when we run out.
Hannah recommends Canson watercolor paper.
We got a brush set with a variety of sizes, but mostly you'll be using small brushes.
This is my watercolor set! I love how many shades it has and that it comes with a little sheet you can put a swatch of actual watercolor on to see the finished shade on paper.
I always look at the paper swatches because it's hard to see what the colors will actually look like from the hard, dark paint square.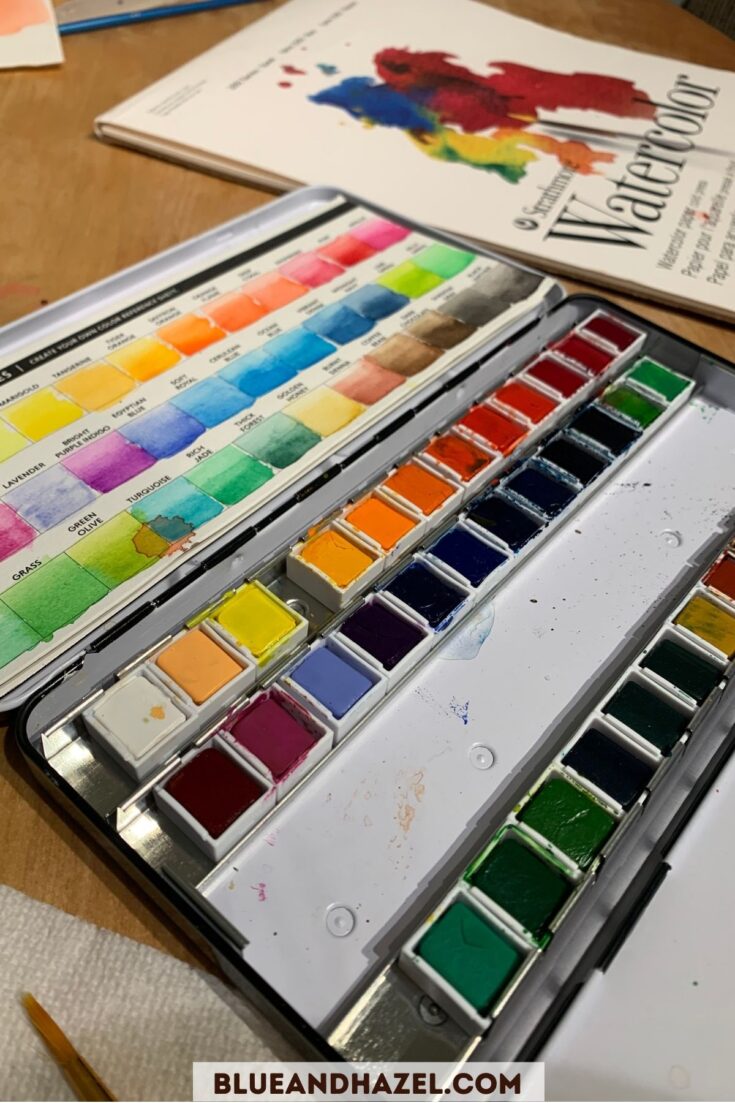 How long does each watercolor tutorial take?
Start to finish, this probably takes us about 30 minutes if our tracing page is done already. The actual tutorials are way shorter, around 12 minutes.
But with getting the paints out, pressing the pause button a million times so someone can see it again or catch up…30 minutes seems about right.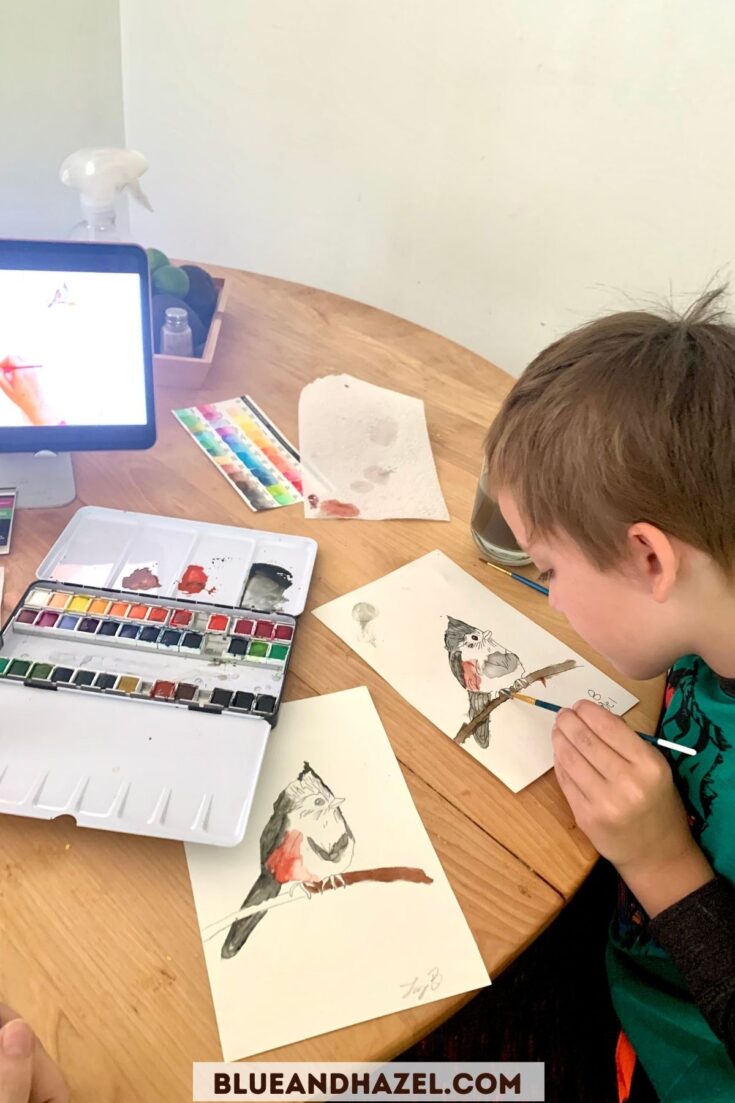 Can younger kids learn watercolor too?
Yes!
Just once, my 4 year old wanted to join us…sweet boy. I just printed him off our bird outline on this thick white cardstock which allowed him to dabble without me having to trace the bird outline for him.
He followed along! Biggest tip here is just print it off and let them do whatever the heck they think looks pretty. Who cares if they want to paint the robin purple and orange!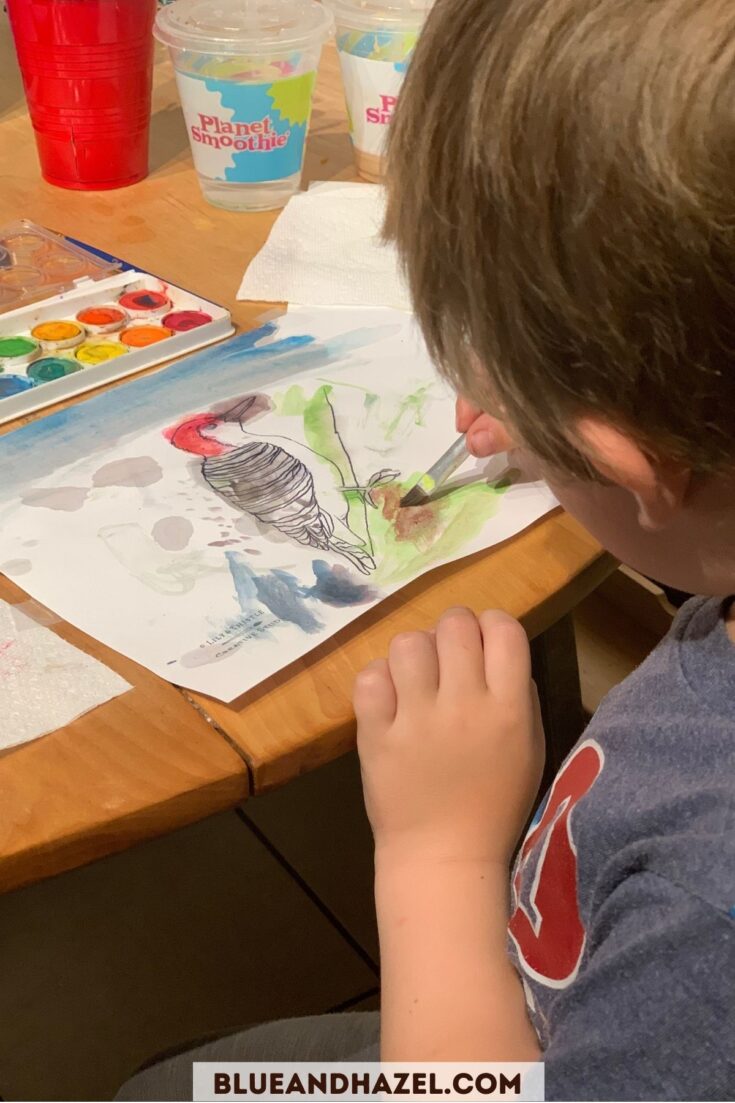 These projects are most precious and perfect if you don't micromanage at all. That's hard to do sometimes!
I will say having a cheap set of watercolors (like from the dollar store) is the only way to do this with littler kids. They mix all the colors and ruin them with too much water, etc. My bigs shared my colors, but the 4 year old got his own set.
Are there more watercolor tutorials from Lily and Thistle?
Hannah offers so many free tutorials, so start there if you want to see her style of teaching. But if you like it as much as we do, she's got a few paid bundles that are really neat!
Some, you just buy the course outright and it's yours to access forever.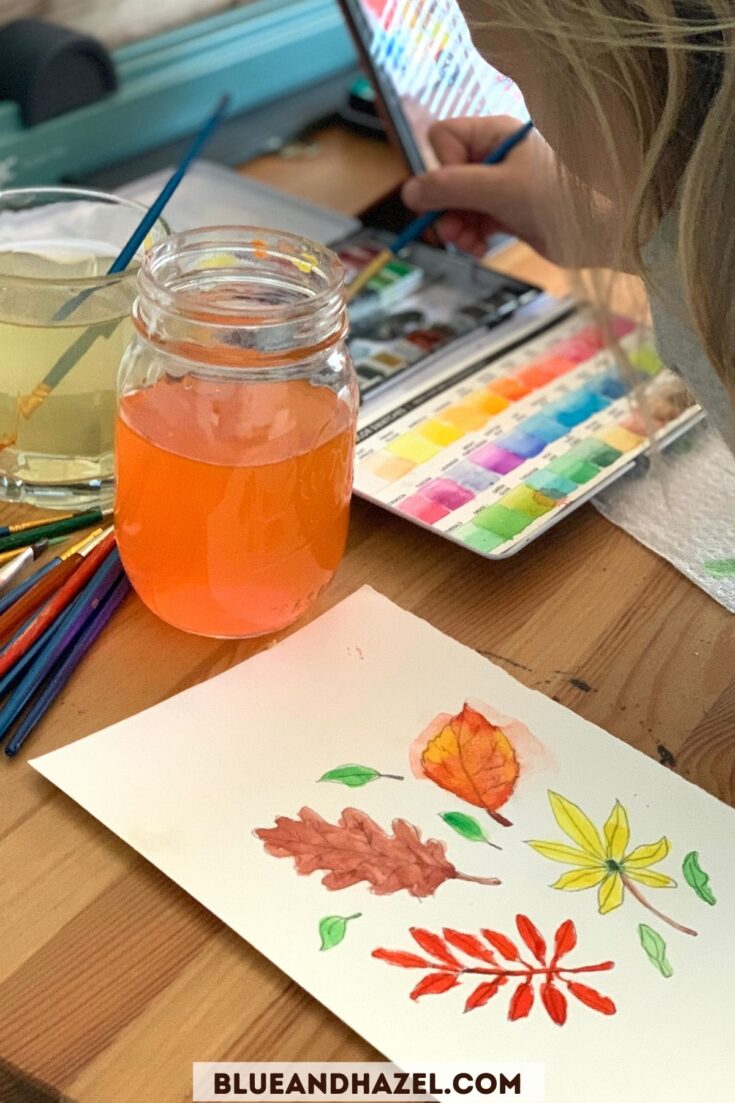 Free online watercolor courses she offers:
You've seen why we love doing these! If you're on the fence about learning watercolor…start with the birds!
We've learned to pay attention to the details of the birds, which really does translate into real life! Now when I see a robin or a woodpecker…I see the details more than before.
This would be an incredible grandparent gift or Father's Day present. I'm planning on binding each of ours into an art keepsake for their 1st and 2nd grade year.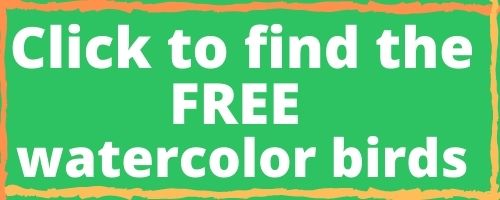 Two other free courses she offers:
Paid courses from Lily And Thistle:
Nature's Art Club is really cool, with tons of nature tutorials focused around the 4 seasons.
With Natures Art Club, you have the option to do monthly, lifetime access, or a yearly option you can split with up to 5 families. We have access to this as well, and it's FULL of neat seasonal and topical things to paint all around nature. This usually goes on sale for half price 1-2 times a year for the lifetime access.
I hope you'll dip into some watercolor this year! It'll be worth it!
If you like video reviews, subscribe to my YouTube channel!
More posts on homeschooling
Homeschool Resource Page where I list all the things we've ever used for homeschooling
MEGA list of FREE nature study curriculums for all 50 states
Nature gifts for kids who love being outside
Raising Tadpoles into Froglets
Homeschool burnout for the tired mama