I always knew that we wanted to have a 4th baby. What I didn't expect is that we would have a 4 year gap after the first 3 were born so close together. Mamas of 3 kids under 4 years, I feel for you! You're busy.
Thanks to some generous moms in my homeschool group and at church, I've discovered some amazing new baby essentials for the first 3 months. Things I didn't know I'd use but now can't seem to go without.
Having a 4 year gap meant that I had given away all of our baby gear and needed to start over! We just finished residency and my husband started a fellowship, so the budget was still too small to buy all the things I'd like for a baby.
So read on to see everything I've used constantly for our new little guy in his first months of life.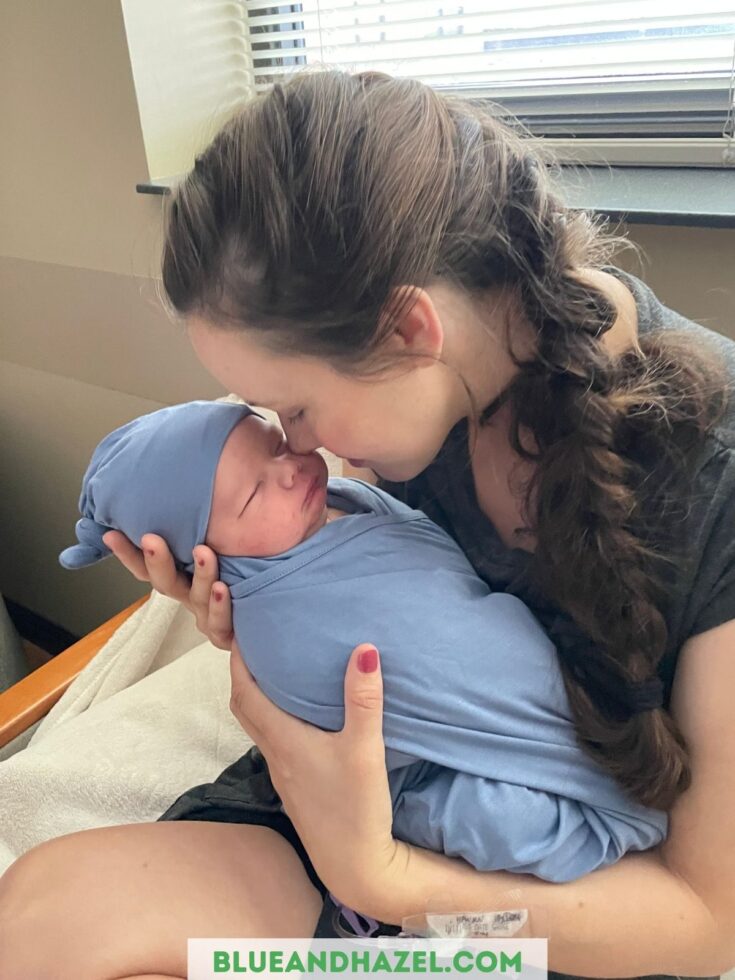 My favorite baby essentials for the first 3 months and beyond
It was easy to justify buying expensive baby items with my first since we would use them for multiple kids. Especially because I wanted them close in age, like ours that were 18 months apart and 2 years apart.
It's harder to buy baby items when you are starting fresh (as in you own nothing for babies) and think you're having your last.
These items here are one's I'd 100% buy again if I had to, at full price. Hope you'll find them as helpful as I have!
Baby Bjorn Bouncer
A homeschool friend gifted me her Baby Bjorn bouncer after she had her last baby. I'd never seen one or noticed one at least. We had some kind a floor bouncer with the others for those first few months…but the Baby Bjorn is just way better!
I've used it every day since he's been born. It's the go-to spot he resides when I'm not holding him.
It's narrow and fits nicely by the couch, or the table, or the bathroom while I'm showering. No batteries, just a good ol fashioned bouncer.
It also bounces so I can be sitting on the couch slowly bouncing him to sleep and it works like a charm.
But the other best part? When he's wiggling he kind of bounces it himself, which often results in him falling back to sleep on his own.
Safety 1st bassinet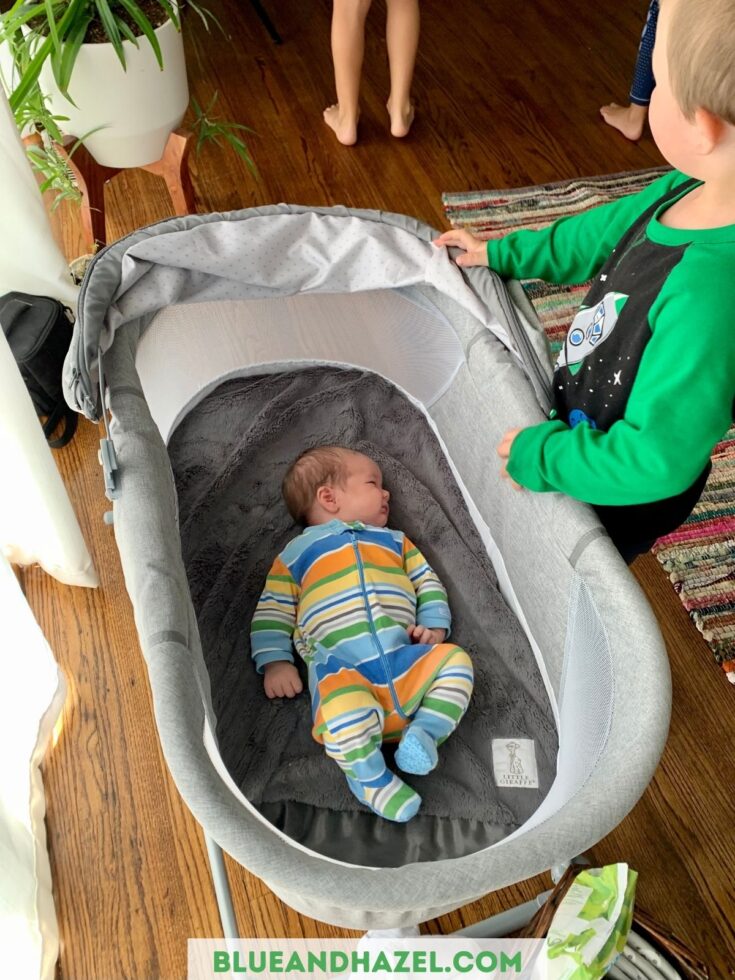 My cousin recommended this to me, and I'm so glad I bought it! I was looking for a bassinet under $100 that I could easily pick up and move from room to room or travel with if needed. Things I like:
It's small and easy to move around the house (before I discovered I could just use the Baby Bjorn Bouncer in the day which is even easier to move around.)
It took 2 minutes to set up…so easy.
It has curved rocker legs so you can rock it! Most bassinets don't have this. I thought I'd do more rocking from the couch but haven't actually needed to use this feature like I though I would.
It has a mesh net connected to the sunshade that zips up if needed. Or it can be zipped away out of sight. So you could use this outdoors no problem or take camping. It's a thoughtful feature!
Our old Rock n Play was easy to move, lightweight, and my baby slept in it like a dream but I didn't want to use it again knowing the dangers of suffocation from being tilted up while sleeping.
I've also used the Arms Reach co-sleeper with my 1st two babies which was great but I actually discovered I don't like having the baby by my bed. I hear every little noise and don't sleep.
Anyways, our Safety 1st bassinet has been perfect at the end of my bed. I'll use it as long as I can before switching him over to a crib in another room.
Solly baby wrap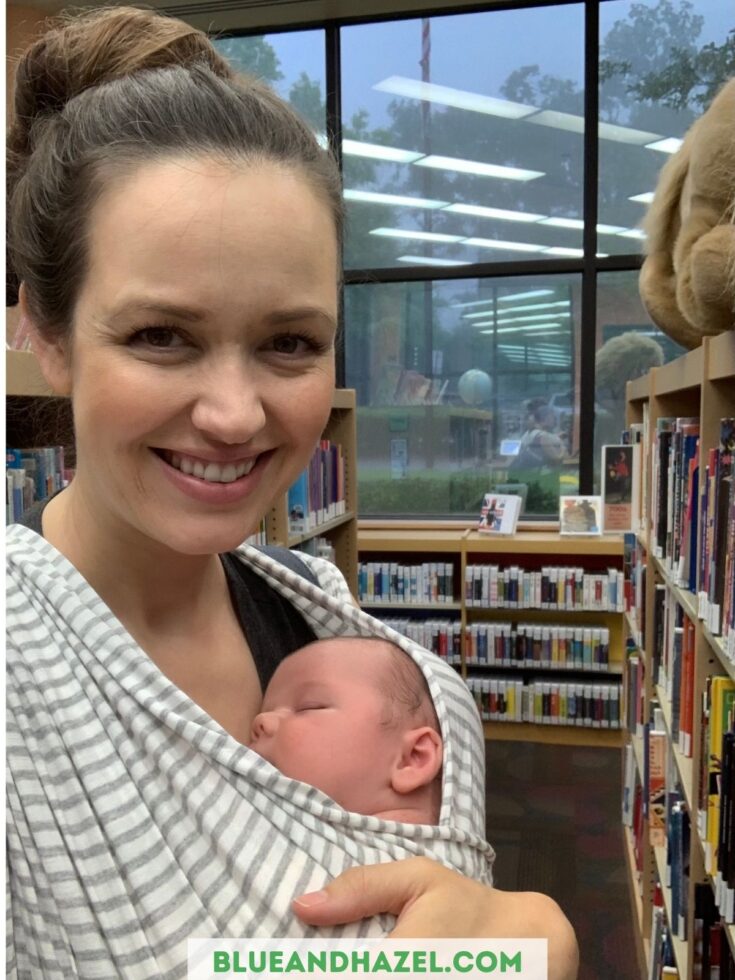 Last 3 babies I used my Boba (here's my Boba vs Moby comparison) but man I wish I would have had a Solly instead now that I've tried both.
The Solly wrap is way more lightweight and I can actually fit it in my purse if needed unlike the huge Boba. I also like it's a little bit shorter.
The fabric choices are 1000X cuter. It's got a little bit of stretch like the Boba so you can tie it pretty snug but still get your baby in. Anyways, Solly where were you for my last 3 babies??
I've used it indoors to sooth a fussy baby so I could finish a few things…like making pancakes. One morning I was just so hungry and the kids were too…but I couldn't get pancakes made because he would instantly cry when I set him down.
I finally just got wrapped in my Solly and what do ya know?! Happy boy. Now I make sure to take it with me anywhere because it's my backup plan for holding him if I don't want to carry the car seat or set up the stroller. I
t sure came in handy when we spent Father's Day together at a creek.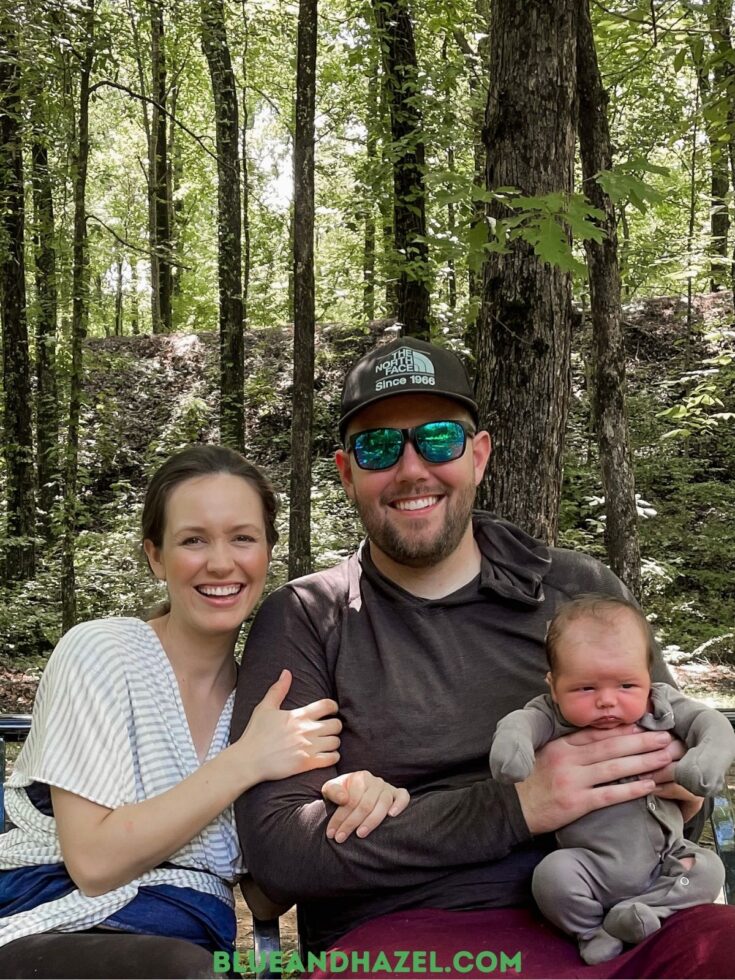 A backpack diaper bag
Having two hands is just better than one and I'm sold that diaper backpacks are essential. My last one had unrecognizable grossness in the bottom, so I threw it away and allowed myself to buy a new one for baby #4.
Once I learned how to turn any bag into a diaper bag, an ordinary backpack became life changing as my diaper bag.
You really don't need a special diaper bag, although you'll get more pockets and it may be nice if you're bottle feeding most the time.
Here's a big list of cute diaper bags if you need a new one!
Comotomo bottles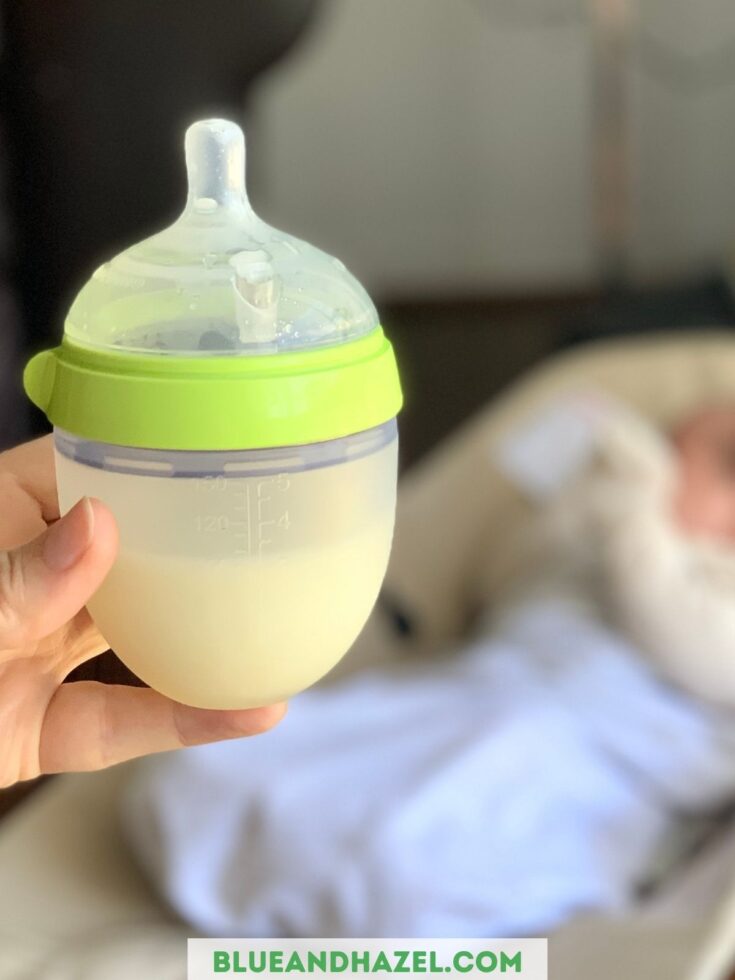 I'd never heard of these till baby #4…wow! There's a reason they have thousands of 4.5-5 star reviews on Amazon. I'd always used LifeFactory glass bottles (see why I loved these glass bottles here), but wanted to try out a new bottle.
My Comotomo bottles are AMAZING. I breastfeed, so the bottle is mainly so that I can let my kids and husband feed and bond with the baby in a special way. It's also nice to be able to bring a bottle somewhere if I know I'm not going to want to breastfeed there.
This is my Medela breast pump that works like a charm. Check to see if you get a free one through insurance before you buy one!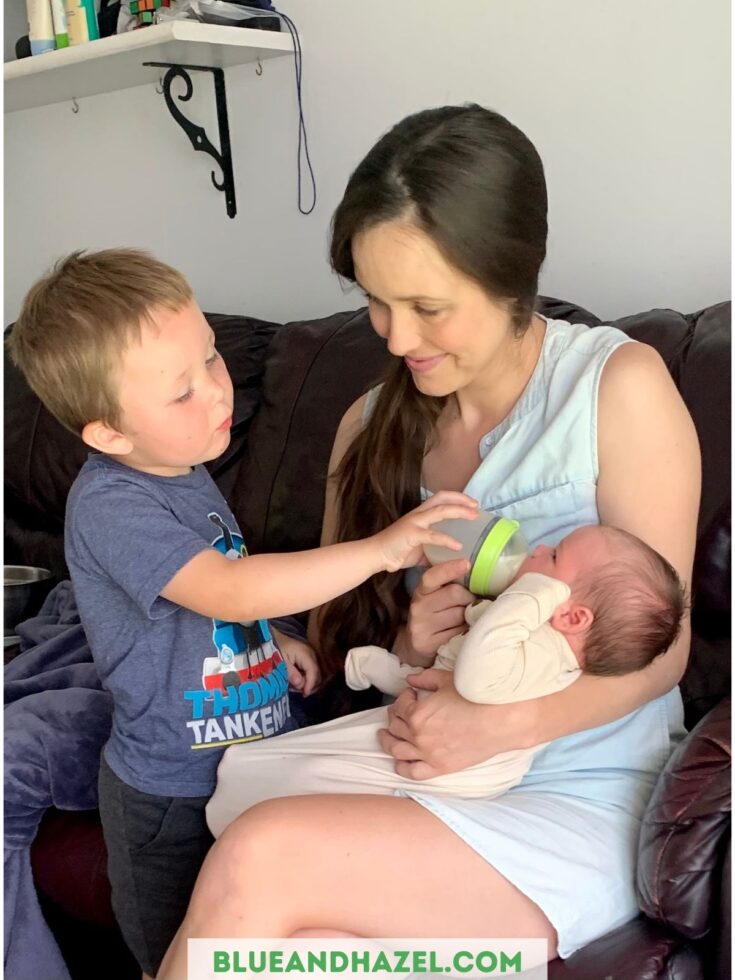 There's 2 sizes, the 5oz (what I have for a tiny baby) and 8 oz. I'll try that one when he's older. There are several stages of nipples you can buy too, but the slow flow nipple comes on the 5 oz and faster flow on the 8 oz.
I bought mine used on Mercari to save money…so that's an option too.
Main likes for the Comotomo bottle:
My new baby uses it no problem. 1st try was a little hard and he didn't eat much so I froze it. 2nd time trying he downed 2 oz!
Didn't swallow air and got a really good latch with these.
It's not plastic! It's silicone.
Has a very realistic boobie like bottle nipple and wide lid.
We don't need to own bottle brushes with these because of the wide mouth.
A couple of knotted onesies for newborns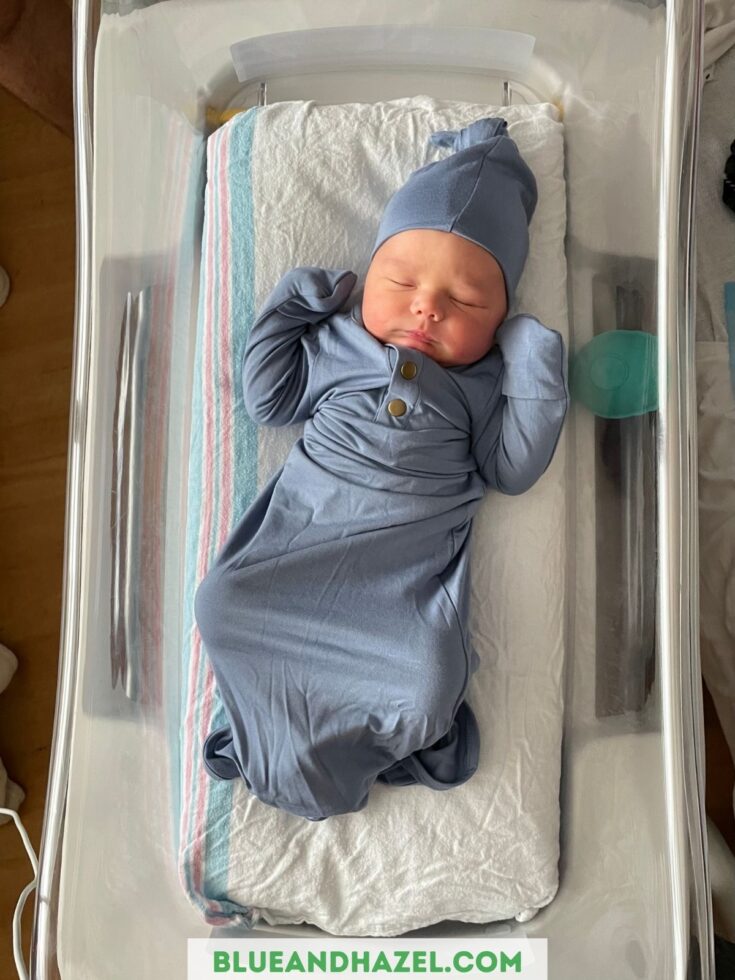 I reached out to Kylee, owner of Quinn St and mom of 4 to ask if she'd be willing to send me their knotted sleeper to take to the hospital.
She sent me two sleepers, hat, and a luxe bamboo/spandex swaddle. I didn't know it at the time, but the knotted sleepers would turn out to be my most used newborn item. I've used them several times a week for the last 6 weeks and at night diaper changes are SO much faster with these! They are stretchy and so so soft.
Plus the knotted sleeper will fit for around 6 months.
Use code BLUEANDHAZEL at checkout for 10% off!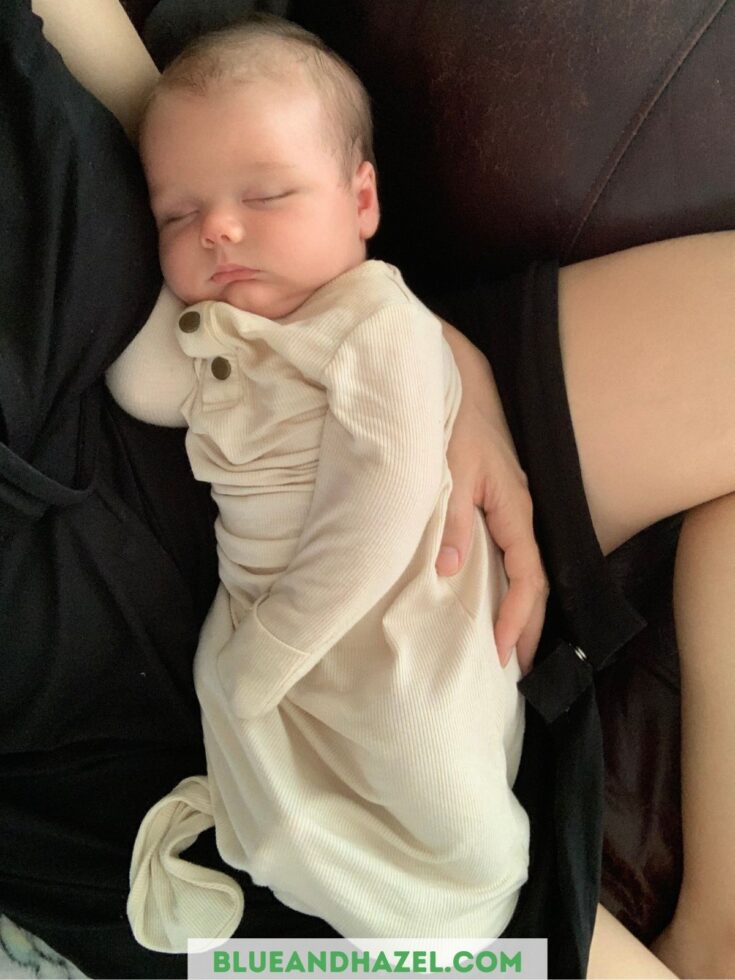 I also really like that this brand has buttons and is stretchy so that I can put it on from the legs, rather than over the head. This is extra nice if he has a blow out because I don't have to carefully try and remove poopy fabric over his head.
I love outfits with hand coverings SO much more because then they don't scratch their face.
Bonus: the price point is around $10 cheaper than competitive bigger brands, and with code BLUEANDHAZEL you'll get 10% off
. You can get a newborn set here.
Baby swaddle with velcro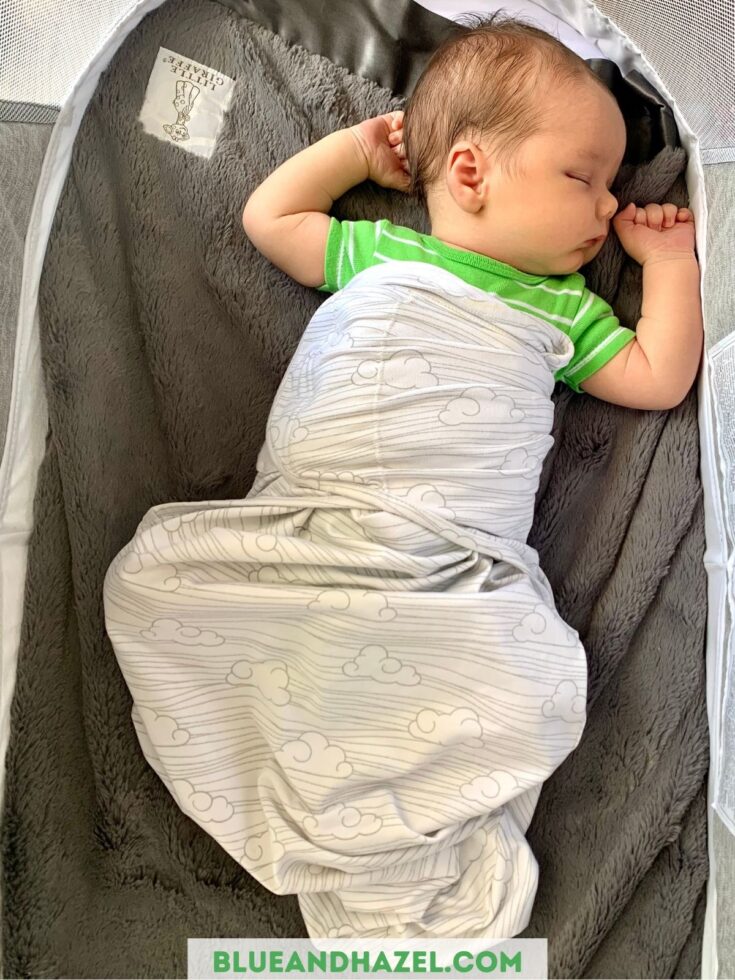 A friend of mine gave me 2 of her old NuRoo swaddles…little did I know I'd use them EVERY SINGLE NIGHT because my son seemed to sleep better and be calm when swaddled.
My baby was too big (nearly 10 lbs at birth) for the small pocket but fit into the big pocket.
They were also quick to put on and stay put without the danger and fear of a loose swaddle.
Our first night home I didn't get much sleep because I swaddled him with a muslin swaddle that kept coming loose. (I didn't think to use these and my nice big stretchy one was pooped on).
Anyway, the muslin swaddle loosened when he'd kick so I constantly felt the need to check on him to make sure it didn't cover his face.
At some point I got out of bed and went and got my velcro swaddle and bam…instant peace of mind. And the baby went to sleep because he was snug!
Another highly recommended one is the Halo sleep sack for newborns. Have you tried it?
At the hospital I used the one big stretchy swaddle blanket I owned from Quinn St. It's big enough to actually wrap around your baby and stay tightly tucked.
Plus it's stretchy and buttery soft. I wish I had 2 of those at birth though because he pooped meconium all over it on night 2.
We've used either the velcro NuRoo or the stretch Quinn St swaddle every night since going on 6 weeks now!
Himalayan Salt Lamp
I just wish I knew how amazing having a himalayan salt lamp for nights would be 3 babies ago.
I have it on a night stand by my bed with a dimmer, so when I get up to nurse him I don't have to blast white light from my phone or a lamp. And it doesn't wake up my husband like my phone light did.
It's relaxing, easy on the eyes, and when it's up all the way I can usually see well enough to change a poopy newborn diaper. Seriously, get one. And the best part is it's beautiful mood lighting for any room when it's no longer your baby night light.
A really soft fleece type blanket
I've had a different brand of these for each baby. My mom got me a clearance one at JC Penny this time, but it looks exactly like this fleece blanket. I like the small size!
You can hold them in it, or I often set it on the Baby Bjorn under him. I use it every day!
More practical daily use items
Diapers, of course.
And Desitin diaper cream. I like to put this on at night, or if I start to notice his bottom getting red at all. The purple tube smells horrible, but the blue tube smells good, like a gentle baby powder scent.
A few burp cloths. I actually rarely use these for burping a baby, but instead keep one in each diaper changing basket along with the Desitin and the diapers. I've got a diaper basket in the living room and by his bassinet in my room.
We don't have a changing station or a foam changing pad this time around so a burp cloth has been just fine for diaper changes to protect the floor.
Baby items that I don't find necessary
Unpopular opinion: A Doc A Tot or Snuggle Me Organic lounger.
I had one with a 5 month old last baby, and think I missed the window for it. It's just too expensive to me to be worth it? If someone gave it to me I'd use it…but I don't find it necessary enough to have bought one for myself this time.
Plus the Baby Bjorn bouncer takes it's place and I like that it's up off the floor when I have other kids walking around.
A Snoo. I've never tried this and my friend swears by it. But how in the world can a baby bassinet can cost $1400?!
If you are a doctor or married to one, you are eligible for a HUGE snoo discount bringing it down to around $800 I think, which is about it's resale value. But still…I couldn't bring myself to pay that at this point in our baby journey.
Baby towels also seem odd to me. We just use our regular towels…am I missing something amazing about a baby towel with the corner hood?
Special baby laundry detergent. We have lucked out with babies that don't have sensitive skin issues. Our very gentle unscented Dropps pods work well without having to buy a special one for baby. Here's my review on Dropps pods for laundry and dishwashing after using for about 2 years.
Breast friend nursing pillow. I had one of these once. It was nice! But I didn't always use it, and sometimes it's just quicker for me pull up my shirt and nurse than to be a little more comfortable with the pillow.
But I completely understand why some people love it…plus it supports your back.
Baby shoes. We just don't use shoes until they're basically walking. So at least for the first year. If it's cold, socks or moccasins for sure though.
A baby swing. Again, we had one with my first. It was nice to have an extra place to set a baby down. That made it so I didn't have to carry a bouncer around room to room. But I wouldn't buy one over another Baby Bjorn bouncer…I'd rather just have 2 of those.
Baby oil or baby powder. Never use them.
I'd love to hear what items you thought were essential for those first few moths… or a total waste. Everyone's different and there's no right or wrong answer! Drop me a comment and let me know.
More baby posts for you
What an epidural feels like and how each of mine were different
What is Pulling Curls Online Prenatal Class
The program I used for a year that helped me stop peeing my pants after baby #3