I LOVE homeschooling first grade. This year is my 3rd time having a 1st grader in our homeschool and it's all just so special. When my oldest was in 1st grade, I didn't use a schedule because for us, there wasn't that much to do. Now that I have 4 kids and 3 are doing lessons, I like to have a loose schedule/routine so we all know what we have to do.
A schedule helps me when our learning time gets postponed by the toddler, or when we have to pause for some reason. It also helps my scattered brain to remember which days to include riches like nature journaling or art.
Your 1st grade homeschool schedule (and curriculum) will look different than mine, but you can use my sample homeschool schedule as a springboard to create one that works for you.
Even if you have older kids in the mix, like me, this schedule/routine will still help because most of what I need to do with my 1st grader is one on one. Then I work with the big kids while he plays.
1st grade homeschool curriculum & helpful posts
My curriculum picks for 1st grade have changed some with each 1st grader. I'll share some pics below of our current books if you'd like to see what's filling our school days.
Here's what we used when my oldest was in first grade.
This is the curriculum we used for my next first grader a year later.
Now, with my 3rd child, we're currently using Ambleside Online with a 1st, 3rd, and 4th grader. This is a complete Charlotte Mason homeschool curriculum.
You may also like to browse:
I also talked about how much it costs to homeschool 3 kids a while back which you might find helpful getting started. (This has recently gone up as I've decided to buy our books this year instead of just using the library).
Keep a 1st grader's schedule short
I appreciate and try to follow Charlotte Mason's recommendation of short lessons. If all our readings and subjects are 10-15 minutes, then it makes sense that our academics could be done in an hour.
Now that I have older kids too, I cherish short lessons and am thankful my 1st grader has most the day to play.
This is the year attention span increases some but it's still small! There really is a short time before we hit an invisible wall. I can either carry on while the information goes in one ear and out the other, or we can pack it up for the next day after about 10-20 minutes.
I allow my kids to play with toys, draw, color, or even climb things while I read (except for math). But if it's keeping them from being able to listen, then I'll ask them to sit by me while we do a lesson.
With a toddler around a 1st, 3rd, and 4th grader doing school too, this often means short lessons AND going to a quiet place like a separate room or the back porch.
How to know if you're doing enough
In first grade, you don't need to be doing all the subjects. (Check your state laws of course, but even unschoolers can figure out ways to satisfy requirements without set curriculum).
1-2 hours of academic time is enough in 1st grade! For us, that's 4-5 chunks of learning time. For example:
15 minutes of reading practice
15 minutes math
10 minutes handwriting
10 minutes of story time 2-3 times a day with picture books.
15 minutes of something special, like nature study or handicrafts or making a creative writing project from Jot It Down.
My preference for any "extra" subjects at this age like science, history, etc is to use picture books. They're so engaging, and don't feel like school. Below are our Ambleside school books. About half of these have pictures.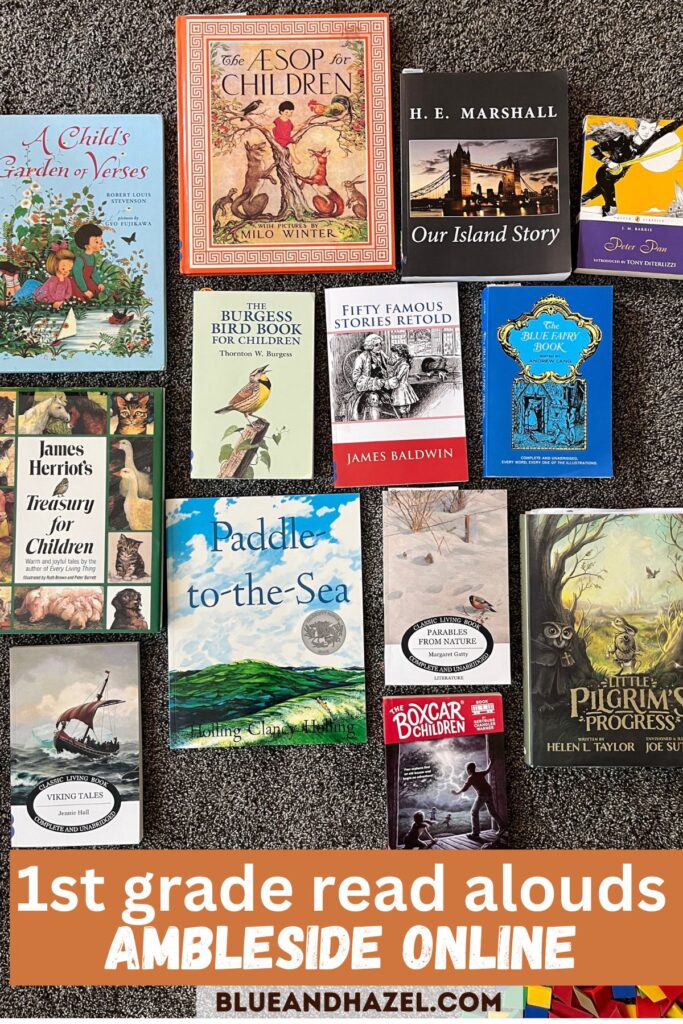 I've seen HUGE progress by the end of the year doing just a little bit each day when my older kids were in 1st, so I know now not to stress.
Instead of worrying, just keep chugging along on the subjects you choose, ideally keeping each subject you choose 20 minutes or less. Imagination is still king, and playing is learning at this age.
Which subjects do you need to include for 1st grade?
This is actually up to you and may in part be determined by your state laws.
Daily subjects
My focus has always been on reading, writing, math, and anything creative we can muster.
Optional subjects (and how we've covered them) in the past are below:
History: picture books, especially love Ambleside Online book lists for 1st grade and have also loved Beautiful Feet Books Early American History or Around The World In Picture Books lists. You don't have to even use their guide, you can simply check out the books and read them.
Nature study: This isn't really optional for us because it's important to me, but it may be optional for you! Here's how we've used Exploring Nature With Children. Sometimes we don't do anything formal and just get picture books or do a craft, but it depends on my capacity.
A schedule will help your 1st grader know what to expect from school
My boy knows that each day he has his First Grade Math With Confidence, a reading lesson from Teach Your Child To Read In 100 Easy Lessons, some books I read out loud, and a page of Handwriting Without Tears.
Those are the things we write down on a schedule. The rest? I leave off.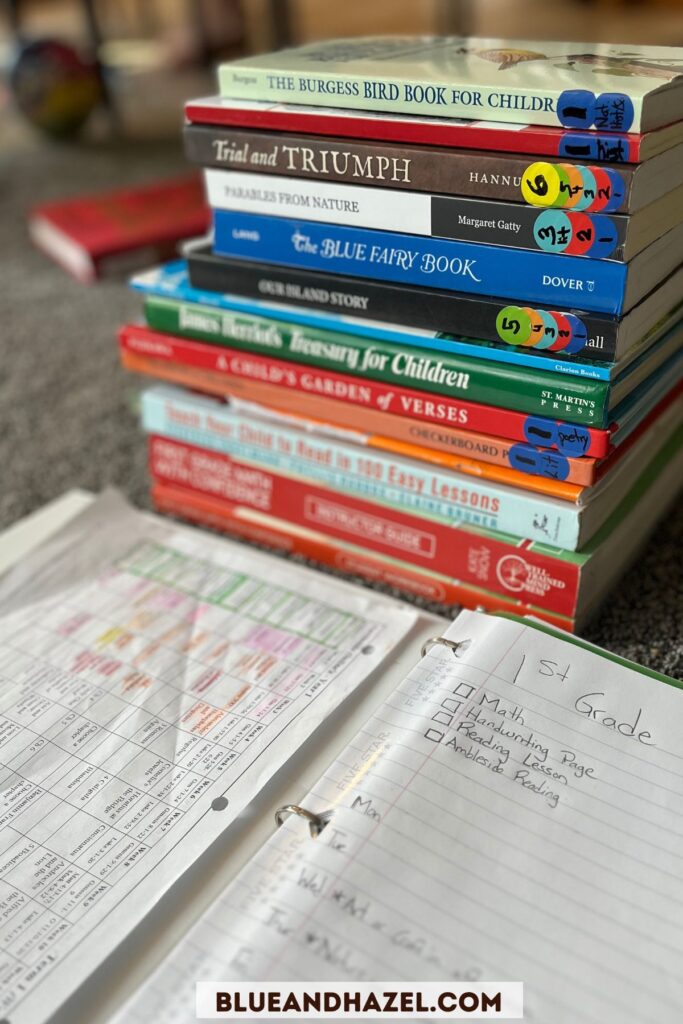 What doesn't go on the schedule?
Any history or nature study we do comes from picture books or hands on (fun) stuff so it doesn't feel like school. We also LOVE math games for 1st & 2nd grade to really practice math facts without any pressure.
Things I consider "school" that he doesn't?
Drawing or making paper airplanes
Legos
Listening to mom read a chapter book like Charlotte's Web
Watching animal shows like Wild Kratts
Set your 1st grade goals (this helps create a balanced schedule)
I've found that looking at the big picture takes some of the pressure off of the day to day. I try to set a few academic goals, and a few life skills goals for whatever my 1st grader needs.
My biggest goal with a 1st grader has been learning to read. Here's how we've taught my kids to read. It's seriously been the highlight of homeschooling for me! It was what gave me the confidence that maybe, just maybe, we could do this homeschool thing.
Setting good habits
We are following a Charlotte Mason approach, which puts a large emphasis on establishing habits in the early years. I have never used a curriculum like Laying Down The Rails or anything. We just pick one thing at a time to work on, maybe two. And then we do it every day. So far this year my 1st grader is working on:
brushing teeth on his own each morning
getting dressed and putting jammies back in his drawer (we don't fold)
putting his big fuzzy blanket back in his bed each morning
putting shoes on the shoe shelf
A few habits he's got down pat:
putting his dishes in the sink
cleaning up a spill he makes
willingly doing small chores I ask of him
Here's my YouTube video on our first month really focusing in on some BASIC habits needed in our home.
Need some help with realistic chore ideas for your 1st grader? Here's 17 chores for 7 year olds to teach responsibility and 15 chores for 5 year olds that are actually helpful. We don't use all of these btw, but pick and choose what makes sense for our family during different seasons.
Sample 1st grade homeschool schedule
Breakfast/get dressed/brush teeth/put away clothes & blankets
9 AM start for family morning time reading (around 30 minutes, details below)
First Grade Math With Confidence & Handwriting Without Tears (30-40 minutes between these two…details below)
Read a story to him and he narrates back what he remembers (10-15 minutes)
Brain break (play time while I work with another child)
Reading lesson (15-20 minutes)
Play time
Lunch
*Extras we do as a family: Art of some kind on Wednesday afternoons, and nature journaling on Thursdays. Okay, now for the specifics!
9 AM start time
Right now, my 1st grader wakes up around 7:30 AM and we don't start school till around 8:30 or 9:00 at the latest. I love having a start time because it's not a surprise when I say it's school time. It also holds me accountable to begin the day!
We are currently juggling 3 school age kids and a 2 year old, so the days are really unpredictable as far as interruptions go. Here's a post I wrote with an update using Ambleside Online after 2 weeks if you're interested.
Morning time
When we begin, all the kids listen in for our bible reading, 1 hymn we sing together, a daily poem, and one short chapter of a read aloud. Right now we're reading Little Pilgrims Progress to my 1st, 3rd, and 4th grader.
You can read how to find living books and what they are. These are the types of books that my kids remember most it seems.
Once a week we also look at a painting, learn the title, and talk about it. After giving them some time to look it over, I'll turn it around and ask them what they see in their mind. Then, we look at it again. This takes about 5 minutes!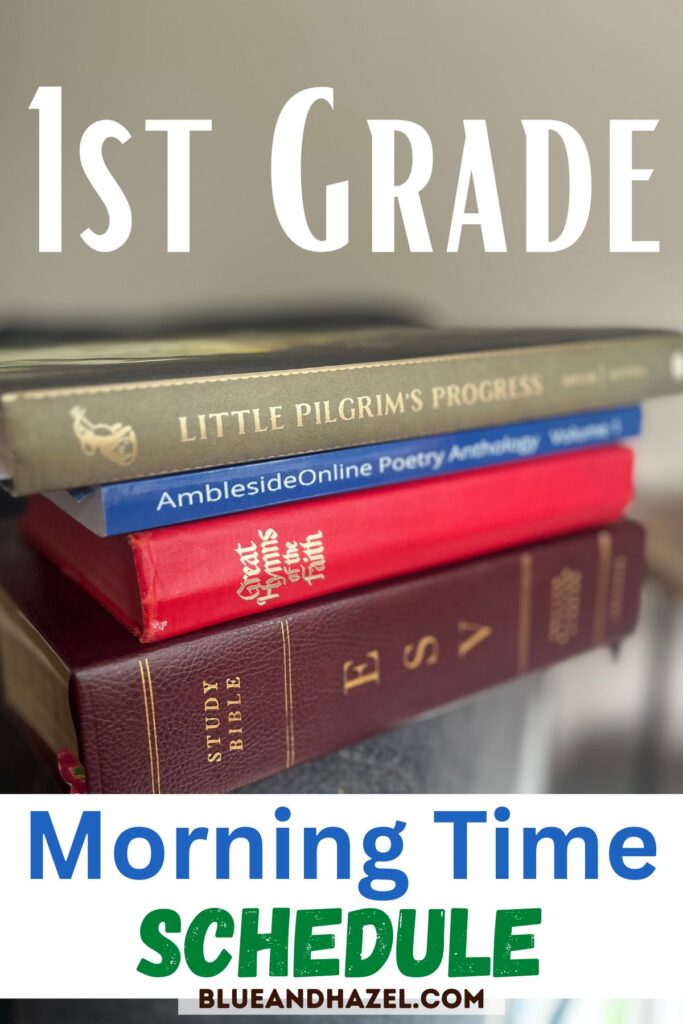 1st grade math & handwriting
But one thing that's worked really well is to work with my 1st grader and aim to finish everything for him before working with my older kids. We start with math and handwriting, though there's nothing that says we can't switch it up.
I start with his math lesson which he loves, and then usually follow that with a quick 1 page handwriting from Handwriting Without Tears. He's finishing the orange kindergarten book and then will get to the yellow 1st grade book around Christmas.
He's transitioning to copying a short sentence rather than copying just words. Pretty soon, by Christmas I'd say, he'll be independent and able to copy on his own without me worrying about his letter formation.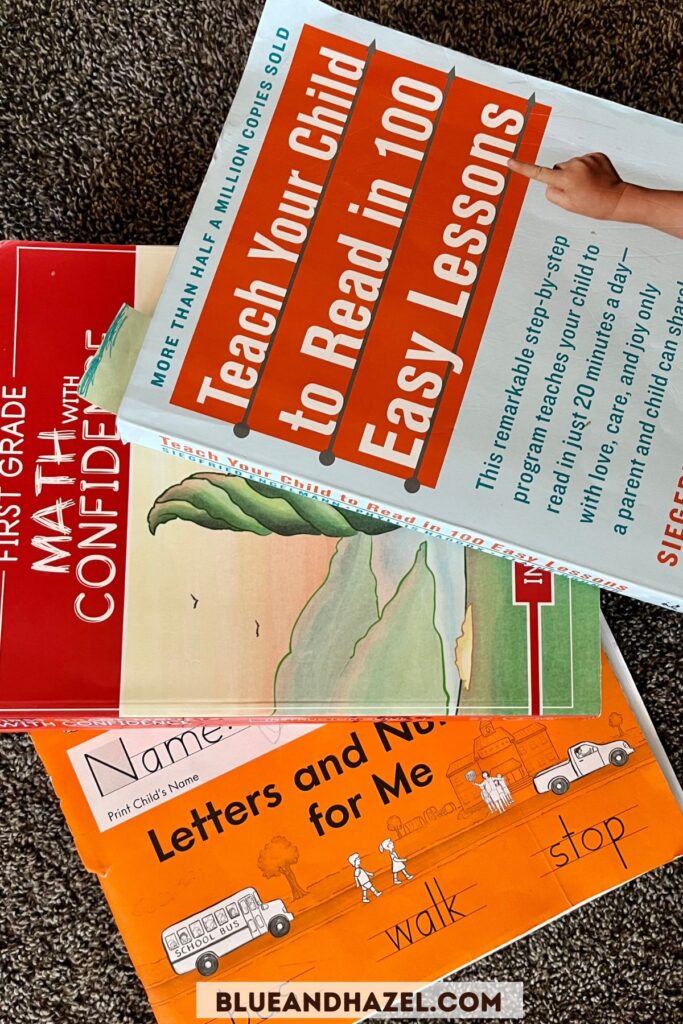 Play break & then picture books
After math and handwriting, it's time for a break. Then before lunch I aim to read 1-2 picture books to him. If it's an Ambleside Online scheduled read, then he has to narrate back to me. Scroll down to see our favorite 1st grade picture books so far!
He really only has an attention span for 1-2 short readings. I've got him for about 10 minutes at a time right now, then he just loses interest in being read to.
Reading practice
Once my son finishes Teach Your Child To Read In 100 Easy Lessons, we'll continue this sit-down-together time where he can practice reading books out loud, but we'll jump over to reading through our Dash Into Learning books, Frog & Toad, maybe Dick and Jane from the library, and any other easy readers he likes.
You can see my Dash Into Learning review here.
Favorite first grade picture books
I could make this list soooo long! But I'm keeping it short, and aiming to show you collections of books that would be worth reading to every child.
Consider a loop schedule
If you're new to a loop schedule, it's just putting certain subjects on a list and rotating them. It's a great way to make sure you get to all the extras that you don't cover daily.
Pick 1 or 2 from the list each day. Here's how to set up a loop schedule step by step. You can even do more than 1 mini loops, if you want to say rotate art and handicrafts, or nature study and history.
The advantage is if you miss a day, you don't have to wait a week to do it. For example if missed nature journaling one day, you don't have to wait till that day next week to fit it in. You'd just do it your next available time slot that's been set aside for any subjects on the "loop".
A loop schedule has worked really well for us in the past.
Each child is different
It can be discouraging when you see posts of other first graders reading chapter books, or writing stories just for fun…if your child has shown little interest in those things. I've been there.
Each of my 1st grade kids have been "behind" their public school peers in some areas and way ahead in others. A lot of this is developmental!
My oldest was slow to learn handwriting, but reading an hour a day on his own, for fun, in kindergarten. My daughter was writing sentences in preschool but didn't really take off reading on her own till about 8 (3rd grade). My next child has been right in the middle of the other two, still learning to read and handwrite his letters in 1st grade.
Just remember each child is uniquely gifted, and will bloom in their own timing! Keep reading to them, and when in doubt, read to them some more. They'll get there, I promise!