If you are looking for a colorful hands on sensory activity, here's how to dye rice with rubbing alcohol, food coloring, and rice! We used this for our homeschool preschool, and it's easy to store and reuse. Even though it's pretty, it's not edible.
Start to finish this took about 25 minutes for 5 colors, including drying in the sun. Each batch was 1 cup of white rice.
The nice thing about dying rice is that many of the ingredients are interchangeable. If you don't have rubbing alcohol, you can swap out for vinegar. If you don't have rice, you can use pasta. I have also seen people swap food coloring for liquid watercolor paint, or Kool Aid!
Overall, learning how to dye rice was easier than I expected and left no mess on my hands. The small 1 cup batches of rice dried quickly in the sun, and my 6 and 4.5 year old LOVED helping squish the color around almost more than they liked playing with it. So if you have older kids, try and include them!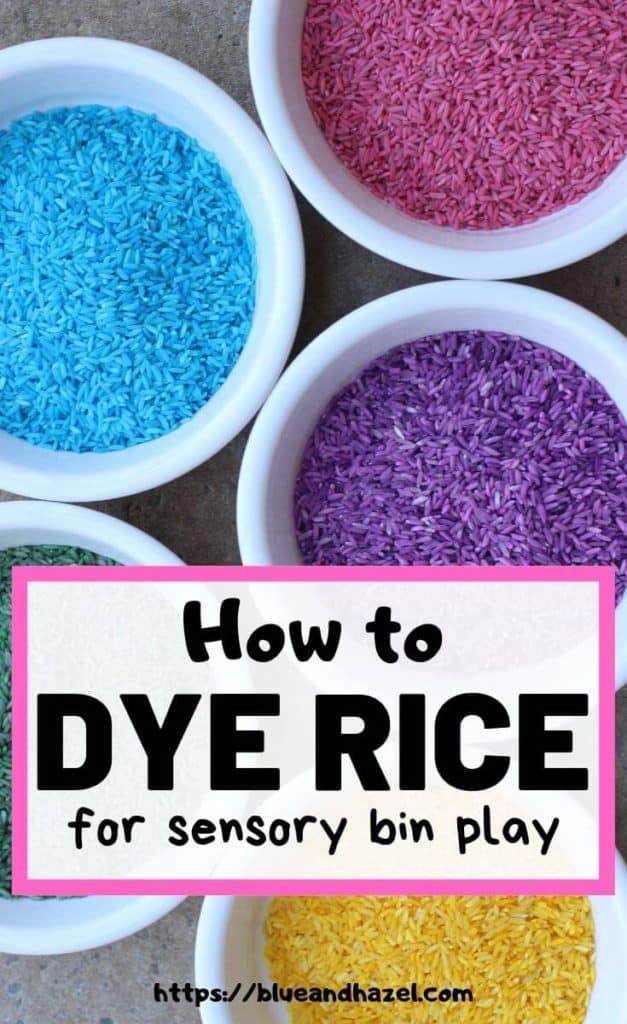 Materials to dye rainbow rice at home
10-15 drips of food coloring
1 cup white rice
1 tsp rubbing alcohol
Gallon ziplock bags
Paper towels for drying
How to dye rainbow rice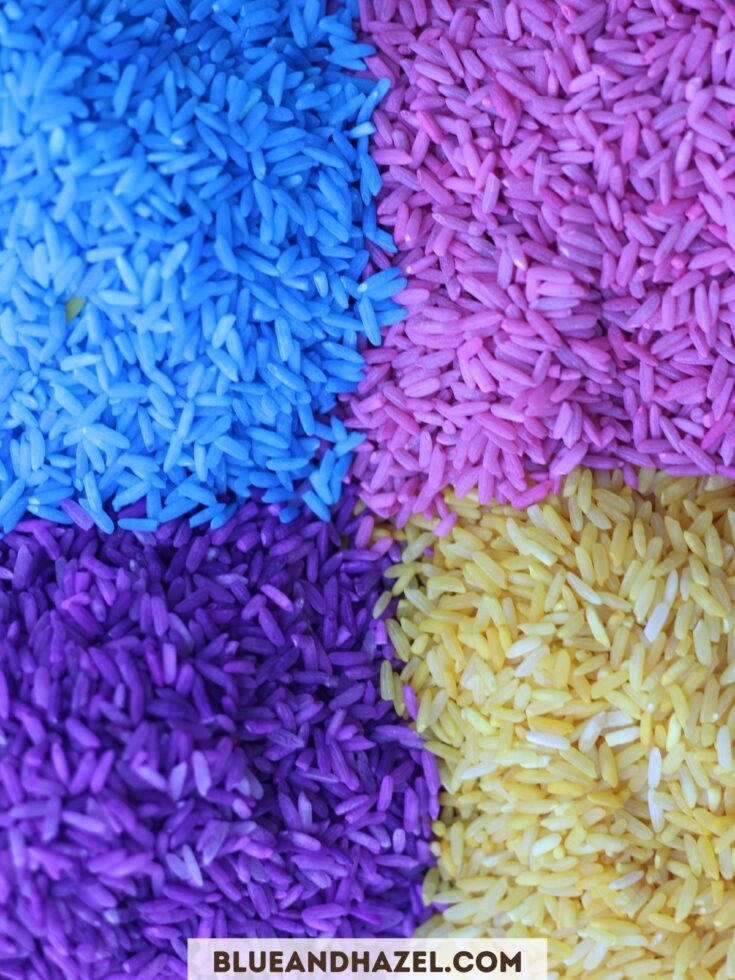 Step 1: Scoop rice into gallon ziplock bags
I chose to do smaller batches with 1 cup in each bag. If you are making this for a lot of kids, just double or triple the batch. We tried 5 colors so I used 5 bags.
Step 2: Add rubbing alcohol and dye
Add 1 tsp of rubbing alcohol for 1 cup of rice into the bags. This helps the color spread around evenly, absorb into the rice, and dries very quickly.
Then add however much food coloring gives you the intensity of color that you want.
We started with 10 drops, which was too light for what I wanted for the type of food coloring I had. The most we tried was around 15 drops which was gorgeous. My 6 and 4.5 year old got the honors of adding the color drops and LOVED it.
On the green bag, I accidentally forgot to add the rubbing alcohol before the coloring and couldn't figure out why the color seemed so splotchy like it wouldn't dye all the pieces. I then added the rubbing alcohol and it spread around just fine.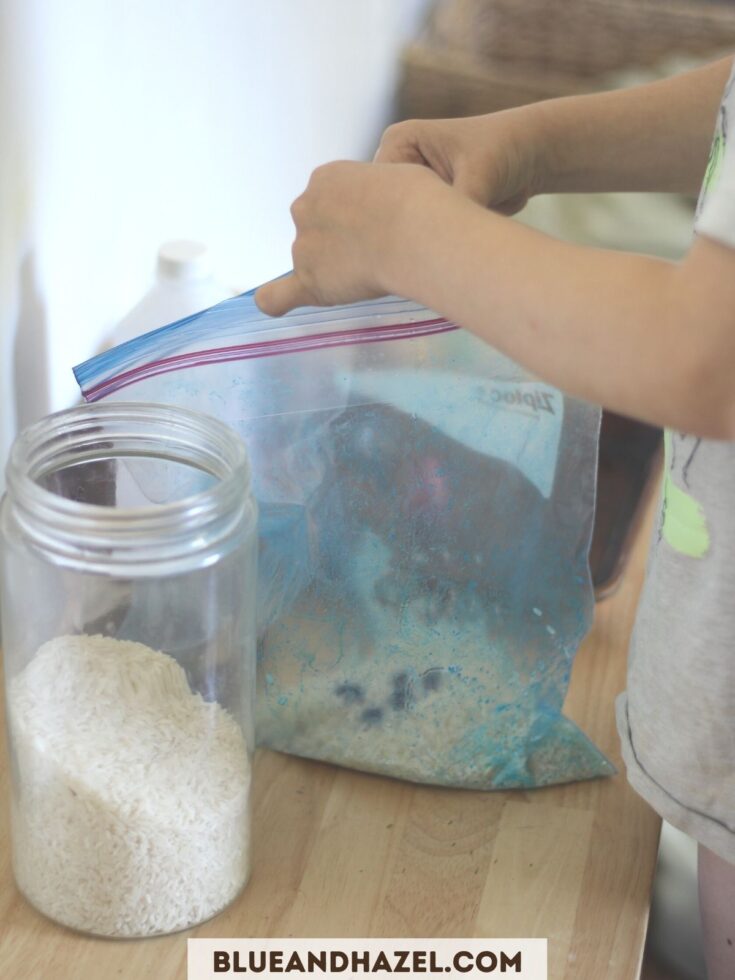 Step 3: Seal ziplock bag and mix with hands.
I sealed two bags and handed each kid two bags to mix up. If it doesn't spread well, add a tad more rubbing alcohol. If it's not bright enough, add more color. Very flexible!
This was so fun for them to see how the colors spread, and I almost think helping make the rice was more fun to them than playing with it.
The scooping activity I used this rice for was be more geared for my 2.5 year old.
Step 4: Lay each color out to dry on paper towels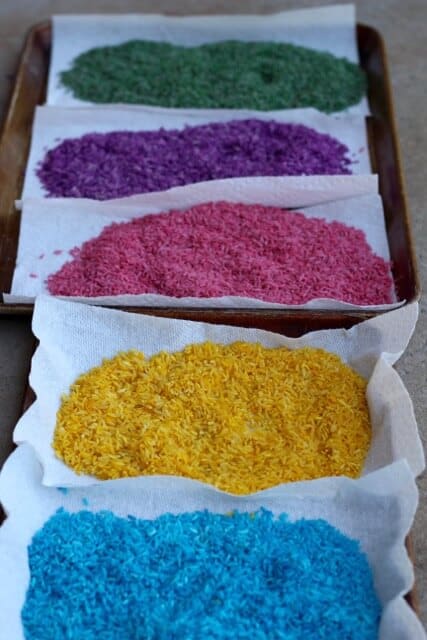 Once the rice is the color you want, grab a cookie sheet and lay out some paper towels. I put 1 cup of each color on it's own paper towel and set it in the sun. It was dried within about 15 minutes. If you are using vinegar instead of rubbing alcohol it may take longer.
Which is better to dye rice, rubbing alcohol or vinegar?
Both alcohol or vinegar will work to make your dyed rice. I looked up scores of blog posts on this to see which one to try first. The reason I used rubbing alcohol is because:
It dries more quickly than vinegar
Doesn't leave a smell (many people report that their rice or noodles had a vinegar scent weeks later)
Rubbing alcohol creates a brighter color than vinegar
If you plan to dye noodles AND rice like I did, rubbing alcohol will not make your noodles soggy where as many people said the vinegar created a soggy noodle taking even longer to dry out. (I don't think rice would get soggy though).
But sometimes whatever is better is the one that's already conveniently in your closet 🙂
Sensory rice activities to try
Now that you have this colored rice, you want it to last for a while and be used in different ways! Here are a few ways to reuse your colored rice.
It lasts for a long long time and can be stored in one of the ziplock bags you used to dye the rice.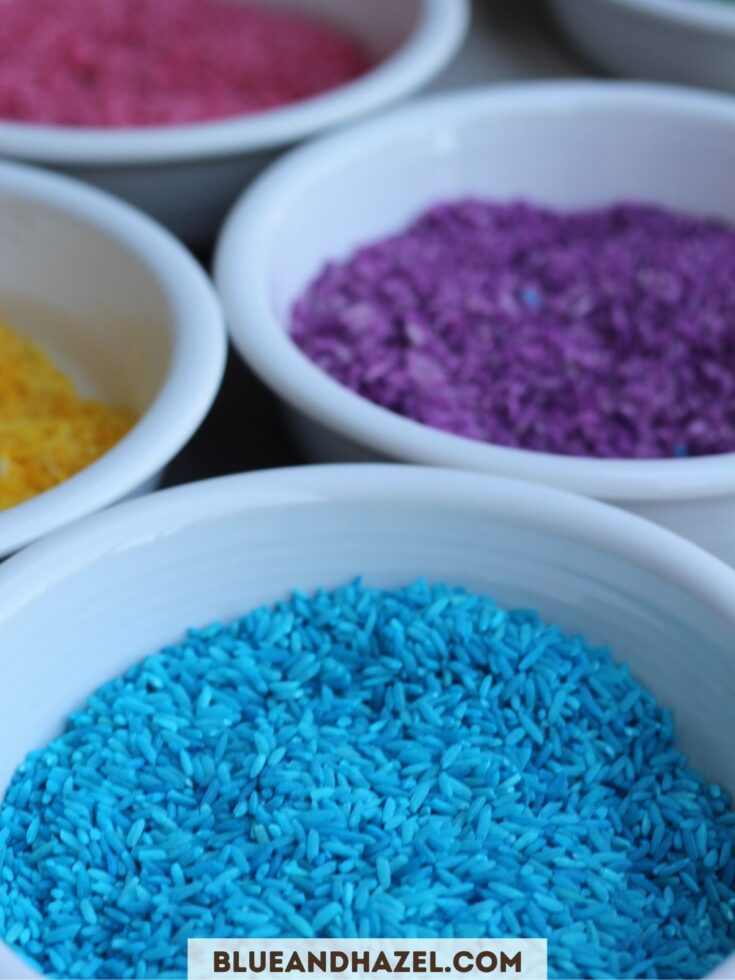 Note the rice will be messy no matter how careful you are. I try to just remind them to keep it over the pan, and at the end I sweep up and toss whatever rice I can't get back into the pan.
Public service announcement: If you don't have this amazing multipurpose tool yet, stop drop and go buy one! I've used it almost every day since we got married for cleaning counters, scraping dried cereal off of floors, making cinnamon rolls, and NOW it's also my rice scooper-upper. You're welcome!
Scooping rice sensory bin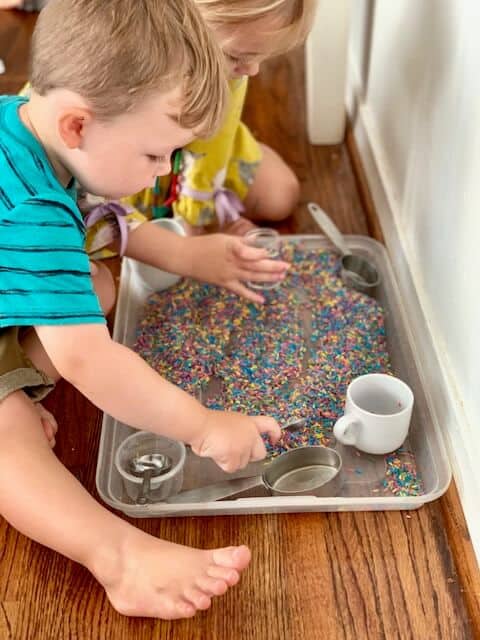 This is the primary use for our rice, honestly! My 2 year old all the way up to my 6 year old think this is fun, and it lasts for around 15-20 minutes I'd say.
Just get any scoopers, pourers, measuring spoons, etc and put them in a bin (or a cookie sheet if you are like me and don't yet own a deep bin for sensory activities).
Here are 10 more fun ways to set up a sensory bin with the rice you have!
Make a rice funnel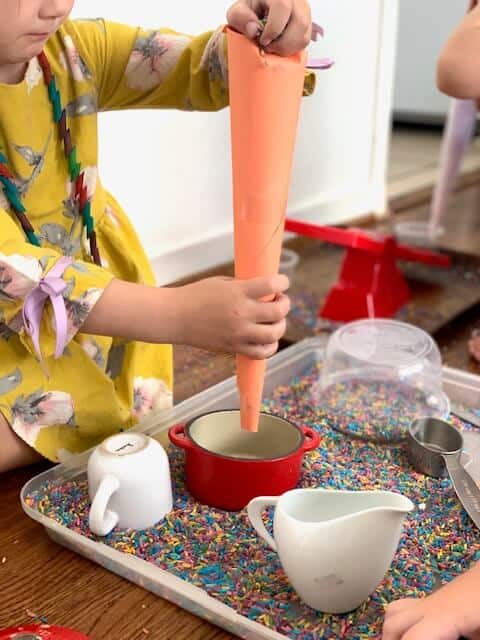 I don't have a canning funnel, so instead we just took a piece of printer paper and taped it into a funnel shape. It was kind of an experiment but each kid wanted one so I'd say it was a hit!
You could make a few funnels with different size holes and talk about how the small hole lets rice out more slowly.
Make a design with glue and rice
My 6 and 4.5 year old squirted their own glue and sprinkled rice on top. You could also pour the glue and have them do the rice if you want to make something specific like shapes or a face.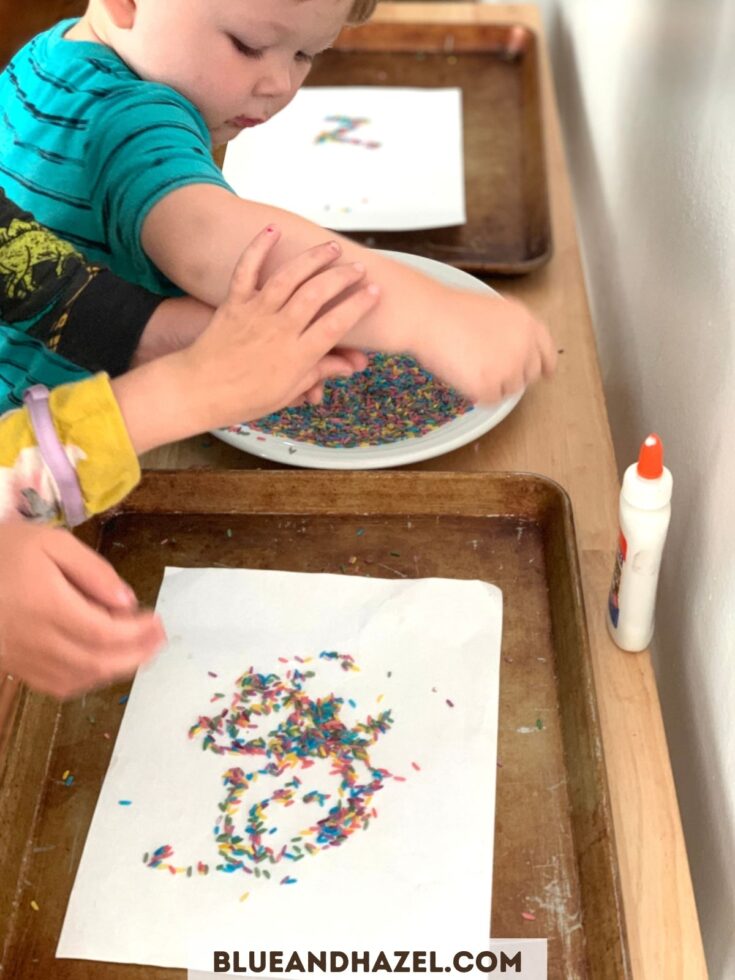 Weigh the rice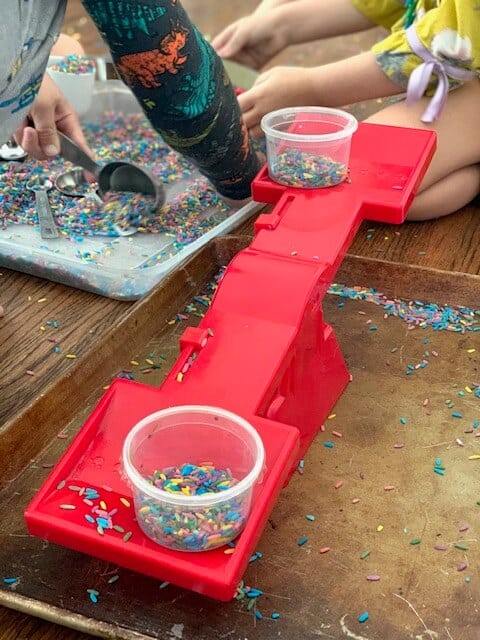 We had a scale around so my son had fun watching it go up and down as he added rice.
If you have a kitchen scale that would be another way to show your preschoolers how the numbers go up as you add rice.
How to make scented rice
While you are mixing rice, you can also add scent if you choose! I didn't do this, but it would be fun to do this around fall and Christmas I think! Here are a few scented rice posts to check out.
Pumpkin spice scented rice: Learn how to make scented rice with pumpkin pie spices and orange food coloring!
Cinnamon scented rice: Here's scented rice using cinnamon extract (or any extract)! This tutorial also shows you how to dye rice using Kool Aid! Very cool.
Lemon scented rice: Make gorgeous yellow shades of rice using real lemon juice and dye!
Peppermint scented rice: Learn how to use essential oils to make scented rice!
Apple cinnamon scented rice: Find out how to use apple tea bags and powdered cinnamon to make this fall scented rice!
Use Kool Aid packets! Read below for a link to using Kool Aid to make scented rice. This can also replace food dye!
How to dye rice without rubbing alcohol or vinegar
If you don't have food dye, rubbing alcohol, or vinegar around, you can also color your rice with just Kool Aid packets and water! Who would have thought? Bonus, they add a scent for extra awesome sensory play. Go check out Parenting Chaos for a full tutorial on how to make rainbow rice using Kool Aid packs.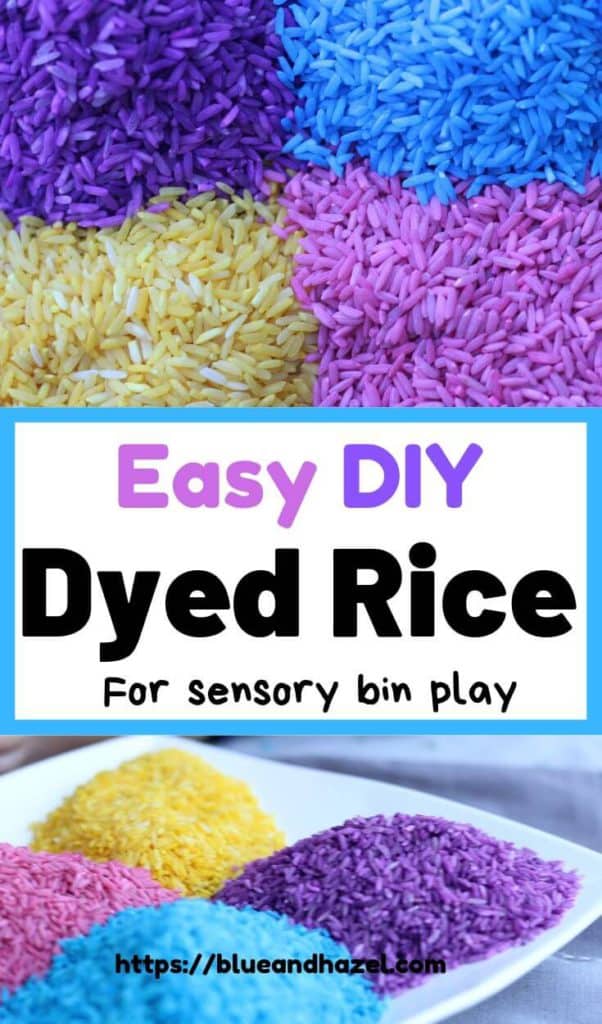 Toddler posts you may also enjoy