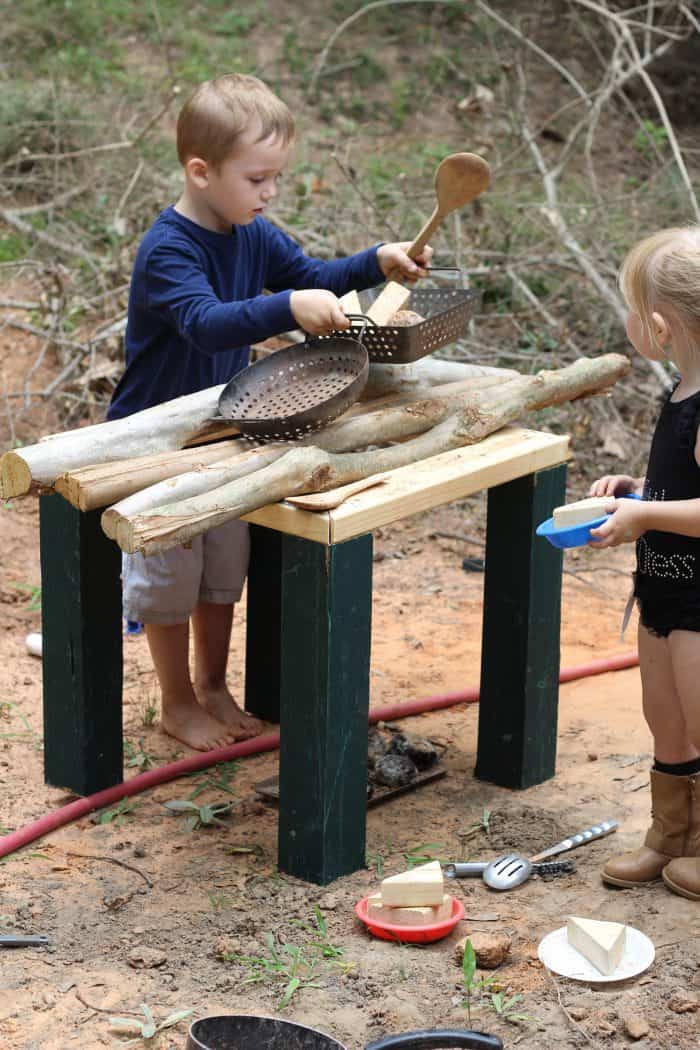 We have had a few of the cute play kitchens over the years as well as this fun DIY outdoor play kitchen, and both got used a lot. In fact, this outdoor one probably got used more so because of all the things they could play with outside like rocks and water and grass.
Everything we used was here already at our house. All of it was junk I needed to get rid of or repurpose. All free. So last night we "built" it, and I'm sure it will get broken down and rebuilt many different ways. So here it is, the perfect outdoor play kitchen made from junk!
You may also love: How to reduce screen time and get your kids to play again.
Why build an outdoor play kitchen instead of using a store bought one:
As a kid, I can remember spending recess with my friends making the area under a huge tree our "house". The kitchen sat on the big roots, and we gathered all the leaves, pinecones, and seeds we could find to be things in our kitchen and ingredients for "soups". I want my kids to see that seeds and grass and old junk can turn into anything they can imagine. An outdoor play kitchen is the perfect thing for that!
If they get bored with this, I can throw it away, burn it, or repurpose it. Tomorrow it could be made into a store or it could be a campground.
You may also love: 24 Easy indoor toddler activities
Outdoor play food vs indoor play food
When I say, "lets go make a play kitchen", they look at me all confused! There's no pretty play food or oven or sink that they know of out there. But all it takes is getting them going and they do the rest. Once I set something up, I'll ask them questions like, "Should this be the oven or the refrigerator?" Or, "What ingredients do we need for soup? How about this grass and that bark? I found some potatoes! (rocks) " Done. They are off and running!
After I helped them build this, my kids went outside and used their imaginations for two whole hours! This hasn't happened in a while. We collected a lot of junk and made an outdoor masterpiece.
It can be turned into a lot of things, because if a kid can pretend wood triangles are noodles, then they can be anything right?
You may also love: 15 chores for 5 year olds that are actually helpful
Materials used
An old rusted Bbq that had some vegetable roasting pans with it. They made perfect "pots and pans".
A frisbee as a serving plate.
Triangular cuts of wood from our garage were food (in this case macaroni noodles!) as well as rocks.
Wooden spoons I needed to get rid of anyways…perfect and real looking for mixing.
Tree branches Peter just trimmed made a nice "stove" with the oven underneath.
Empty plastic flower pots made good drinking glasses or food containers.
A wooden base we had around that our old dryer sat on. You could use an old side table for this. Goodwill is full of those!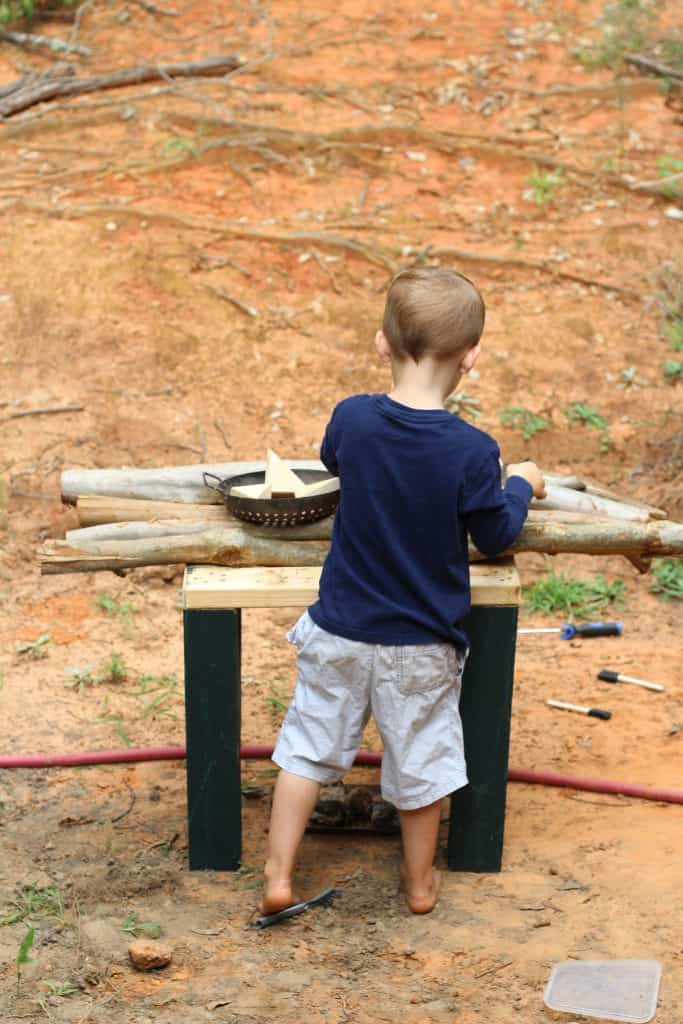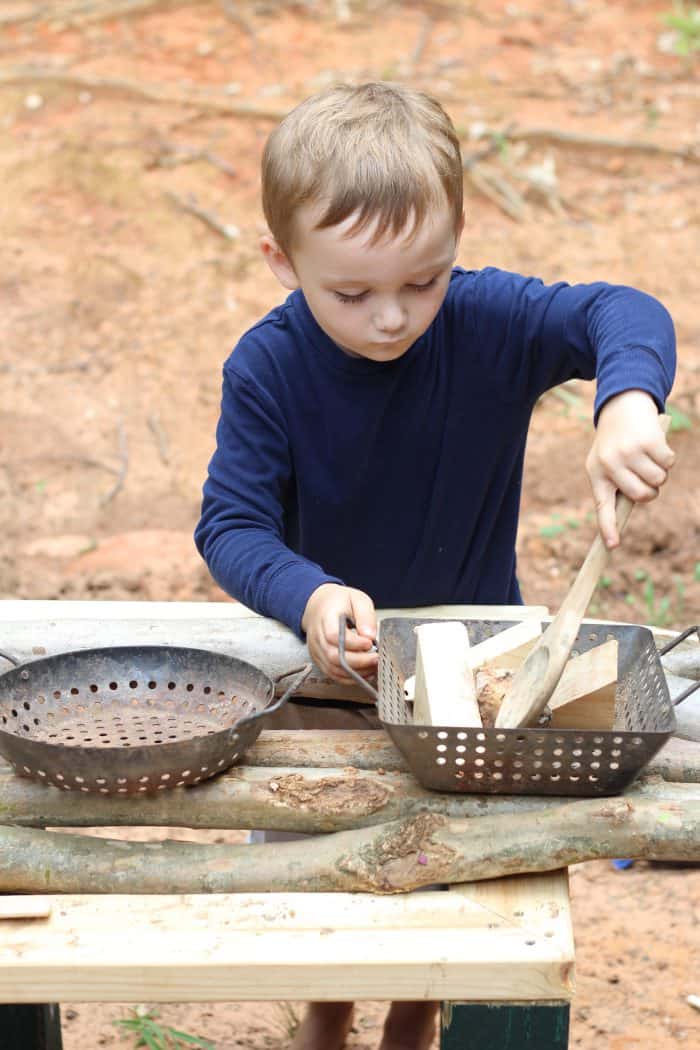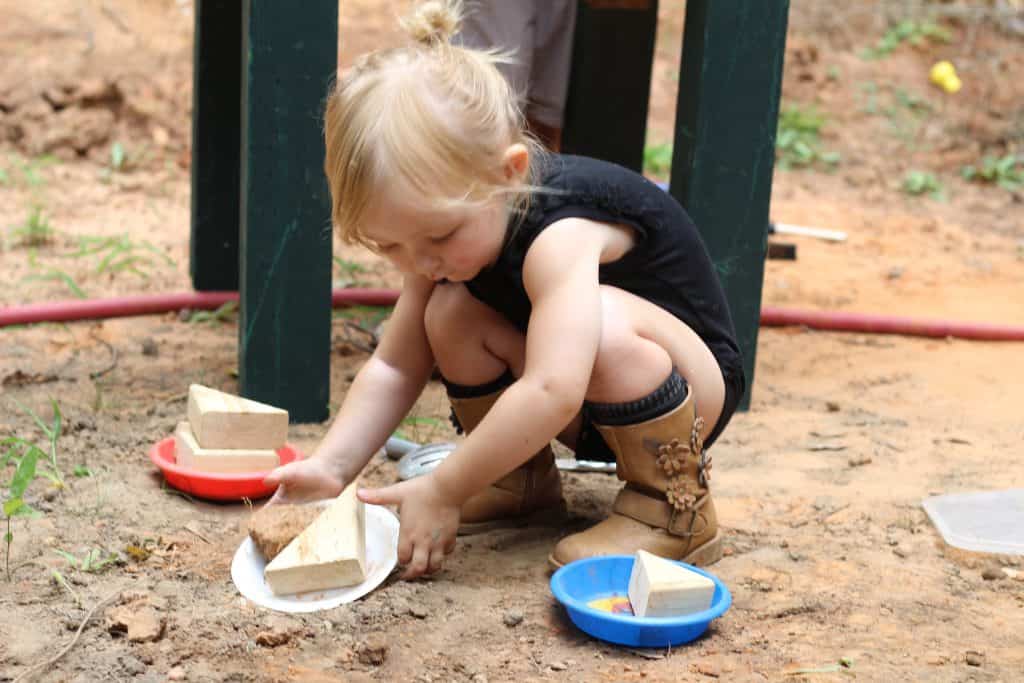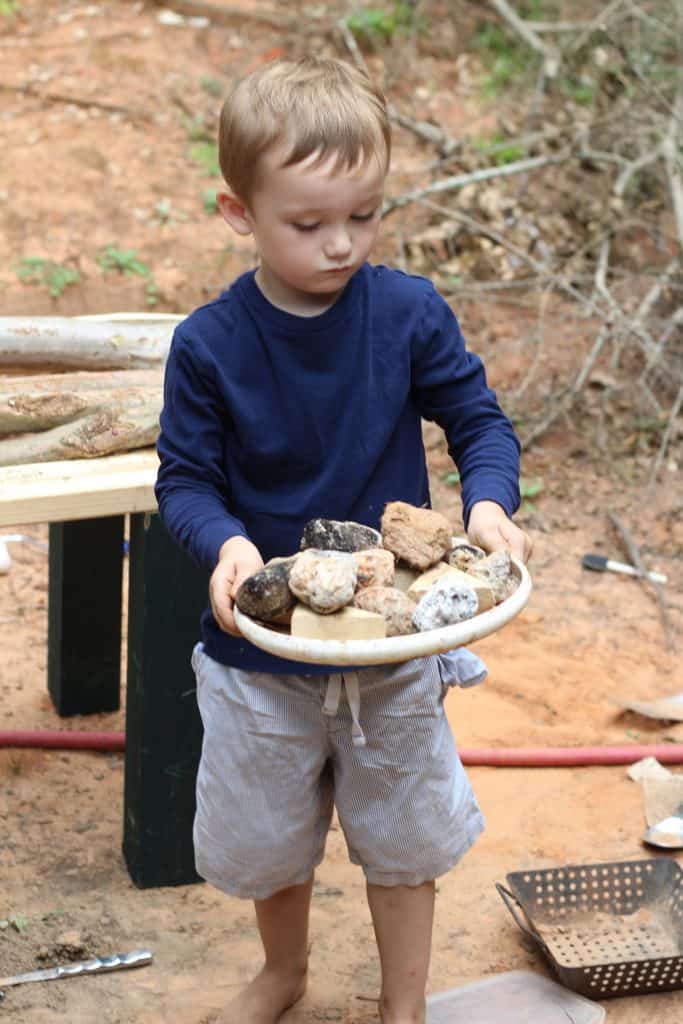 More cute DIY outdoor play kitchens
Be sure to check out this post for 20 DIY Outdoor play kitchens! Seriously adorable roundup and you will see kitchens using things from around the house to ones that require a little more skill.
Get the kids outside and using their imaginations
I'm on the hunt for play ideas that are fun for them, hands off for me, and don't require so many toys! If you are tired of your kids not playing with their toys, or just don't have the money for them, then something like this is the answer for you. Drop a comment if you have any good play ideas for me!
Be sure to follow us on Instagram as well!
You may also enjoy:
15 Tips to safely take toddlers to the pool by yourself
Easy toddler crafts for the non crafty mom
20 Best bath toys for toddlers
Potty training tips for stubborn boys over 3 who won't poop
How to do preschool at home: getting started
SaveSave
SaveSave
SaveSave
SaveSave
SaveSave
SaveSave
SaveSave