When I first decided to grow my Instagram, I really wanted to work with brands!  I heard that 1,000 followers would put me "on the map".  So I worked really hard to go from 160 or so to 1000 in about a month.  That is also when I got my first sponsored post and giveaway. If you are wanting to work with brands but struggling to get started with an Instagram following, I have a step by step guide of how I did it here: "The best way to get your first 1,000 Instagram followers". If you already have an audience there, then keep reading to see how I started working with brands!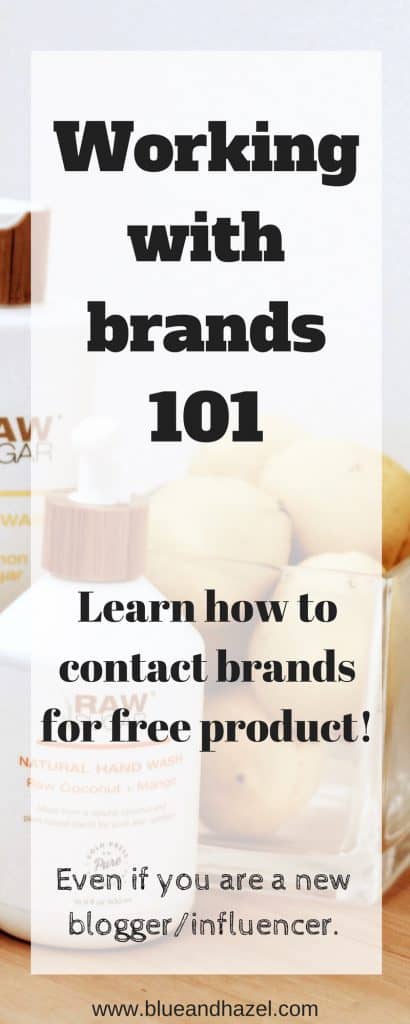 How I started working with Brands
Blog + Instagram = Way more opportunities
At the time of writing this I have a new blog, with around 20 posts which is something that I believe lands me a lot more opportunities than Instagram alone.  Especially as a newbie because a lot of brands ask small influencers for a blog post plus Instagram photo.  Don't worry if your blog is new or small!  I've never had a brand ask me (yet) for how many monthly blog visitors I have if they are only giving free product.  Rather, just that I have one.
People without blogs have worked with brands around 1000 followers on Instagram too. They just have a clear niche and nice looking feed.
First, what is a sponsored post?
Anytime I endorse a brand and receive free, discounted, or paid items it is a "sponsored" post.  The FTC requires every post endorsing that product to be labeled with #ad or #sponsored so that the audience knows there is a relationship between the brand and possible bias. It is impossible to know by looking at someone's post with #ad or #sponsored if they were paid or not though.
My first gig when a brand contacted me:
At 1000 Instagram followers I was contacted by a swaddle company via my brand new Twitter (because I forgot a contact email on my new blog…oops!).  The company liked my style and asked if I would like to collaborate. This was my very first gig, and is how I realized I was even able to work with brands.  If a brand contacts you first, it's a sure sign that you should also be out there contacting more brands1!  They proposed sending me two swaddles in exchange for a blog post and Instagram photo.   And, they offered to host a giveaway to my followers which they sent directly to the winner! (UM, YA!) I was so stoked!
When a brand contacts you
This is ideal because it says they already like you and you have leverage.  Like I've had brands contact me saying they don't have a budget but would like me to do x, y, and z for free product.  Because I know they want to work me and only for free, I can then leverage it to do just the amount of work that is worth the product.  Sometimes for me, that's two tweets and a Facebook page post.  Other times I'm willing to do an Instagram post but no blog post.  It's a dance between what it's worth to me and what the brand is willing to get out of it.
The first time I contacted a company
I was so scared of rejection and didn't know how to "pitch" in an email. So I looked at Instagram accounts in my niche with a similar following (around 1,000-2,000 followers) to see what brands they were repping for.  I saw a watch company was accepting people with my following number and similar style account so I emailed them saying I loved their watches and would like to collaborate with them.  And they said yes and sent a list of their terms I could agree to if I wanted to work with them. One thing to expect: Some will say no, or offer radio silence.  If you pitch enough brands, plenty will say yes.
Free product is where to start.
It made sense to me that as a new influencer I would just rep for free product and later charge.   But when? How? I will write another post for that and link it here. You can first get some experience working with brands for free product in exchange for posting a photo to your Instagram. And remember, when growing your brand, only pitch for products that you and your audience would like.
How to contact a brand
I would recommend creating a new email just for your blog or Instagram to keep it separate from personal email. I just created a new email using gmail that had my blog name in it so it looks professional.
To give you a starting point, you need to find a brand's email to send a pitch.  I usually go to the brand's website and search at the bottom for a "contact" page, or "press" or "media".  That will be the person who deals with collaborations. I've also googled "brand's name + media contact" and can usually find the right person that way.
I don't recommend using the message feature inside of Instagram as it's less professional.  Plus, it only allows super short pitches.
How to write your first pitch without a media kit
Essentially in your pitch as a newbie, you need to 1. Introduce yourself. 2. Say what you like about their product you are about to ask for.  3. Ask to collaborate! 4. Tell them who your audience is that would be interested in their product. 5. Tell them your total reach (for any platforms you would be posting to) 5. Leave links for each social channel you are proposing. It can be hard to know what an email might look like, so if you want to get 6 emails pitches I sent to brands I've worked with, you can go here.
Collaborate is a VERY broad term.  I used to think it just meant exchanging a free product for a photo.  Nope.  It just means "working together". So when I ask to collaborate,  I usually say what product I would love to share with my audience and on what channels. One Instagram photo for one product or bundle is typical.  If you are unsure what would be appropriate to offer them as far as photos on platforms, then leave it open and they may suggest what they want in the return email.
What is a media kit and do I need one as a newbie?
If you are only asking for free product, you can get started working with brands without one!  A media kit is a pdf that brands will sometimes ask for.  I have my follower count on each social channel, what my blog is about, and info about my audience…all on a one-page pdf.  I leave off my fees so that I can adjust it for each brand.
Brands have not asked for mine when I have pitched for free product.  They certainly have though when I've asked for payment.   Just know if they ask you for it you may need to scramble to make one.  I made my own free on Canva by using a blank sheet and adding all the info.  You could also find generic free ones or pay for one on Etsy.
I had no clue how to work with companies
By writing my first few pitches I learned SO much. Like emailing a brand rep.  Clarifying details like how many photos you are obligated to post to social media(usually just one or two), as that should be clear before you agree to any product.   Some brands specify a post date, but if not I try to post within the week I receive a product.
I learned how to tag brands in my photos, so they could see my post and feature it on their page.
I learned to study the brand's social media pages to see the types of pics they love.  Most importantly, I learned that at 1,000 followers I could start treating my Instagram like a business and not just a hobby. It gave me the confidence to do it again.
Only rep products your audience would like
If you are not loyal to what your audience is interested in, it's a surefire way to lose followers.  That is key to how I started working with brands! I am a motherhood influencer, so I first ask would my audience find this useful? If not then the free product will hurt my following in the long run. It's easy to get so excited about ANY offer in the beginning, but only take it if you are proud to show to your audience and if it relates to them or you will get dropped.
Can you start working with brands on Instagram if you don't have a blog?
If you don't have a blog, you can still work with brands! Lots of moms I know collaborate with brands ONLY on Instagram with 500 or more followers! They just work very hard to have great engagement.   They make it clear in their pitch emails that they would like the product to feature just on Instagram. When you purchase my guide to pitching brands + 6 real pitches, you will see examples of pitches for both blog posts and just social media collabs.
Just know without a blog and with low social numbers, you may get rejected more often, or find it harder to get larger items at first.  I read that as of 2018 about 90% of influencers have a blog. While I no longer offer blog posts for free product, I'm glad I did at first because it allowed me to get things for free I couldn't have without it like area rugs, a DockATot, and even a bed.
Is there a product amount I should keep in mind when pitching?
With 1,000 Instagram followers and no blog, I would pitch for products in the price range of $25-$100 I'd say. With a blog post on a new blog and small Instagram, more like products in the $150 range.  It depends on the brand's budget and how you pitch. The average cost of an item I've gotten for free is around $200. That's for an Insta photo with 2,300 Instagram followers and a blog post. The most expensive I've done is around $1500 for two blog posts + two Insta posts. For one Insta pic alone, products I get range from $50-$150.
Engagement matters over follower number
Brands would rather see higher likes and comments than just a follower count.  Engagement is what will separate you from the mass number of people who buy followers.  You can suspect people buy followers because they will have like 10,000 followers and only 100 likes per photo with almost no comments. Except nowadays everyone is trading likes via Telegram and Facebook groups to beat the algorithm and to look good to brands…so sad it has come to this!  It's actually ridiculous to me and there is no way to know if an influencer has genuine likes and comments or not.  But, that's what the masses are doing.
Now leave me a note below with any questions or thoughts!
SaveSave
SaveSave
SaveSave
SaveSave
SaveSave
SaveSave
SaveSave
SaveSaveSaveSave
SaveSave
SaveSave
SaveSave
SaveSave
SaveSave
SaveSave
SaveSave
SaveSave
SaveSave
SaveSave