Are you new to working with brands? Do you wonder how people get free stuff sent just for posting a photo on social media or a blog post? Do you feel clueless when it comes to collaborating with brands and need an inside look? I know exactly how you feel! It took me a lot of practice to feel like my pitches were getting the responses I wanted. Read on to see if you are ready to start pitching, and what may also turn brands off.
Because I know how intimidated and clueless you may feel, I've made a guide for you called "How to pitch brands for free product + 7 pitches that landed me collabs", which I describe in detail below and it is available for purchase.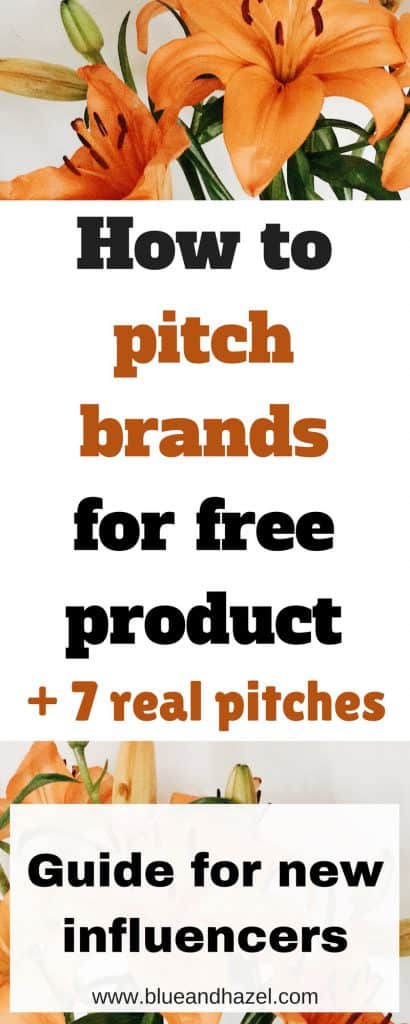 Before you learn how to pitch brands for free product
Every influencer has to start somewhere. Before learning how to pitch brands for free product, you must think about what exposure you have to offer brands. When I started pitching, I had a new blog and about 1K followers on Instagram.  I offered to post on those two platforms at first in exchange for free product (not paid).
If you don't have an audience yet, then visit my post: Best way to get your first 1,000 followers on Instagram. You need a blog, an engaged Instagram following (never ever buy followers), or even better both. So many more people are trying to be influencers than even a few years ago that the bar is getting raised.
Can anyone with 1,000 followers on Instagram or a blog start pitching brands?
No, not everyone should. I have had countless people email me that they want to start working with brands and then I see their page and just know it's not going to happen, at least not now.
First, test yourself to see if you can answer these questions:
If a brand visited my blog or Instagram, who would they think my audience is? (That matters A LOT).
Does my Instagram bio clearly say what I post about? Or is it just "I love chocolate and long walks on the beach. Collabs welcome"
Do your photos look like they go together? You should be upping your game by seeing how they all look together (I use the free app called preview).  I  really recommend using some common filter, even if it's minor.
Do you have any descriptions about your photos? Do you already post about products you love and tag brands in them? If not, you should be!
Are there any embarrassing pics on your Instagram that would make a brand in your niche run away?
I don't mean to be harsh, but if you want to represent a brand then you have to be their type. Just because you want free clothes doesn't mean the brand wants to let anyone see you wearing their clothes…unless they want to be associated with you. Your own Instagram branding needs to align with the image of the brand you are pitching.
What about charging brands for posts?
I do not recommend charging brands at first for social posts, or if you are brand new to blogging. Get some experience, and learn how to do it well. I still love getting some things free without charging, although most the times I do have a sponsored Instagram fee now and always charge for posting to my blog.
I knew I was ready to venture into charging brands when I had more collabs available to me than I had time and energy for. It was a natural time to say, "I'd love to, my sponsored post rate is…" But many small brands will not pay, so then you have to decide if you actually just wanted their product, or if you would rather pass.
If you are reading this post, then that's probably not you yet, but it could be this year!
What you get in my pitching guide:
7 real pitches that landed me collabs for free product, including baby gear, rugs, and even a queen mattress! (psss…I've added two extra bonus pitches at the end too).
What I ask for and offer in a pitch
Approximate product amounts to pitch for as a newbie, for social posts vs blog posts for small influencers (under 2,000 on Instagram or with a new blog)
Why brands are eager to work with you in exchange for free product
How to find small brands to work with
How to find the email you need
The biggest mistake I've made working with brands
What you must do before you pitch!
What to say in your follow up email if you don't hear back
How to renegotiate if a brand asks way too much for a small product
What to send the brand after you post, so they will want to work with you in the future
How much does it cost?
$21.
The least expensive template pitch (so not an actual pitch) I could find when starting was $10 for one template pitch (not an actual pitch, but a template). I think between all of my real pitches, you should be able to craft a pitch that works for you when you have a focused audience, even if it's small.
Who needs "How to pitch brands for free product":
Someone with a social media influence and/or/ especially a blog. This will still be helpful if you don't have a blog but do have an influence on social media (at least 1K followers I'd say and a beautiful feed).
New influencers looking to contact brands for free product but don't know what to say.
Someone who would like to see what is working for others.
Who this is NOT for:
Very experienced bloggers and influencers who are already having success with pitching
Influencers who are already getting paid for posting
People looking for help pitching hotels and travel. I have no experience there at this point and you should look around for someone offering pitch help specifically geared towards free/comped travel.
People who do not have a following, or who do not yet take clear photos that a brand would find acceptable. Think of every pic in your feed as your own personal brand.
People who cannot answer who their audience is.
People who have purchased followers, which is scammy.
My social reach when writing these pitches
At the time of getting these collabs, I had between 1,000-2,000 Instagram followers and around 20 posts on my blog. I also began to grow a new Twitter account and new Facebook page.  You do not have to be big to pitch brands, but you do need a clear audience and nice photos! As of writing this I've worked with bigger brands like DockATot, Graco, Lillebaby, and and I've also worked with smaller mom and pop shops on Etsy too.
These pitches are all written before I wandered into the world of charging brands, which was a perfect place to start and saved me thousands of dollars on baby gear and house decor! I give you pitches for just social media posts, and pitches for blog + social media posts.
Ready to see some pitches and learn how to work with brands for free product? Get your Guide to Pitching Brands For Free Product below!

Also, be sure to check out my blog post: How I started working with brands on Instagram with 1,000 followers
SaveSave
SaveSave