No one tells you that when you homeschool, one of your main jobs will be feeding hungry kids all day. One of the tasks I dread is actually making lunch. It's decision fatique I think…and I'm seriously considering creating a lunch meal plan so I can offload thinking about what I can whip up.
My kids might also love to know what's for lunch too…as that was a HIGHLIGHT for me in elementary school. I'd look it up the day before to see what it was!
I'm not going to pretend that I make an amazing, or even healthy lunch. That's my goal for dinner and I don't think I can do two amazing meals a day and homeschool and keep a blog. Just acknowledging my limitations here. But I do feed them, and sometimes my big kids even help make their own lunches now!
If your kids are like mine, they like familiar foods that are ordinary to your family. Each family has those foods! So while a lot of blogs have incredibly healthy, varied foods and colorful options in cute bento boxes…that's just not us. Find what works for you, and know that picky eating phases or less healthy lunch options won't last forever if you work on it.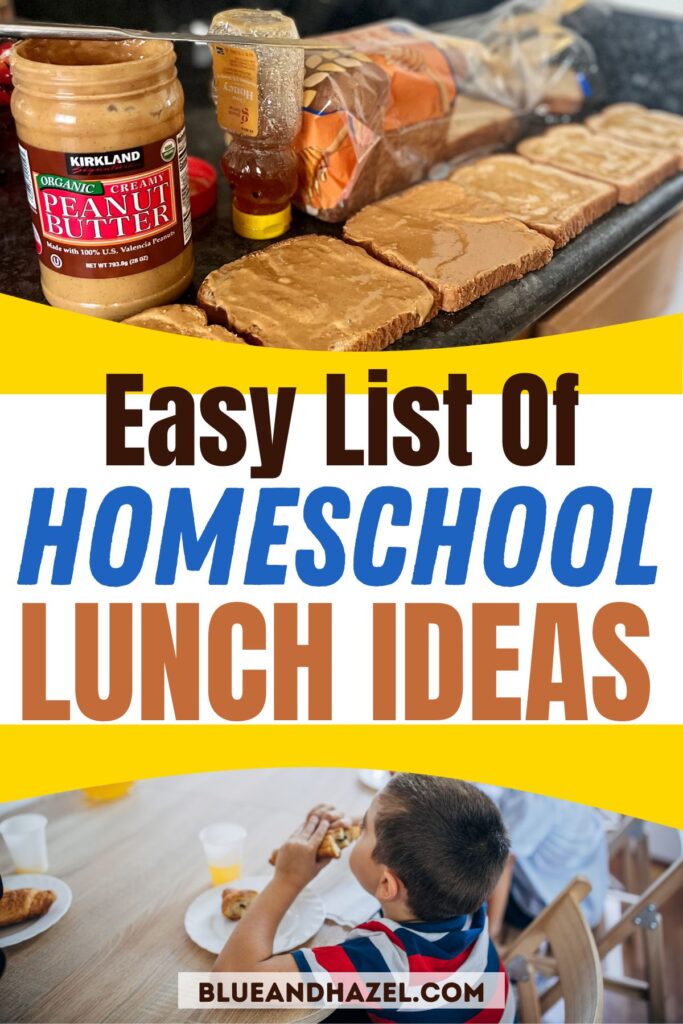 Things to freeze (at dinner) for future lunches
I don't often double what I'm cooking at dinner because we don't have the luxury of a chest freezer. However, there are a few things that I regularly double or freeze the leftovers for our lunches. They are:
Spaghetti and meat sauce (easily thaws and is an instant lunch or dinner once noodles are cooked)
Pizza dough (just freeze after the first rise, and it will thaw beautifully ready to roll out)
Any cookie we make/sweet bread type thing like banana bread. It makes for a quick homemade treat another day.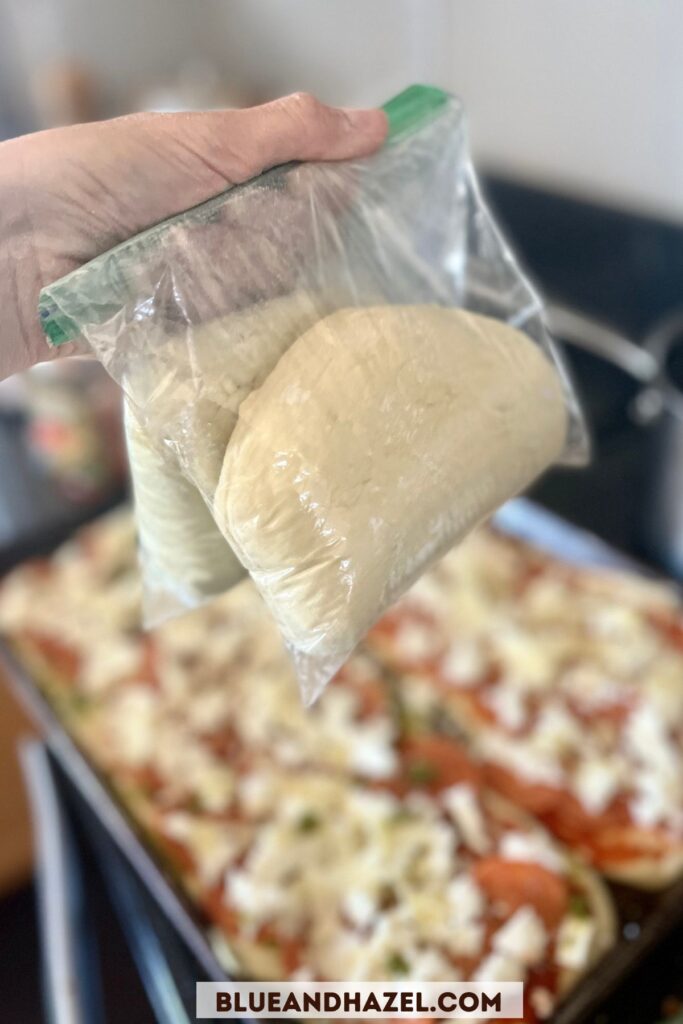 Lunch items I typically always have in the freezer that can be used for lunches:
Extra lunch meat packs from Costco
Pepperoni & shredded mozzarella for pizzas
Some kind of quick not-so-great-for-you option (like popcorn shrimp, chicken nuggets, etc)
Frozen fruit for smoothies (Costco has an awesome, cost effective blend)
Protein packed snacks & lunches for homeschool days
Hard boiled eggs
Cottage cheese
Salami/lunch meat and cheese board With fruit or veggie sides
Chicken from Costco hot chickens. This can last us several lunches as leftovers! I'll slice/debone and salt/pepper it. Hot or cold, my kids love it.
Tuna fish sandwiches
Egg salad sandwiches
Peanut butter & honey sandwiches
Peanut butter on a banana
Lunch meat
Cheese sticks
Hummus & veggies (my kids don't yet like hummus…but someday!)
Rice & black bean bowl (I learned this from a friend, and she puts out toppings or they can eat it plain with salt & pepper)
Bean dip & chips (a staple for me growing up! My mom would blend pinto beans, a tad of butter, salt, pepper, green onion, and handful of cheddar cheese. It's thick and yummy.
Trail mix (we have a one nut with chocolate chips rule so they don't just pick out the chocolate!)
Breakfast for lunch (my go to is usually scrambled eggs & a bagel/or toast & milk)
More homeschool lunch ideas & snacks
Noddles with butter and parmesan or pesto (or I'll do a red sauce with hamburger or sausage in it if made ahead and frozen)
Ramen (our quick, comfort food here)
Quesadilla
Boxed mac n cheese (the quick lunch option no one wants to admit is kid approved and done in 10 minutes)
Smoothie
Chicken noodle soup (I'll often do this after we buy a Costco chicken, but not every time. 3 of my 4 kids like it)
Dutch babies (breakfast for lunch)
Sliced apples, cucumbers, lunch meat, and crackers
Banana & peanut butter
Packing lunches on the go and eating outside
Not going to lie…I LOVE seeing what other moms bring to our nature outings for lunch. It gives me new ideas and gets us to try packing new things. Here's some ideas for packing lunches so that your outdoor adventures last longer and so you don't feel the need to go through the drive through as often.
sliced veggies
sliced fruit or bananas
cheese sticks
crackers and cheese
nuts and dried fruit
lunchmeat, beef jerky, or beef sticks
hard boiled eggs
chips or veggie straws
Cliff bars/granola bars/Perfect bars
sandwiches of many kinds
loaf of French bread plus meat slices plus cheese
individual packs of things for dipping like hummus, peanut butter, or guacamole
I have this Hydrofask cooler bag for on the go lunches, which works well to keep our food cold for hours! I used it several times a week last year. But to be honest, it's hard to carry with a baby too, so I wish I would have gotten their cooler backpack.
It's waterproof and doesn't leak, but there are less expensive ones (and more expensive ones) out there.
Check out this post on how we get discounted Hydroflask products!
What are your go-to homeschool lunches?
Let me know in the comments what y'all eat on the regular! I'd love to see a big list of new ideas below so we can all find something new we hadn't thought of.