When I first heard about Force Of Nature, it sounded a little too strange. Why wasn't it more widely used and sold in stores? I was a skeptic, but now that I've researched and used it, I recommend it to everyone! If you're confused, curious, or looking for a discount, this Force Of Nature cleaner review will hopefully answer a lot of questions and show you how it can be used!
I ordered my starter kit and have been loving Force Of Nature for about a year now. It's both a cleaner and disinfectant but unlike bleach it's safe to use around kids, won't hurt skin or lungs, and kills 99% of viruses and bacteria.
While you can hypothetically use this as your only cleaner, I also use Branch Basics when I want a more soapy clean without needing the disinfecting properties.
This post is not sponsored. I paid for my own kit and recommend it to friends and family. I am an affiliate, so if you purchase through my links I may receive a small commission. Ready to see why it's so unique and effective? Read on.
Switching to safer cleaning products
I used to own so many strong chemical cleaners. You name it, I had it. Bleach, 409, Scrubbing Bubbles, Windex, Toilet Cleaner, Tile Cleaner, ect.
They smelled so strong, gave me headaches, and I was always nervous to have them around with young kids…even up high on a shelf. I was worried about chemical burns on the skin if a spray touched, as well as the effect on my lungs. When I was pregnant, I asked my husband to take over cleaning the bathroom since those products seemed the strongest.
While my mom swears by vinegar and water for most everything…it leaves your home clean and, well vinegary smelling! Not my favorite. So I found some other safe cleaners.
The one thing I do LOVE vinegar for is cleaning my stinky Norwex rags. Sometimes I forget to let them dry out all the way and after a few days…yuck. No detergent seems to get out that funky smell like vinegar.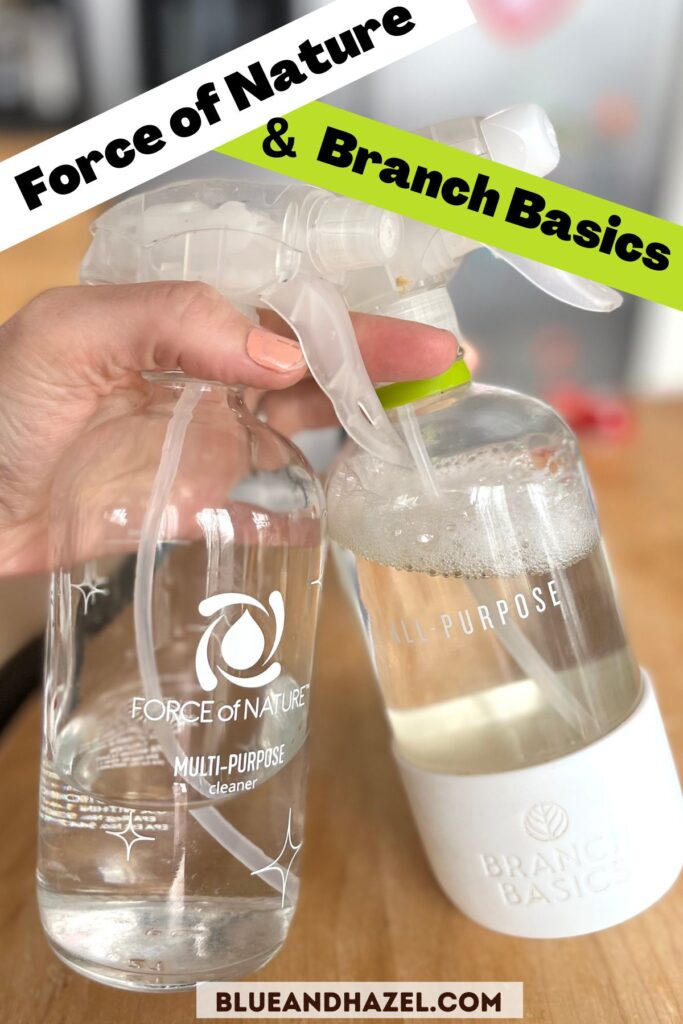 My first swap was Branch Basics cleaner. It's my go to for my kitchen counters, floors, table, sink, and dish spray. Here's how we've used Branch Basics with plenty of before and after photos.
I also swapped out our liquid laundry detergent for Dropps pods. Here's my full Dropps review.
A couple years later I learned about Earth Breeze laundry sheets, which totally ditch the liquid! I really like both.
The last swap I've made (for anywhere I want to kill those germs) was switching out bleach for Force of Nature. As you'll see, it's WAY safer, but still considered a hospital grade disinfectant. It's my go to bathroom cleaner, deodorizer, and much more!
Need an easy to follow cleaning schedule? Try this.
What is Force Of Nature?
Water + Salt + Vinegar + Electricity
Force of Nature is a cleaner and disinfectant. It mixes your water, plus their capsule of vinegar and salt, and electrolyzes it with their tiny machine which rearranges the molecular structure. The result is hypochlorous acid and sodium hydroxide, which I'll talk about in a bit.
The process takes about 10 minutes to electrolyze on your counter. The machine has an easy indicator light that turns all green when the molecular structure has been rearranged and is ready to use.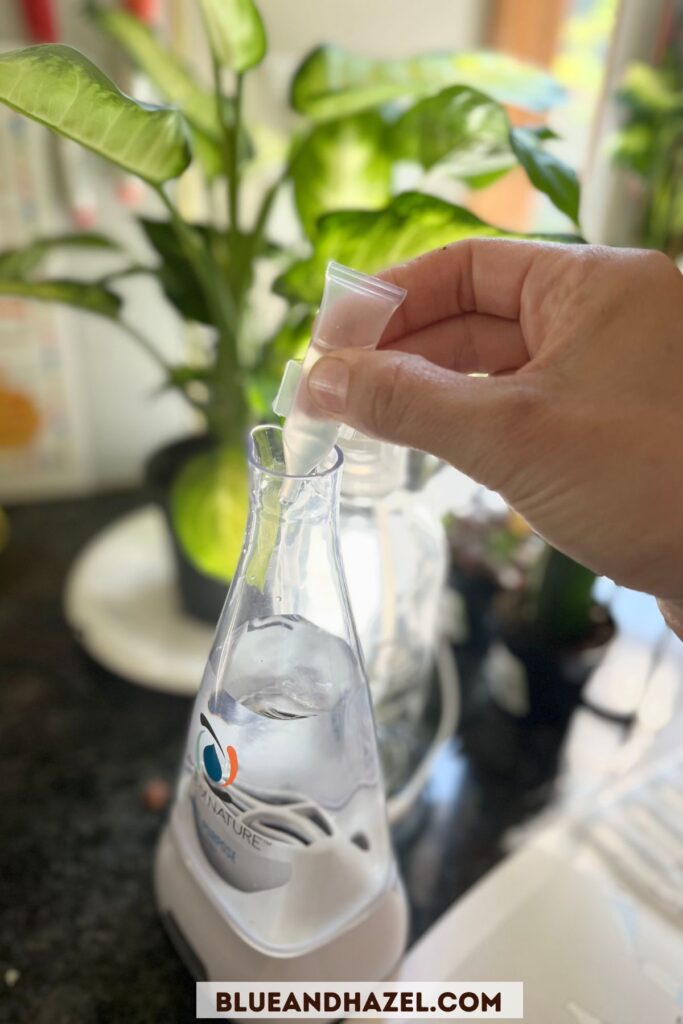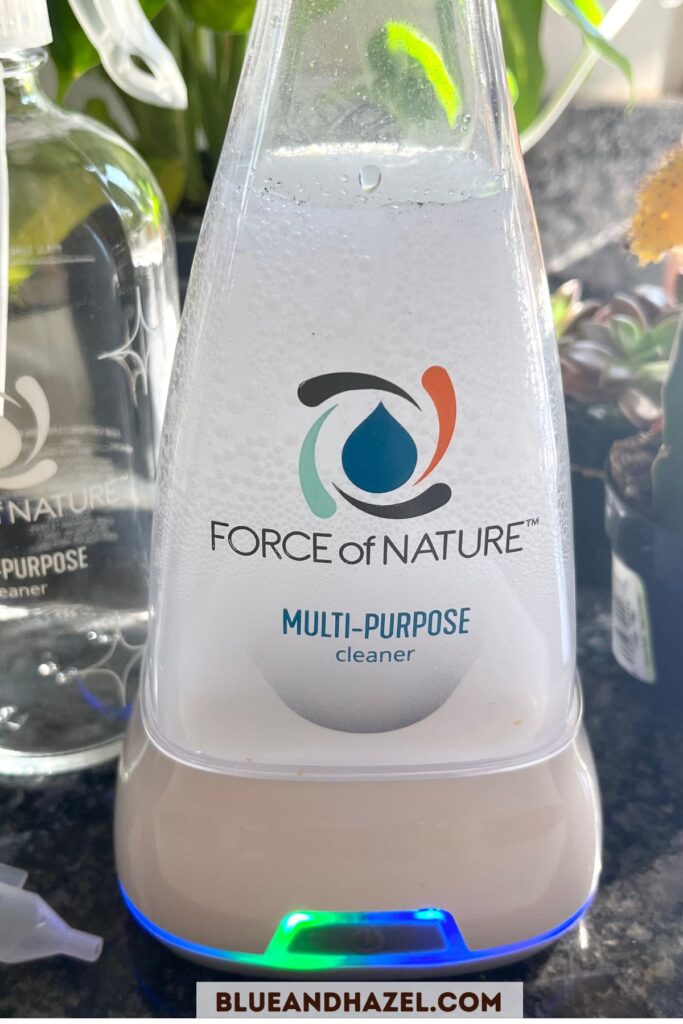 What's the big deal with sodium hydroxide and hypochlorous acid?
Hypochlorous acid is a powerful disinfectant! It's also in our own immune systems created by our white blood cells. You'll see it used in:
Wound healing
Eye care
vet care
Sodium hydroxide is in everything from cleaners to toothpaste. The big deal here is concentration. it is really dangerous in high concentrations that you find in typical cleaners, especially for kids.
Most cleaners use the concentration of 1-5% sodium hydroxide. Force of Nature uses it at 0.0000003%, or 3-17 million times less concentrated than most all purpose cleaners.
What I don't know, is why other dangerous cleaners use such a high concentration of it if such a low one is still so effective? Anyways, so glad to have found a disinfectant that's safe to use around my kids, doesn't give me a headache and isn't dangerous to breath around.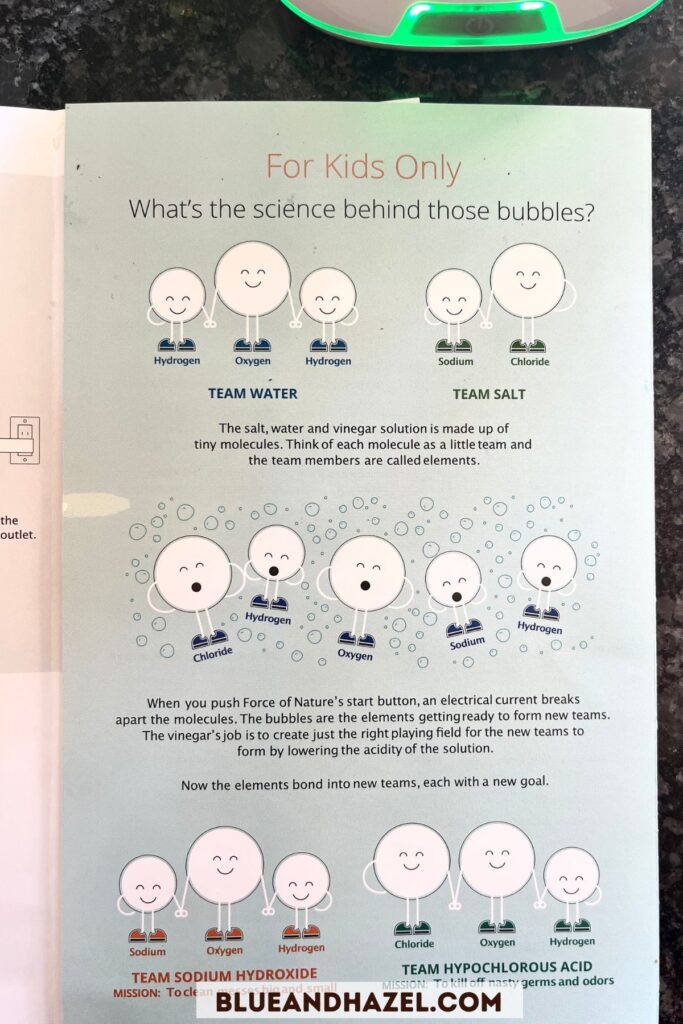 What germs does it kill?
I felt pretty confident this wan't just a little sprinkle of magical wish-wash when I read that the EPA has approved Force Of Nature for use in hospitals, ICU's, daycares, schools, and vet clinics.
When used as directed on hard non-porous surfaces, Force Of Nature kills:
Norovirus
Salmonella
Influenza A
Staph
MRSA
Listeria
Pseudomonas Aeruginosa .
SARS-CoV-2 (cause of Covid-19) and all variants
Respiratory viruses and the viruses that cause flus
How to properly disinfect surfaces using Force Of Nature
It takes 10 minutes for Force Of Nature to sit on cleaned surface to disinfect. It's called "contact time". So if you are wanting to kill germs and not just wipe them down the drain, do this:
Clean off visibly dirty surfaces you are wanting to disinfect. You can use Force of Nature for this. Just spray and wash down the drain or spray and wipe with a rag.
To disinfect, then spray with Force of Nature and let it sit for 10 minutes.
No need to wipe off or rinse, just let it air dry.
Cleaning vs disinfecting…what's the difference?
Cleaning is not the same as disinfecting. Cleaning simply means removing dirt from a surface. Think soap and water. Disinfecting is defined by Webster as:
"to cleanse (a surface, a device, a supply of water, etc.) by destroying, inactivating, or significantly reducing the concentration of pathogenic agents (such as bacteria, viruses, and fungi)"
Force of Nature does both.
Here's a list of all the ways I've used it Force Of Nature. They also have a master list of all the tips on their site for using the spray.
What I've used Force of Nature to clean or disinfect
Stinky coffee mug lids (smell gone!)
Baby bottle lids with spoiled milk (smell gone!)
Sponges after use and toilet brush after use
Kitchen sink
Spraying inside my garbage when changing a bag
Raw meat cutting boards
Spraying my foundation makeup brush after cleaning it to keep bacteria away
Glass top stove & kitchen counters
Stainless steel cleaner for outside of fridge, Berkey, & dishwasher
Carpet after baby puke. Blot out the nasties as best you can, remove any chunks, then spray VERY generously and let air dry. (Force of Nature also says you can use the solution inside of any carpet cleaner in leu of other cleaners. Downside is it would be hard to make that much solution…)
Toilet inside and out, plus floor around the toilet (FINALLY my bleach free answer to no more stinky pee smell with 4 boys in the house!)
Bathtub & bathroom sinks
Mirrors (have to buff dry to avoid water spots though)
Window tracks
Spills in the fridge
What not to clean with Force Of Nature
Brass and copper. Force of Nature states to dry right away or wipe off after cleaning because it should not sit on soft metals over time.
What comes in the Force Of Nature starter kit?
If you're ordering for the first time, you'll need a starter kit. There are several starter kits available depending on if you want a glass bottle or plastic, and how many cleaning capsules you want.
After that, you'll only ever order the capsules, and probably not for a long while.
Every starter kit comes with the basics:
an electrolyzer machine
spray bottle (glass or plastic depending on the starter kit you choose)
activator capsules you add to water (either 5, 15, 25, or 50 of them depending on the kit you choose)
directions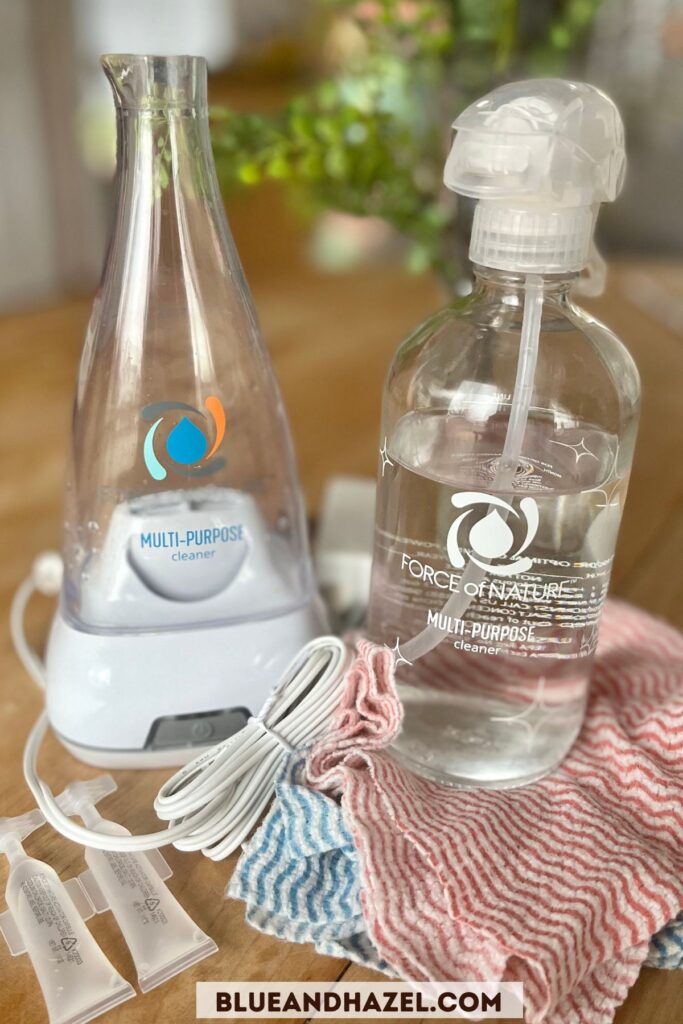 I ordered the "super saver kit". It came with all the basics above, 50 cleaning capsules, and a 9 pack of the reusable machine washable paper towels, equivalent to 40 rolls!
By the way…this post is not about the paper towels but turns out these are amazing and have held up so well! They are really absorbent even after being washed for months.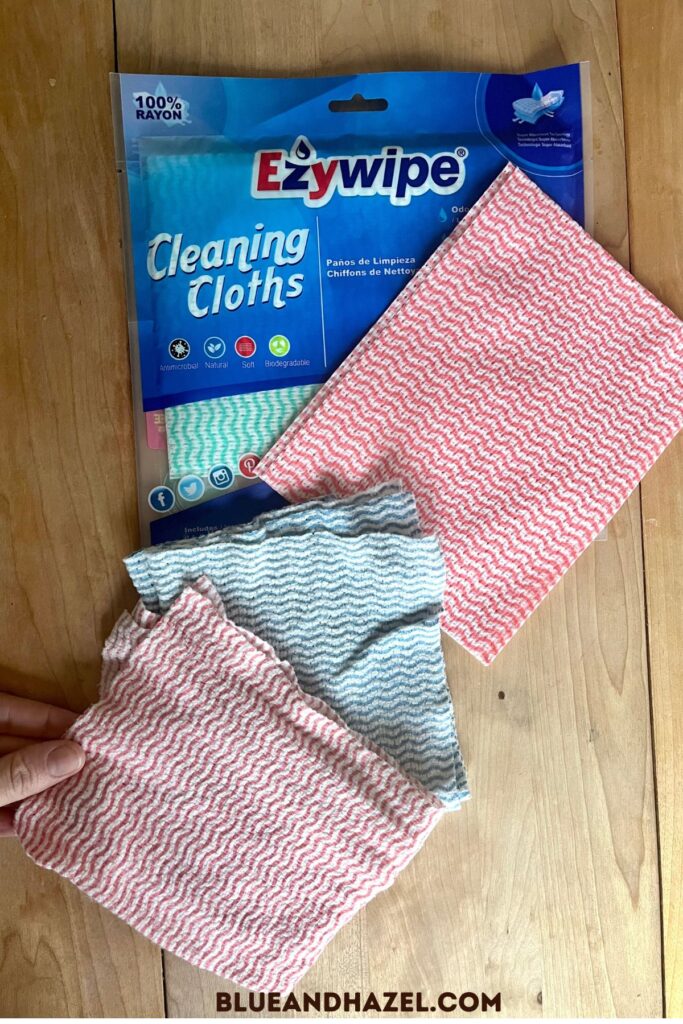 How much does a starter kit cost and per bottle?
After the big 40% discount the total is around $85. No code needed. There's always a big discount or sale on starter kit, so never pay full price and don't rush to miss the "deal".
You only get the awesome 40% discount with the starter kits, so it's in your best interest to get more capsules at that huge discount.
While you have to buy a starter kit one time to get the electrolyzer, each bottle after that costs about $1 per capsule or $1/bottle. One batch or bottle is effective for up to 2 weeks so even if you don't use it, you'll need to toss and remake.
The more capsules you buy in the starter kit, the better the deal. I decided with all the great reviews I was just going to get the best deal with 50 capsules. This supposedly lasts up to a year, using about 1 bottle a week.
I'll have to rebuy more capsules next year which run around $25 for 25 more capsules (or half a year).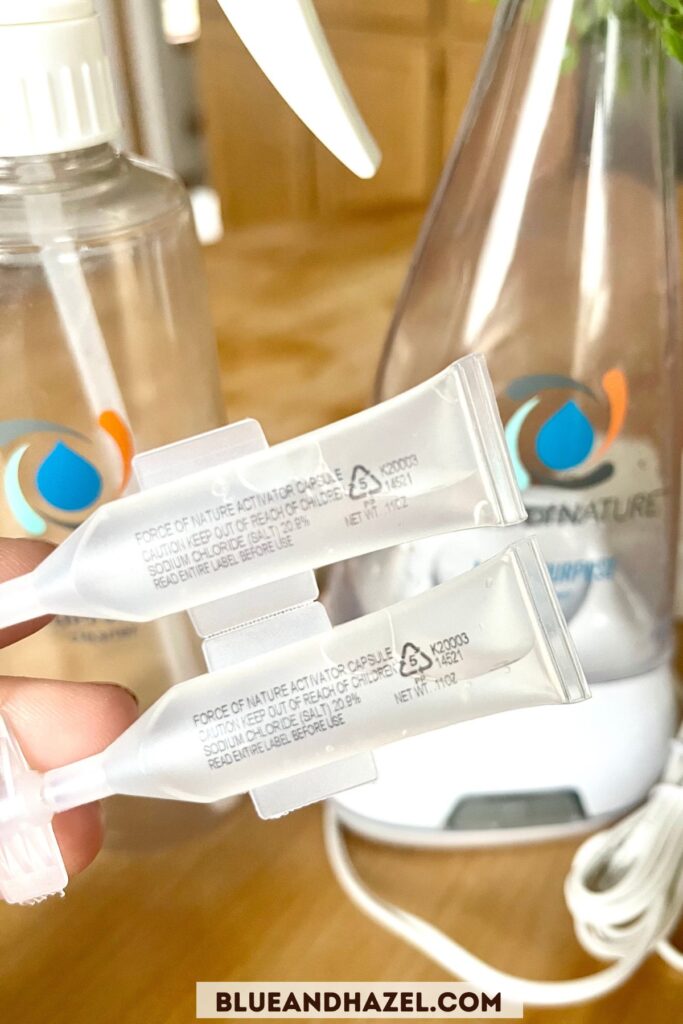 Once you reorder only the capsules, you can subscribe and save but it'll only save you a couple bucks. So I got the big pack and saved 40%.
To see all the starter pack options, go here.
First impression using Force of Nature
At first, I was mainly just skeptical. How could it disinfect and not be dangerous to my skin? It seems too good to be true?
It also seemed strange to have to "mix" my cleaner in an electrolyzer. BTW, the bubbles that form are a WIN for my kids…they love watching.
There's no added fragrance, but the scent I smell reminds me of a much less strong swimming pool smell (which apparently is because hypochlorous acid is a type of chlorine).
Some big wins for me? i LOVE that without using bleach, I can get rid of nasty smells (and know the bacteria causing them is gone too).
My bathroom doesn't stink like pee, coffee mug lids no longer have that old "couldn't clean the cracks smell", and I don't have to worry about toxic cleaners damaging my family's body anymore.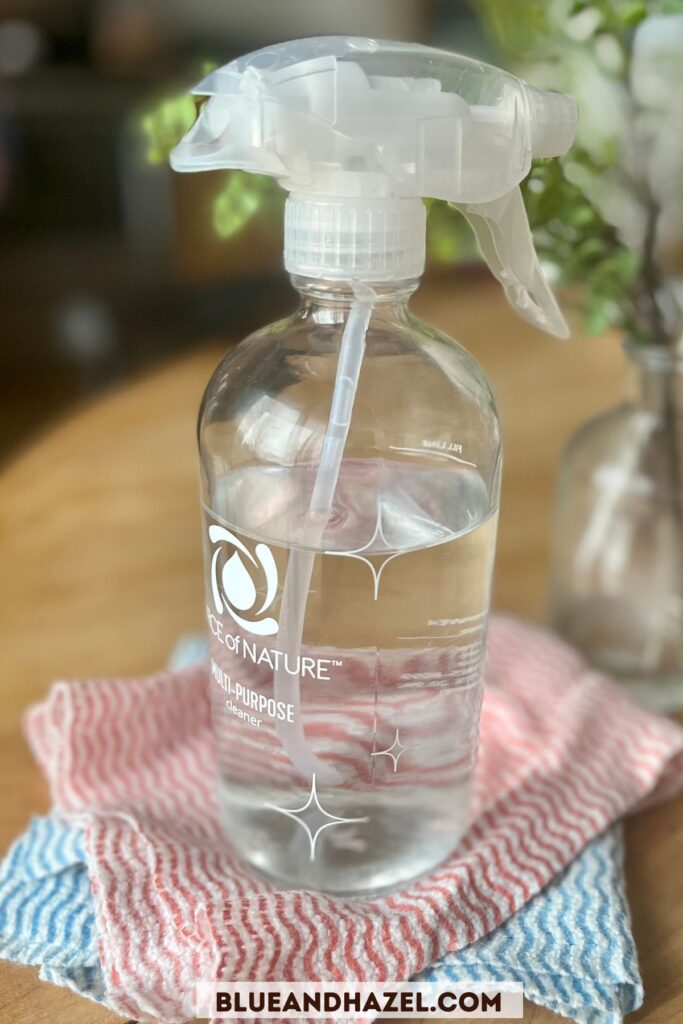 Does Force Of Nature replace bleach?
I've pretty much replaced bleach in our home with Force Of Nature. I no longer need to mix up a bleach and water solution to disinfect a bathroom, clean up puke after a sickness, to disinfect a sink with raw meat, or to get rid of strong smells.
One thing Force of Nature doesn't do is whiten or remove color like bleach does. So if you are used to whitening a load of laundry with bleach, or your toilet bowl, or removing stains from grout…Force Of Nature won't do that. The reason for that is it doesn't contain any whiteners.
Read more here on electrolyzed water vs bleach.
The upside of that is you can get stink and stains out of fabrics (think rugs, couches, or pre-treating a shirt) without color coming out. Try a small area first since all fabrics can act differently!
Pros and Cons of Using Force Of Nature
The pros? So many.
A safe disinfectant was unheard of to me before using this!
Doesn't burn your hands.
Cleans
Disinfects when left on an object for 10 minutes (similar amount of time as many other disinfectants)
Cons:
Only usable for 2 weeks before needing to make a new batch (same with a bleach water mixture, which I didn't know before this!)
You may not want to sanitize all the areas you clean…
No bubbles, so it doesn't lather
Sometimes it's easy to forget how long the mixture has been around for unless you label the bottle
You'll likely want to buy an additional spray bottle to make it convenient to store in different rooms (one for the kitchen, one for the bathroom).
You have another device with a cord to store. (Maybe it's just me…but we have SO many things that plug in. From pencil sharpeners to video game consoles to baby monitors and sound machines…convenience just comes with a cord I guess!)
Can you use it if you have hard water?
Yes, you can, and the solution will still work. However Force Of Nature recommends using filtered or bottled water or a softener if you have hard water at home mainly to protect the life of the electrolyzer machine.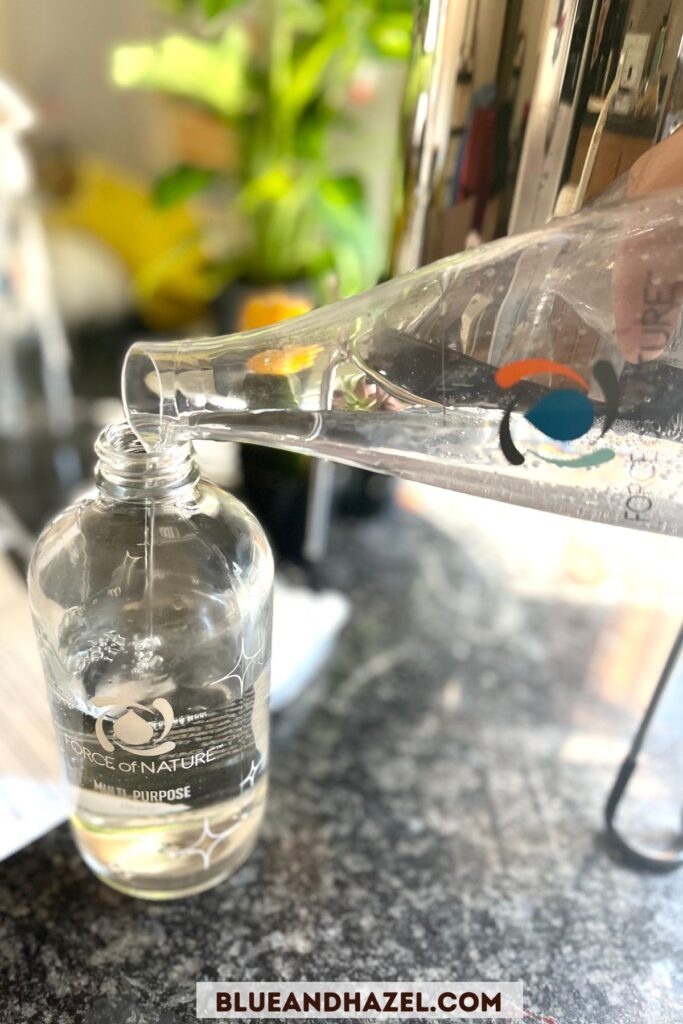 What's the return policy?
You can return it for any reason for a 100% return (minus return shipping costs) within 30 days. That's good, but not good enough in my opinion.
My beef with this is that I'd like to see them take off the 30 days. I think a really, really great company will stand behind a no questions asked return policy, even months or years later.
Ready to try Force Of Nature?
If you're ok with mixing it up every couple of weeks and are able to spend a little more upfront, Force of Nature is amazing! You can get your starter kit here.