Today I want to dig into some of the best mineral sunscreens for kids (and adults)! We are a derm family, and I'll be sharing what we use on our kids. Plus, I'll help explain a few confusing terms you should know on your sunscreen bottles like SPF numbers, chemical vs mineral vs mineral-based sunscreens, baby formulas vs kid vs sport formulas, and why it's so important to protect your kiddos from early sun burn.
I rarely mention my husband on the blog, but it'll be helpful for you to know why we are so sun conscious here. He removes skin cancer all day every day for a living, and not just from elderly people who've enjoyed their life in the sun. He's removing cancers from people in their 30's, 40's, & 50's.
While I regret spending my teenage years getting as tan as I could, even using oil and tanning beds…I know I can do better for my kids and gift them 10-15 years of better skin and decrease their risk of skin cancer.
We enjoy the outdoors and spend as much time outside as possible when we can. I've taken the kids to the pool since they were toddlers, and if you've seen me in real life, you've seen our hats, sunscreen, and long sleeves.
We don't stop living life to avoid the sun…but we do heavily invest in sun protection.
Why we are crazy diligent about protecting our kids' skin when they are little
According to the American Academy of Dermatology:
"Skin cancer is the most common cancer in the United States, and it only takes one blistering sunburn during childhood or adolescence to nearly double a person's chance of developing melanoma, the most serious form of skin cancer, later in life. This is why it's important for parents to do everything they can to protect their infants from the sun's harmful UV rays and teach their children healthy sun care habits – starting at an early age."
Yikes.
Pretty sure we've all had kids with sunburns. I know I have. You can't undo a sunburn, but you can vow to be more diligent moving forward.
Our kids need us to teach them how to protect their skin, when, and why. Sunscreen is one part of this equation, but hats and clothing are another tool.
Our family gets a little nuts at times with hats and rashguards and sunscreen bottles, but that's because my husband removes skin cancer every single day. He sees the worst.
Where I used to say, "I'm getting tan!"…my husband just says, "Sun damage!" He's not wrong. I've learned to embrace my naturally pale skin after spending over a decade using sunless tanners and probably close to 50 sessions in a tanning bed as a teenager and in my early 20's. (whyyyyyyy?!?)
It's been a long process of redefining beauty, and learning about the REALITY of skin cancer. Not to mention my 30's have taught me that the more sun I get, the faster my skin ages and discolors. I'd like to gift my kids better skin and hopefully a lifetime of safe sun habits.
Ok, so back to sunscreen…
So many sunscreen options…help!
With the insane amount of sunscreen options on the shelf, you might be considering:
cost
physical sunscreen and not a chemical one (more on that later)
face stick for easier application
one that doesn't sting their kids eyes
one that lasts longer in the water
goes on without turning skin pasty white
My husband's dermatology residency had a saying: "The best sunscreen is one that you'll wear." So while I recommend mineral sunscreens in this post, if you won't wear it with the lighter colo', then get a chemical sunscreen you will apply! However, I think you'll be happy with my #1 & #2 choice below.
What I look for in a sunscreen
Broad Spectrum, meaning it blocks both UVA & UVB rays
SPF 50. (30 is ok too. I'll explain why higher than 50 isn't necessarily much better)
Water resistant (because we're often either around water)
Zinc oxide or titanium dioxide as the only active ingredient(s)
Not chalky white looking when rubbed in and absorbed (which is why I bought around 20 to try so I could share results with you)
Mineral Sunscreens Vs Mineral Based Vs Chemical Sunscreens: What's the difference?
Mineral sunscreens
These are physical blockers. They work by physically shielding your skin from the sun. The zinc oxide or titanium dioxide keeps the rays out.
According to MD Anderson Cancer Center, "Mineral sunscreens offer the most protection because they're literally creating a physical separation between you and the sun."
Chemical sunscreen
Chemicals absorb the UV rays. Cleveland Clinic talks more about the possible dangers of chemical sunscreens, since studies have shown these get absorbed into your bloodstream.
Currently, the American Academy Of Dermatology, the CDC, and the FDA all officially consider chemical sunscreens safe to use, and say the the known risk of skin cancer from not using sunscreen is worse than the unknown risk of absorbing chemicals into your body.
You get to decide for your family! I'm just more comfortable using mineral sunscreens in our home.
MIneral Based or "hybrid" sunscreens
These use both mineral and chemical blockers. If the label lists titanium dioxide or zinc oxide and other ingredients under "active ingredients", then it's using both.
What do SPF numbers mean? Should you look for SPF 30, 50, 70, or 100?
SPF only measures UVB rays, which is why you need to be certain that you're using a "broad spectrum" sunscreen so you're protected from UVA as well!
I aim for SPF 50, although it's not much better than SPF 30!
SPF 30 sunscreen filters 96% of UVB radiation
SPF 50 sunscreen filters 98% of UVB radiation
SPF 100 filters out 99% of UVB radiation
So SPF 50 is only slightly better than SPF 30! So just remember:
Broad spectrum (almost all on the market are this now!)
SPF 30 or higher
Water resistant (options are 40 or 80 minutes)
Put enough on to actually cover exposed areas.
The Skin Cancer Foundation states, "The SPF number tells you how long the sun's UV radiation would take to redden your skin when using the product exactly as directed versus the amount of time without any sunscreen. So ideally, with SPF 30 it would take you 30 times longer to burn than if you weren't wearing sunscreen."
So SPF doesn't tell you how much time in the sun it will protect you. You'll have to apply some common sense and read the bottle instructions which usually say reapply every 2 hours (I think even sooner is better).
Consider this:
1 hour in the sun at 9 am might result in a similar amount of sun exposure as 15 minutes around 1 pm. So SPF 50 won't keep you from burning for the same amount of time in both situations.
What does broad spectrum mean?
Broad spectrum sunscreen means it provides protection against UVA & UVB rays, which are different but both contribute to skin cancer. Most sunscreens I've seen are broad spectrum and labeled clearly on the bottle.
Here's an excellent article on UVA & UVB radiation, what they are, and how they contribute to skin damage and skin cancer.
UV radiation can damage and burn skin even without feeling it, which is how you can burn on a cloudy day. That's also why I wear a daily facial sunscreen under my makeup, no matter the weather.
Advantages of using a sunscreen stick
I love carrying a sunscreen stick in my purse for a few reasons.
It's easier to apply to kids faces and back of their necks.
It's SMALL and tucks into my purse or jacket pocket (all of these are tiny, like 0.5 oz).
Downside? These are too expensive to use all over. A stick runs around $10 for 0.5 oz and so we keep these for small areas like face, back of the neck, back of the hands, etc.
Best mineral sunscreen stick for kids (and adults)
You'll have to decide what's most important to you in a sunscreen stick, choosing from:
Best application look and feel (these all look much less white after you rub them in and let them absorb)
EWG rating (looks at ingredient safety and also looks at UVA protection which isn't measured via SPF like UVB)
I tried 4 mineral stick sunscreens to compare, (all broad spectrum which is pretty standard) and will rate them 2 ways: by how well they blended in, and then by their EWG rating for ingredient safety.
Favorite sunscreen stick rated 1-4 based on look & feel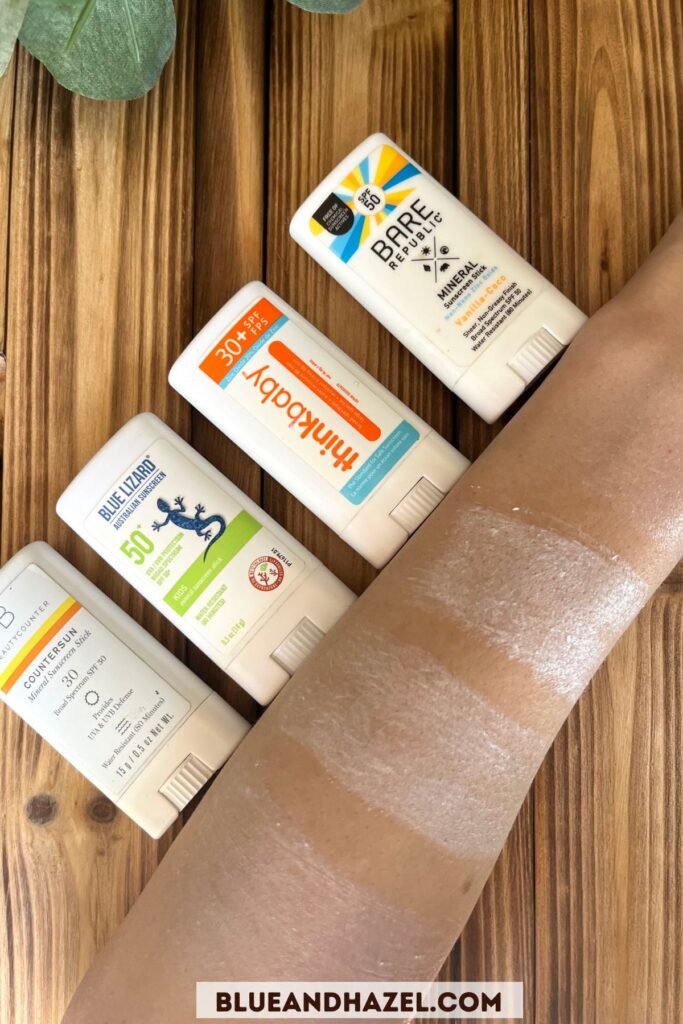 #1 Top pick: Bare Republic SPF 50
Active Ingredient: Non-nano zink oxide 25%
By far the most invisible after application, and even fairly invisible before being rubbed in!
Water resistant 80 minutes
EWG rating of 5 (1 being best and 10 being worst)
EWG rates 2 out of 4 for UVA/UVB balance.
#2 pick: Blue Lizard Kids Stick SPF 50:
Active Ingredients: Zinc Oxide 20%
Next most subtle non chalky look when rubbed in.
Non comedogenic (won't clog pores)
Water resistant 80 minutes
EWG rates this 4 out of 4 (best) for UVA/UVB protection
#3 pick: Thinkbaby SPF 30
Active Ingredient: Non-nano Zinc Oxide 20%
This one was hardest to rub in without looking white, unlike their bottles I love.
Water Resistant 80 minutes
EWG rates this 3 out of 4 on for UVA/UVB balance.
I rubbed each of these on my arm back and forth a few times and did not rub in (like you would typically do) for the photo.
#4 pick Beauty Counter Stick SPF 30
Active Ingredient: Non-nano Zinc Oxide 15.4%
Rubs in decently well.
Water resistant for 80 minutes
EWG verified stamp, meaning it avoids all EWG's ingredients of concern, includes full transparency of ingredients including fragrance ingredients, & uses good manufacturing practices. This is the gold standard for ingredient labels.
EWG rates this 2 out of 4 for UVA/UVB balance.
Downside for me? Double the price of the others at a whopping $23/stick for 0.5 oz. (I picked mine up for $10 during a sale). Now I'm all for "clean" ingredients, but that's an outrageous price.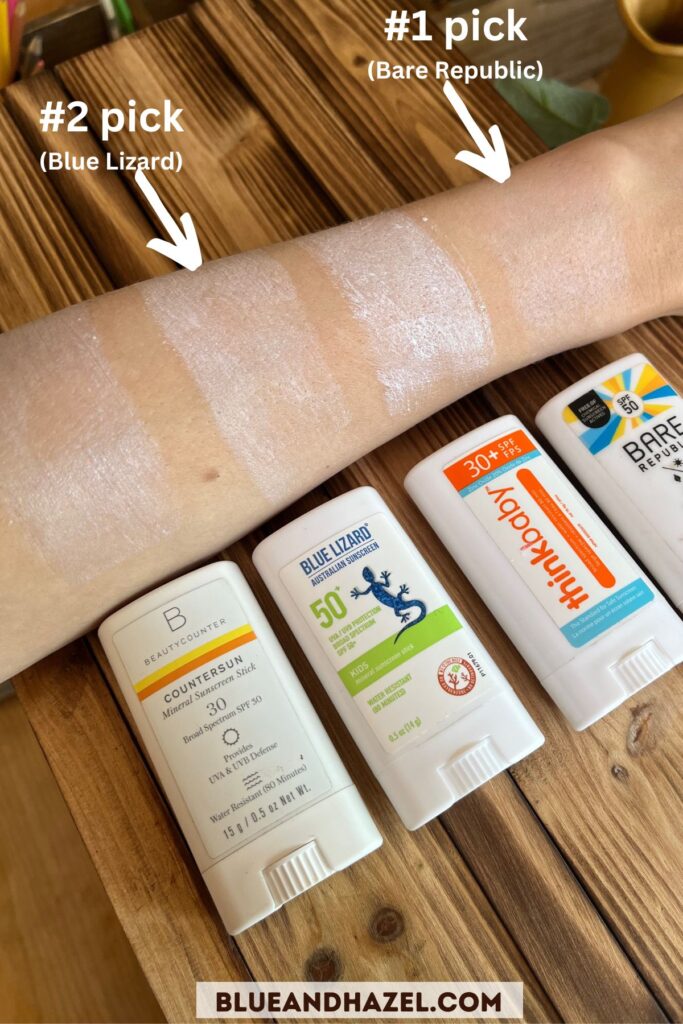 Sunscreen stick rated 1-4 based on EWG factors
If I had to rate these not based on how they feel and appear on the face, but on the safety of ingredients and how they block both UVA & UVB rays, I'd order my favorites like this:
Blue LIzard sunscreen stick
Think Baby sunscreen stick
Beauty Counter sunscreen stick
Bare Republic
My top 2 sunscreens for the face and body
Ok, drum roll. And please feel free to disagree and have your own favorites. Here we go!
#1: Thinkbaby SPF 50
EWG rating of a 2 out of 10, with 1 being the best you can get.
Rubs into the skin easiest of all the mineral sunscreens I've tried and appears the least white of them all.
It smells tropical. It's one of my favorite scents of the many mineral sunscreens we have.
Water resistant for 80 minutes
Reef safe & free of harmful chemicals
Easy to find in any sunscreen isle
No sting in the eyes from any of the Thinkbaby or Thinksport products.
Pretty much all the Think sunscreens are a win except the Stick which is hard to rub in and stays quite white. They are widely recognized by the EWG as having the highest quality sunscreens, and most people I know who are mineral sunscreen enthusiasts go between Thinkbaby and Blue Lizard.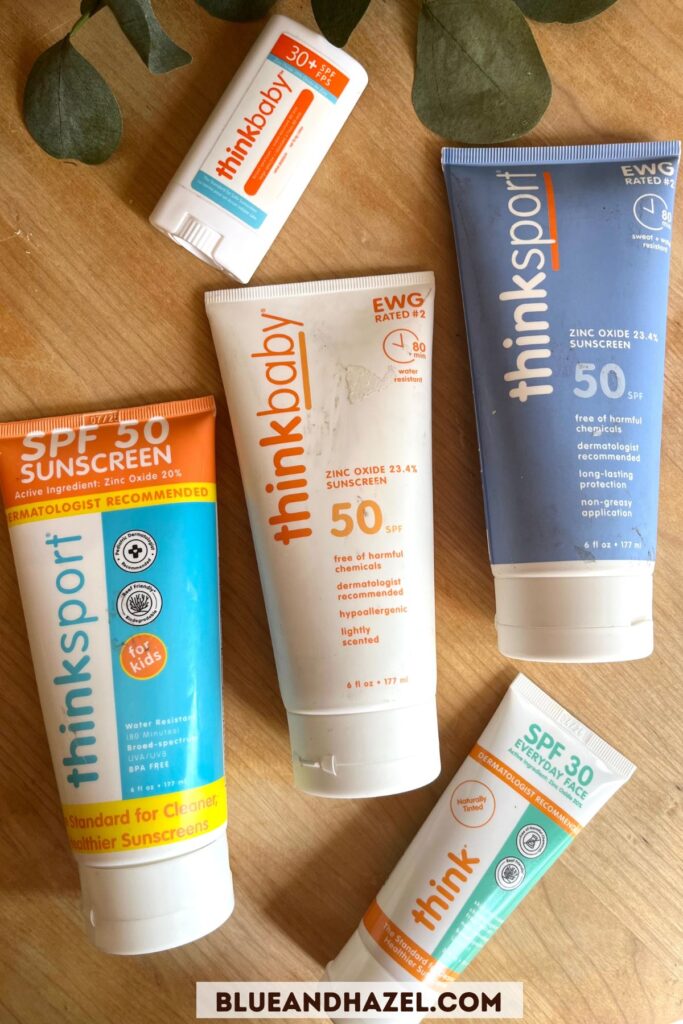 #2: Blue Lizard Sensitive Mineral Sunscreen SPF 50
Blue Lizard is what my husband usually recommends to his patients. Their formulas are fragrance free, and rub in well if you allow it time to absorb and don't glob it on. (I try to use small dots and then rub in). It stays on the skin really well when in the pool.
EWG rating of 3, with a few lines rated at 4 or 5.
Rubs in really well, and is almost colorless after rubbing in and drying even though it comes out VERY white.
Fragrance free & paraben free
New sensitive formula is water resistant for 80 minutes
No chemical active ingredients
Great for sensitive skin
No sting in the eyes
Reef safe
Differences between Blue Lizard formulas
When deciding to buy the baby, kids, sensitive, or sport formulas…there are a few things to note.
All formulas except the baby line are water resistant for 80 minutes (baby formula is 40).
Know that the sensitive SPF 50 (blue bottle pictured below) and baby SPF 50 (pink bottle below) only use minerals for their active ingredients, while the kids SPF 50 lotion is mineral-based, meaning it also includes Octisalate 5%. Weird thing is, their kids SPF 50 sunscreen stick I like does not. It only has mineral active ingredients. So. Dang. Confusing!
Here's a complete list of their "mineral-based" formulas if you are trying to avoid chemical sunscreens or partial chemical sunscreens called mineral-based.
Their FAQ page answers a TON of questions about sunscreens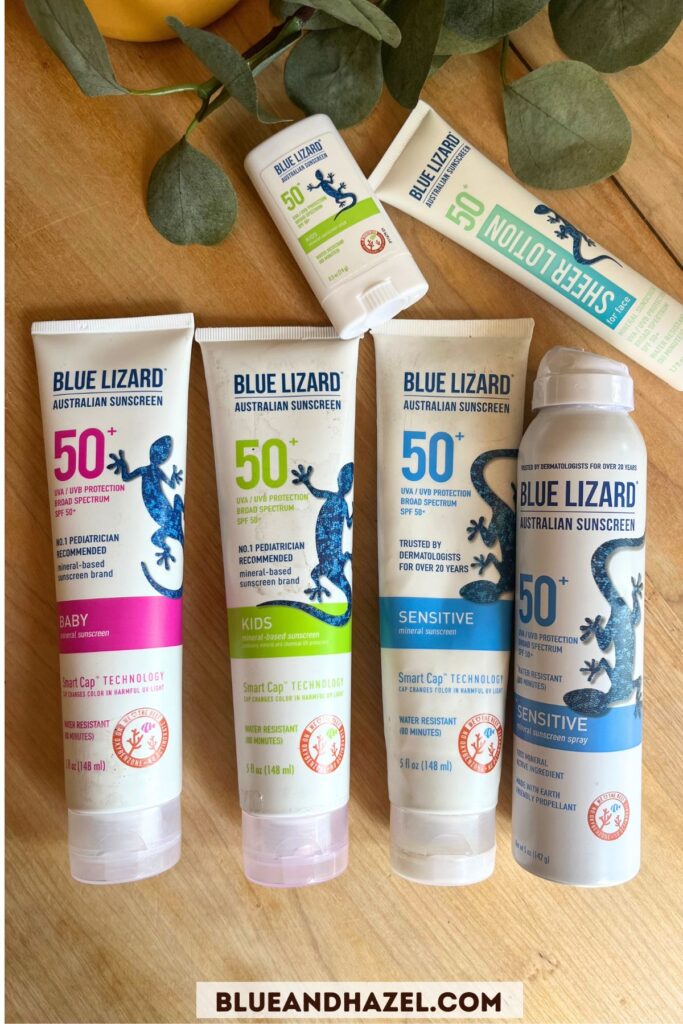 Also, we LOVE the fun caps that turn color when exposed to UV light! It's a great teaching tool…because we can see (even on a cloudy day) that UV rays are reaching us when the lid turns pink.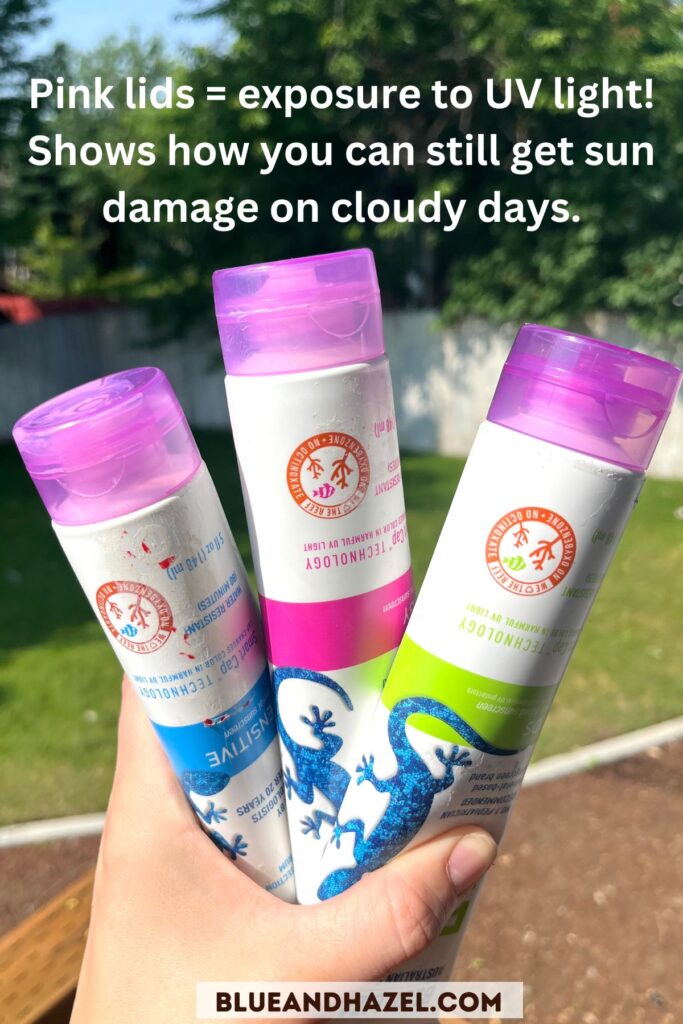 What is a face sunscreen and which one is my favorite?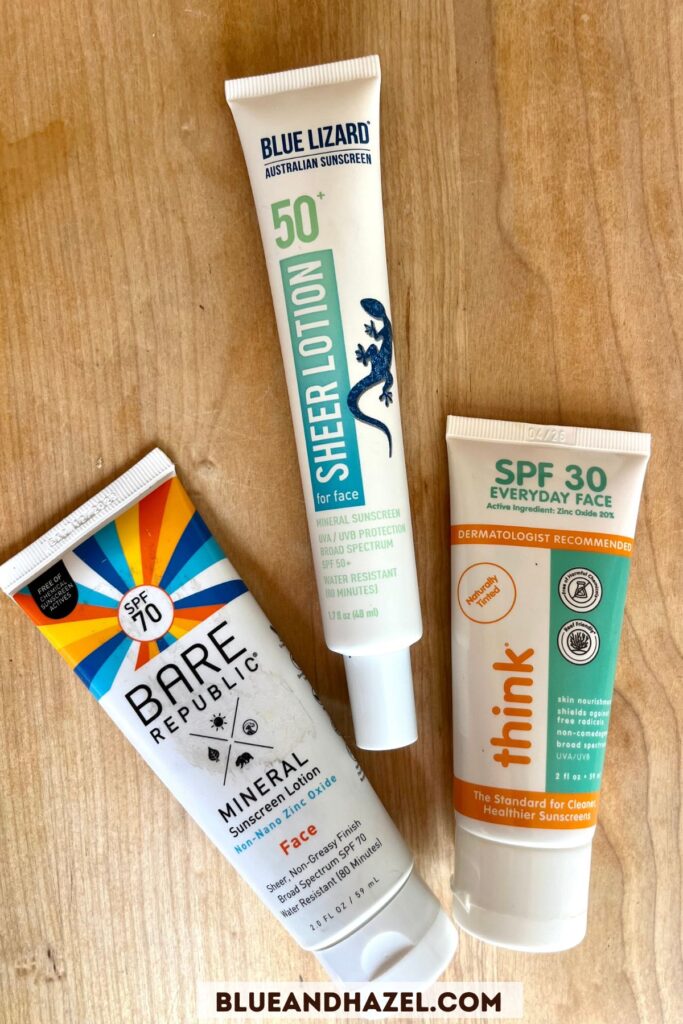 Face sunscreens are made to be less greasy feeling on your skin, and non comedogenic (won't clog pores). Some brands even offer a tinted version which decreases the awful white look that can make you look a little bit sickly!
Not pictured here is my absolute favorite daily tinted Face sunscreen by Elta MD. I'll update a pic here when my hubby remembers to buy me some more at his office. It's not sold in many stores, but all derm offices have this.
While I'll link to Elta MD on Amazon for you to see the packaging, don't buy it on Amazon! There are TOO MANY FAKES there. (Only buy from a derm office or authorized reseller store for Elta MD products.)
I wanted to compare some other top brands with my Elta MD and honestly, none come close. I'm just loyal to the feel, the tint, and they have two formulas depending on if you have oily skin or not.
However, for those of you who want to know what other options are good options for a face sunscreen, read on!
Thinkbaby vs Blue Lizard vs Bare Republic mineral face sunscreens
After squirting the 3 i bought on my arm (bottom photo), I mixed all 3 together on my arm and let them sink in (top photo). To my surprise, there's a lot of sunscreen on there and NO white hue. I'm not sure how this would look on darker skin?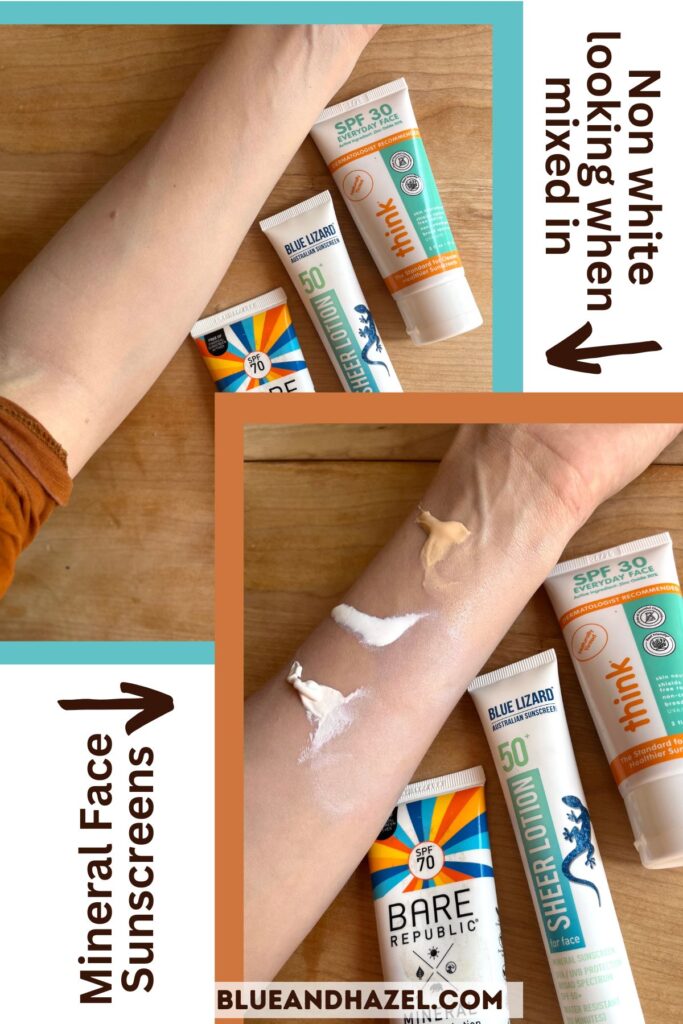 Thoughts on Think Tinted SPF 30 Mineral Face Sunscreen
Active Ingredient is non-nano Zinc Oxide 20%.
EWG rating: 2
Think's brand had a very light tint, on par with all the reviews I read. It's much lighter than any other tinted face sunscreen I've tried, but many others are too dark or orangy on my pale skin. If I couldn't put makeup on, and if I didn't have my #1 favorite Elta MD tinted face sunscreen on hand, I'd reach for this.
It does feel a little thick though, which I don't love. And without makeup on top, I'd have to use less because the amount I tend to put on still leaves a paler look than without it.
My advice: dot on the skin and rub in, don't rub in your hands and then smear on or it'll look too thick and not blend in enough.
Here's an example of the tinted Think face sunscreen on my face and neck: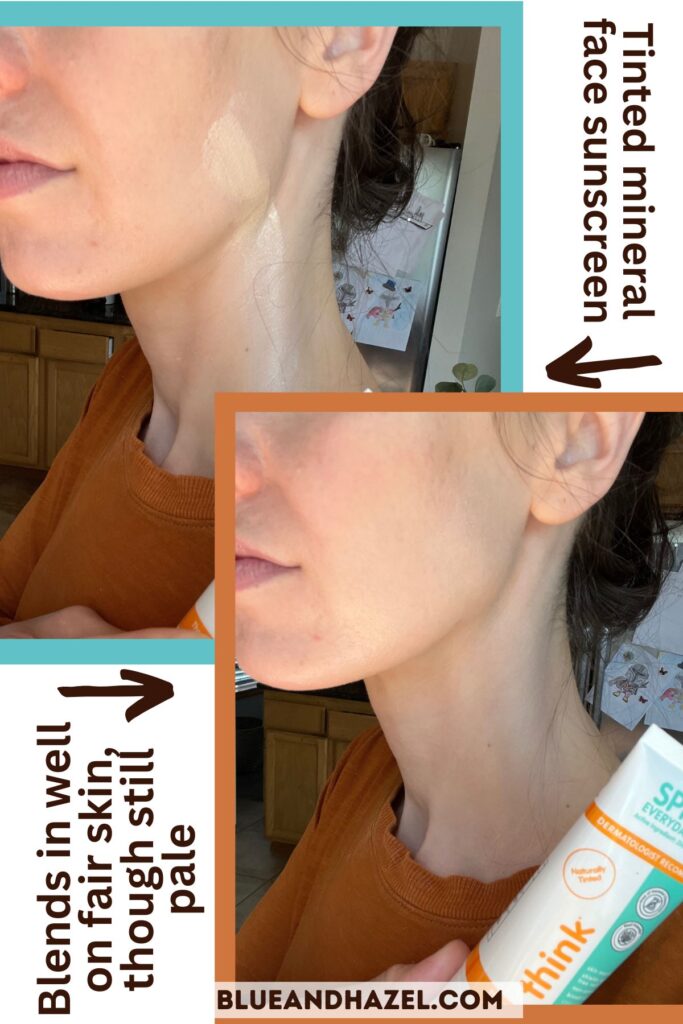 Note this is lighter than Elta MD's tinted mineral face sunscreen and I prefer having just a bit more color. Either way, if I wear foundation and bronzer, it can easily look natural. Without makeup over the top, I feel a little light.
Thoughts on Blue Lizard Sheer Mineral Lotion For Face
Active Ingredients: Titanium Dioxide 9%, Zinc Oxide 6%
EWG Rating: 3
I actually like the thin feel of this one better than Think's Tinted Face Sunscreen. It's runnier, less "sticky", and blends in nicely without being white. Maybe it's just me, but I feel a shade more pale with a mineral sunscreen that's not tinted.
This is better on the face than using any of the thicker Blue Lizard mineral sunscreen lotions I have, and it absorbs really quickly and is non comedogenic. I think without makeup to go on top, this one would be my top pick for a mineral face sunscreen as it blends so well.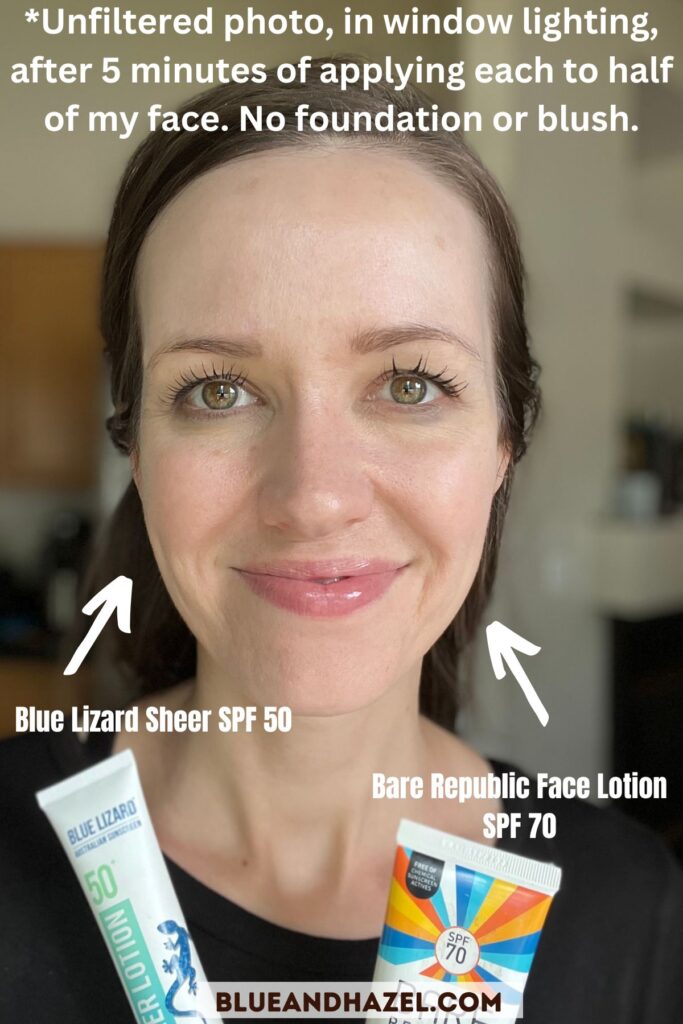 Thoughts on Bare Republic Mineral Face Sunscreen
Active Ingredients: Titanium Dioxide 3.5%, Zinc Oxide 15.8%
EWG rating: 6 (not great)
Initial thought…it's the thickest of the ones I've tried. It rubs in pretty well though, dries quickly, and I can't see the typical white chalky look when it's absorbed.
I don't think you can "see" any white on my face after it soaks in, (I could when I wore it too thickly though). But it doesn't smooth out the red in my skin like a tinted sunscreen would. I probably won't buy this one again.
Next on my list to try, and bummed I missed it for this post, is Bare Republic's Tinted SPF 30 Face Sunscreen. I like this brand, so when i try this I'll update here.
Why I don't love spray sunscreens (even mineral ones)
I buy a spray sunscreen every year because if I don't, my husband picks one up at the store.
I personally don't reach for a spray (though my husband does) mainly because of the risk of inhaling dangerous particles into our lungs. There are nano particles that just aren't safe to breath in, and this risk is eliminated by just being willing to rub it in.
Plussss, I still feel like we have to rub in spray sunscreens?!? Ok, not the chemical ones, but at least the mineral sunscreens still need a good rub. See below.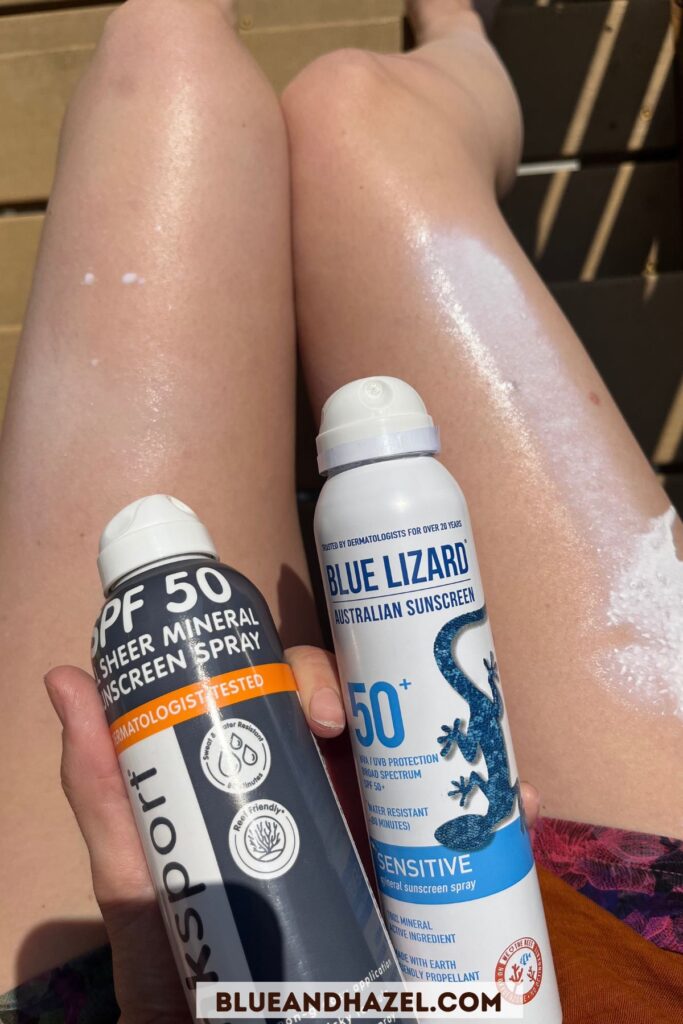 Of the two sprays here, Thinksport was WAY better to spray. It had a light, even, misty spray where as Blue Lizard was almost like spraying a white foamy line.
Both rubbed in really well, and within minutes my daughter said she couldn't see where I'd applied it on my legs.
How much sunscreen do you need to apply?
The AAD states a typical adult body needs about 1 oz of sunscreen for full body application and a tsp for the face and neck. A typical 6 oz bottle would then give only 6 applications, and same for a 6 oz spray bottle. That's EXPENSIVE for mineral sunscreens!
A few things that help decrease sunscreen usage:
Invest in a rash guard for everyone in your family. These are the exact ones I bought my kids and let me tell you this color is AWESOME at the pool or when we travel.
I often wear long sleeves (loose and thin shirts in the summer to avoid having to get slathered in sunscreen. I don't love the feel of it on my skin and this really helps my skin from getting burned/tan over time. Even with the best sunscreen goals, the sun still seems to find times and places it can damage my skin even with best intentions!
We try to be indoors during the most intense parts of the day in the worst of summer. 10-2 is the hottest part of the day, but even just being indoors part of that time will help.
How to apply mineral sunscreens
There's a learning curve here, because it's easy to get way too much and just appear white-ish purple-ish if you get too much on.
Instead of squirting out a large amount in one spot (like I'd do with chemical sunscreens), do smaller dime sized dots on the area you want to cover. Then rub those in really well. Mineral sunscreen is just harder to spread so that's why globbing it in one spot isn't ideal.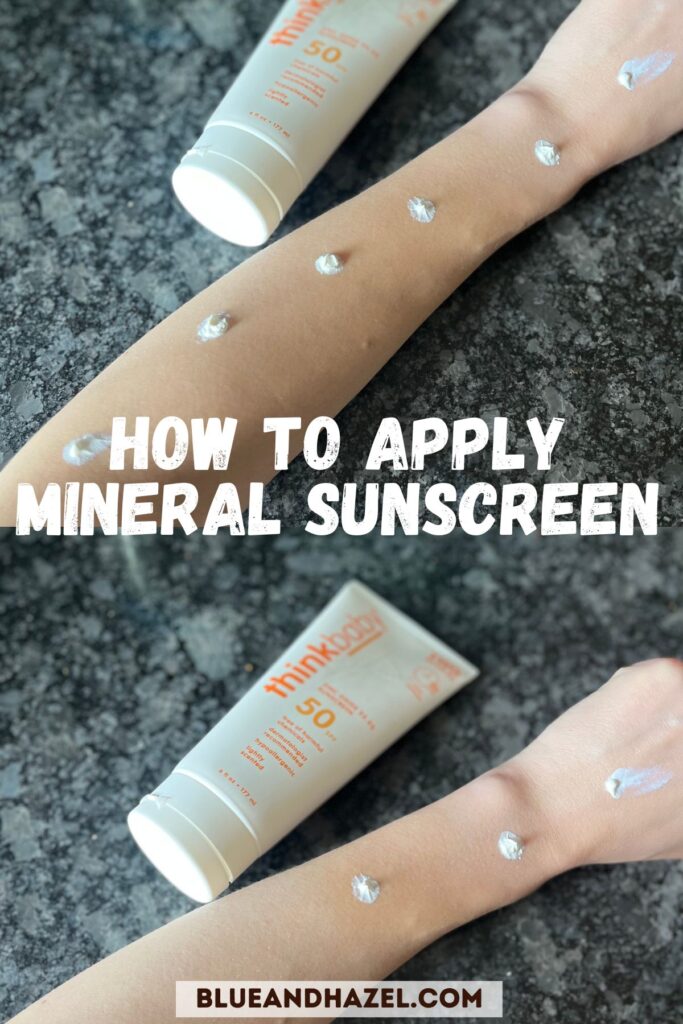 In the photo above, you can see a line where I rubbed in a few of the dots. While it doesn't look "white" where I rubbed it in, you can definitely tell it's lighter than the area with the dots that aren't rubbed in!
I don't think all mineral sunscreens rub in equally well though, which is why you'll have to try a few to find your favorite. Hint, skip all the trouble and just get a Thinkbaby SPF 50 lotion. It's seriously the smoothest and easiest to apply of all I've tried.
For your face and neck, you only need around 1 teaspoon. Or, even easier, use a sunscreen stick for the face and neck!
For the whole body, an adult would need around 1 oz (a shot glass full). But again, if you have a rashguard on, you'll need less.
Will wearing sunscreen make me vitamin D deficient?
This is something that I've wondered a lot. Our bodies need sunlight to make vitamin D, so it's common to be deficient in certain populations, places, or times of the year.
My husband's go to answer to this is to just take a vitamin D supplement! But if you're like me, you want to get some sun on the skin to make what you need but no more. I've learned it doesn't take long to make enough vitamin D in the summer with a t shirt on, but might take hours in the winter…plus in the winter you're showing less skin.
Here's some numbers:
Studies showing how long it takes to make enough vitamin D in summer and winter on different skin types
UCLA health explains it really well, summing up their results from a study done in Valencia, Spain (similar latitude to Kansas City, Missouri).
"In spring and summer, 25 percent of the body (the hands, face, neck and arms) is exposed to the sun, and in these seasons, about 8 to 10 minutes of sun exposure at noon produces the recommended amount of vitamin D. In the winter, only 10 percent of the body is exposed, and nearly 2 hours of sun exposure at noon is needed to produce a sufficient amount of vitamin D."
This article explains a similar study done with people who tan easily and how much sun they'd need in Miami in the winter with hands, face, neck, and arms showing (just 3 minutes).
So how much sun exposure it takes to create the minimum level of vitamin D you need is variable due to:
Time of year, winter vs summer
Latitude
Skin color
How much skin is showing
3 areas often forgotten about that easily get sunburned
When I apply sunscreen on my kids, we always get the face. But there's a few other places that are easy to forget about but can get toasted pretty quickly.
The ears. These are prone to getting burned and a place my husband sees a lot of skin cancer.
The lips. This is tricky because we're prone to taste the sunscreen. Plus, it comes off quickly here. I don't buy a special lip balm, but would if I found one I liked with spf. I just use a mineral sunscreen that blends in the least white. My favorite stick is Bare Republic's mineral sunscreen stick SPF 50. It's the least white of the sunscreen sticks I've tried and smells great.
Back of the neck. I always feel a little bit of a failure when my boys necks turn brown by end of summer. The neck is a forgotten about spot that gets a lot of sun with their short hair and sometimes we just forget to apply it there.
And last spot I try to remember, though I often don't get are the tops of hands and feet.
Save this post for later!