There's nothing like carrying my baby out in public and feeling something warm and sticky all over my stomach and thinking "O crap", I should have bought those diapers one size bigger… Next stop, home to change.   Well, besides carrying size 6 diapers around for my 7-month-old, (yes, he has a huge baby bum) I also keep a few other essentials in my diaper bag. Here's what's in my diaper bag right now and how I keep it to a minimum.
Disclaimer, this is what I pack for short outings, not for a full morning out which would require copious amounts of snacks, more drinks, and possible extra clothing for my kids.
This post last updated October 2019.
What's in my diaper bag these days
This post contains affiliate links. We are a participant in the Amazon Services LLC Associates Program, an affiliate advertising program designed to provide a means for us to earn fees by linking to Amazon.com and affiliated sites.
If you are still on the hunt for a diaper backpack you like, first see my list of these 20 cute diaper backpacks. I try to keep it pretty minimal with 3 kids.
One extra baby outfit for blowouts.
I throw in an old grocery bag or an extra ziplock for poopy clothes if needed 🙂
A water bottle. Update October 2019. I used to use the one pictured here, but for the past year swear by my Contigo stainless steel water bottle. All the kids can use it if needed without spills which is a lifesaver.
At least two diapers.  I now carry size 6 diapers only, even though the ones in the photo are size 4. I've recently had waaaay too many blowouts (well not me, but the baby ;-)) And since my 2.5 year old can wear size 6, it's easier to carry all one size, that I can put on either of them if needed.
Wipes. I put a small amount in a ziplock to save space and weight in my bag.  All those things add up and get heavy, right?! ( Thanks, Jane my awesome sister in law for the tip!)
Wallet & Keys
A snack. We've recently found one too many forgotten bananas in my backpack (too gross) so I've got to get better about taking stuff out if I'm going to bring fresh snacks! Whoops!
Related Post: Lillebaby Ring Sling and Lillebaby Toddler Airflow Review
How I pack my diaper bag
Related Post: Top 10 baby shower gifts under $10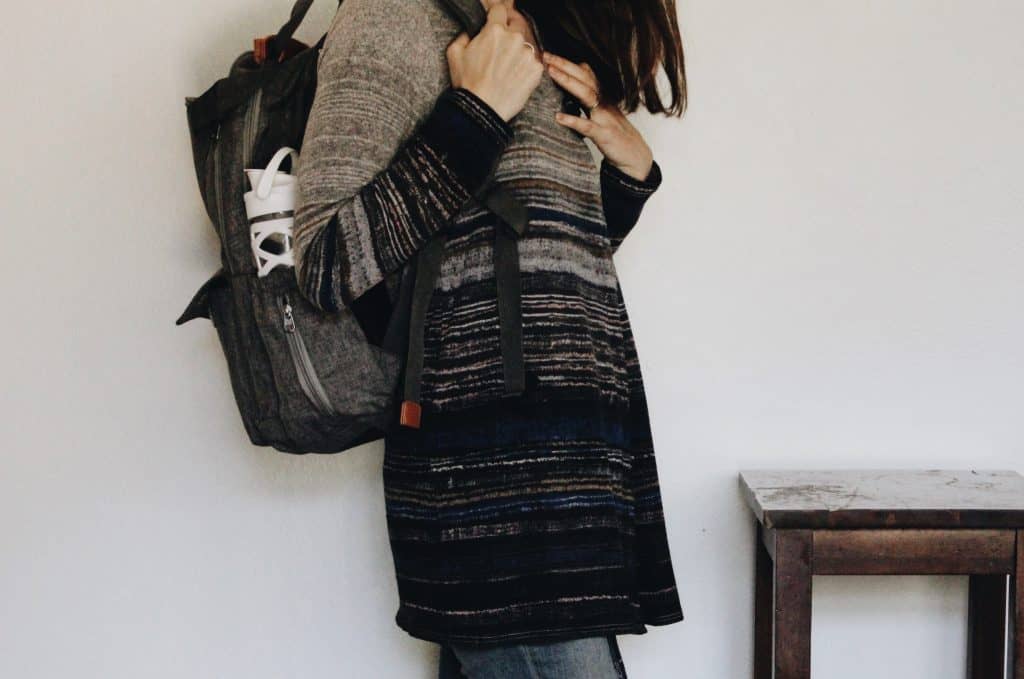 And that's what's in my diaper bag for a short every day outing! Of course there are times I stuff it a lot fuller, especially if we are going to be gone for any longer length of time. What would you say are the things you can't leave without? Let me know below or come say hello over on Instagram!
Follow Blue and Hazel on Instagram
SaveSaveSaveSaveSaveSave