The month of January was one of the most exciting and exhausting months of my blogging journey so far. At end of December, I was pulling in around 1,000 monthly pageviews.  Everything I did for my blog was random, and I hadn't seen much growth since I started my blog last year. I decided that January was going to be my month to learn Pinterest and get to 10,000 pageviews so I could finally start earning passive income on my blog.  I'm a stay at home mom of 3 kids under 5 so I didn't have 8 hours a day to blog. But I did spend at least a couple hours every day during this time to write evergreen posts, learn Pinterest, make pins, and promote. Here's exactly what I did to see my massive blog traffic increase so that you can go do the same thing.
This post contains affiliate links
My massive blog traffic increase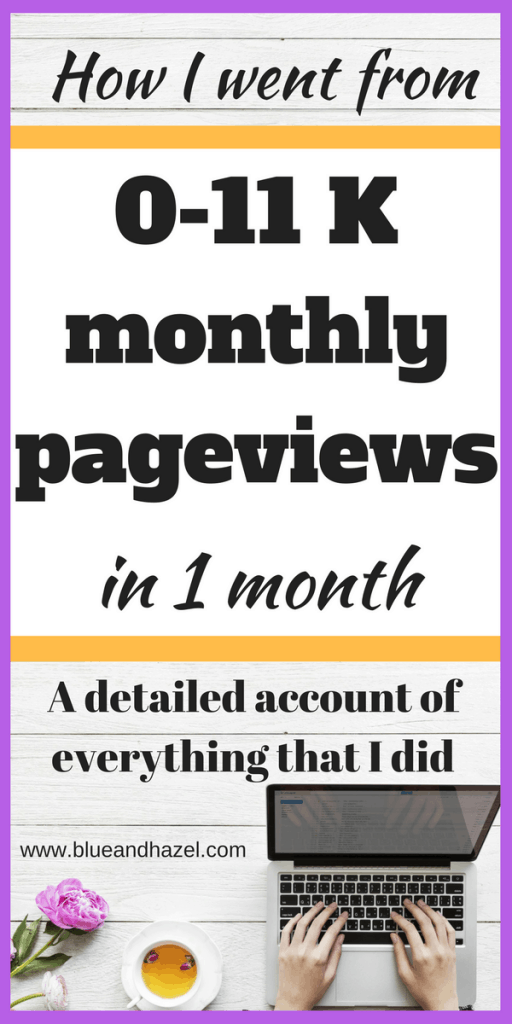 The product I purchased to learn everything that got me here:
Zero to 10,000 Pageviews in less than 30 days by Anna at saltinmycoffee.com.
Cost: $29
Assessment: I told my husband I couldn't believe all the help this gave me. I would have been lost without it, and a lot of important things on my website would not have been properly set up to expect traffic, like an email list, what things to do each day, what kind of posts would likely bring me the most traffic, and advice on using tons of different social platforms to share posts. I would reference this Ebook every time I felt lost at what to try next.
The state of my blog before this month
Before I got started, I had around 30 blog posts written.  None of them were SEO ready (how Google ranks you for those of you new to blogging).  Most of them had no pins made for Pinterest, and the ones that did were awful.
I had Adsense installed with a few native ads but hadn't made more than a few cents. More on that later.
I used my blog primarily as a dumping ground to get free product so it was full of sponsored posts.
None of my posts linked to other posts so my bounce rate was around 90% (so 9 out of 10 people left after reading 1 post…that's bad)
I had no idea what I was doing on Pinterest, didn't have rich pins set up, and was clueless about the importance of keywords in pin descriptions, board names, and how to use group boards.
Most of my energy had been spent on growing my social media platforms in order to get free product through sponsored posts. Rarely did anyone visit my blog from Instagram or Twitter or Facebook page.
Proof that something was working
This is a screenshot of my Google Analytics.  You can see the massive blog traffic increase happened in the last half of January.  In the first couple weeks, I was positive I wouldn't make it to 5,000 monthly pageviews even. (But hey, even that would have been an awesome jump for me!). Right around the two-week point a couple of new posts really took off and I got my first couple viral pins!
Also, to be 100% honest you will notice my dates are from Jan 1-Feb1, which I am calling "1 month". My original tracking goal was 10,000 from Jan 1-Jan31, however I was 23 pageviews short of 10,000 at the end of Jan 31. Talk about SUPER frustrating! That's just proof that a lot can happen in 1 day.
Read on to see what worked!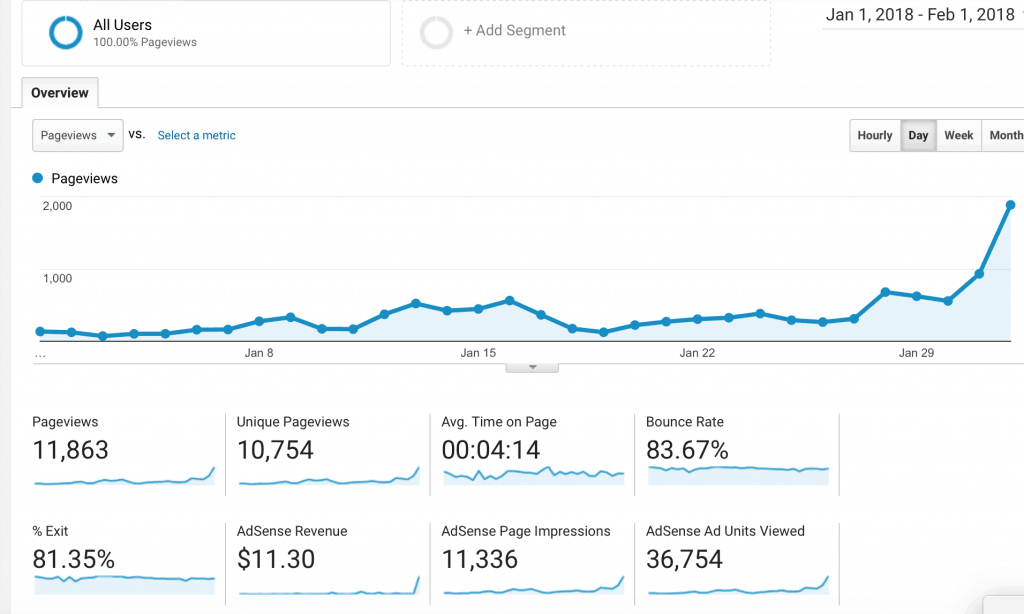 Daily pageview goal
One thing Anna broke down for me was that to get 10,000 pageviews (which was my goal), you need 333 or so every day. In the beginning even 100 or 200 was really hard.  But if you are doing what I talk about in this article and promoting new and old evergreen content, hopefully you can get more than 333 by the end of the month which will make up for days with less.
How I learned Pinterest basics
Anna goes over a ton about Pinterest in her Ebook Zero to 10,000 page views in less than 30 days. It is really awesome for beginners, and she explains it well.
I also signed up for this free 5 day Pinterest video course called Pinterest Primer from McKinzie at momsmakecents. It's really helpful and totally free! She gives you a 10 minute video to watch each day with actionable steps for setting up a Pinterest account and I would recommend doing this first thing!
It was perfect because I knew a little about Pinterest but needed some actionable tips on what to do and how to set my account up right so that Pinterest would show my pins to people.
I also highly recommend reading this article about best practices for pinning straight from Pinterest themselves.
Things I had to do on Pinterest
Change from personal account to Business Account
Delete boards (or just make them secret boards) that had nothing to do with my audience
Make rich pins
Reorder and rename my boards to reflect my blog topics
Join Group Boards in my niche and LOTS
Pin daily, around 50 pins
Redo my profile description, board descriptions, and pin descriptions for my personal pins.
Manual Pinning
Anna's Ebook Zero to 10,000 pageviews in less than 30 days has an example of how she keeps a manual pinning spreadsheet and knows what to pin where each day. It's GOLD. And she gives you a template.
Manual pinning is free. So that was my option. I didn't like the idea of spending money on Tailwind each month when I wasn't making much money. It's crazy how fast expenses can add up and I just didn't have the money to do that each month at this point.
I pinned every day, a lot of pins. Probably 50 pins a day.  I pinned a lot of other's content at first just to fill some of my new or empty  boards. Get a good 30 or more on each board to start. At the beginning of this month I only had maybe 10 pins of my own for 30 blog posts written, so each day I tried to make new pins for old posts, and post those to group boards.
Making new pins
Getting new pins on Pinterest was my game plan for getting discovered.
Making pins, researching what pins catch your eye on Pinterest and why takes time! So be patient, one or two new pins per day for old posts is doing great!
When I made a new pin, I posted it to all relevant group boards that day, spread out every 15 minutes or so. After that I would just try to make sure every pin got pinned to some group board every day, and more if possible so long as I was following the rules of each group board and not spamming. Now I pin about 50% my own content and 50% others unless I'm too busy. (I always try and repin from any group board that I pin to, more on that later).
How to not spam group boards
The best way to check that you are not spamming is to click the little box that Pinterest pops up after you pin. The box says what board you pinned to, click it and it takes you to the board. Then, you can see your pin there, and can scroll down a tad to see if you can see any other pins (mostly looking that there are not two of the same).
Some boards are slow and some are fast moving, so checking will help you not spam.
It's a sure way to not spam boards, and you can delete the pin if you need. It's also a great time to quick repin from the board to keep the board "healthy". Pinterest will not show as many pins to people from an unhealthy board, so to keep it healthy pinners must be pinning to and from group boards.
The best manual pinning coach on the Internet:
If you are pretty familiar with Pinterest already, or even if you are not and are ready to spend $32 on the most in depth manual pinning strategy I've heard of, I recommend the Ebook Pinterest Strategies from Carly, an expert mom niche blogger and total Pinterest geek. Her Ebook was recommended to me by so many bloggers that I trusted, that I gave it a shot and I'm so glad I did.
For full disclosure I actually didn't buy this my first month getting to 11,000, but rather just after that. But you can see that in February my page views went nuts. I had a few pins go viral for this post, including a pin with over 13,000 repins! Plus a few semi viral pins for other posts. I credit a lot of that, and a little luck, to Carly's manual Pinterest strategies.
I mean, if I could make every pin go viral I would! But you can't win every time. But you can really up your odds to making a good pin and promoting a good pin by teaching Pinterest what your pin is about. She teaches you to do this through the boards you pin to, pin descriptions, how to know when a pin is just not working, and much more.
Why Carly's Pinterest Strategies were key
Carly taught me how to use Google Analytics to repin the pins that were bringing me traffic. She taught me how she manually pins (even still, getting hundreds of thousands of monthly page views just over a year into blogging).
I learned how to make better pins for mobile traffic, and how often to pin the same pin without being spammy.  In other words not every great pin gets pinned to every relevant board every day, rather maybe one great pin gets pinned 3-4 times daily on group boards. If anyone nows how to get Pinterest favor, it's Carly.
Here's a snapshot of my analytics the following month. This is to show you that something here was working. It's hard to pinpoint exactly what worked, and what didn't. But either way, to grow traffic quickly I think you do need some kind of Pinterest strategy, if not this exact one.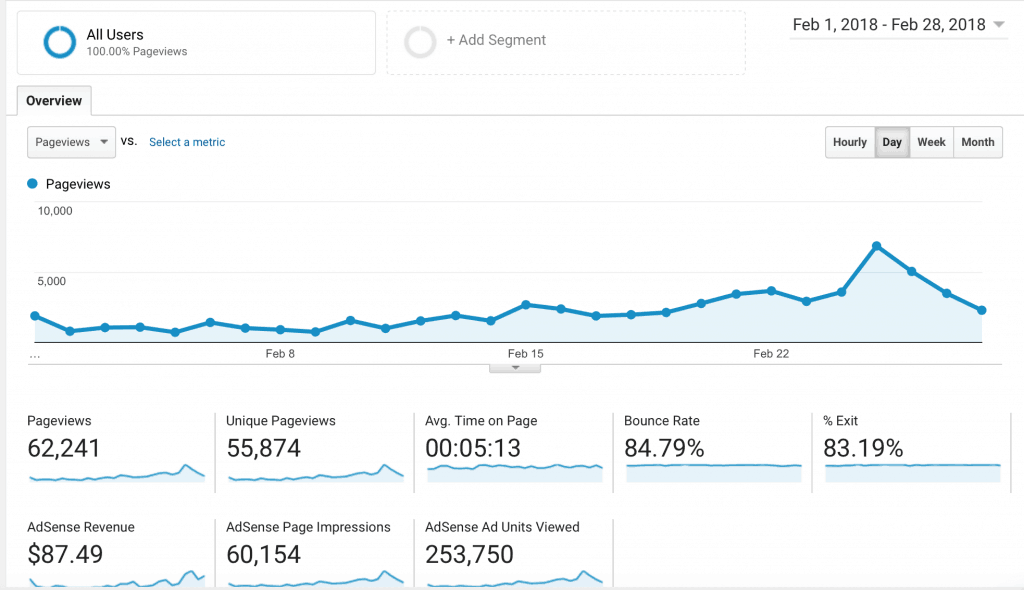 Apply for group boards specific to what you blog about
With less than 1,000 followers on Pinterest I knew I needed to get on a lot of good group boards. I searched other motherhood bloggers profiles on Pinterest to see what group boards they were a part of. (Just scroll to the bottom of all their boards and you will likely see group boards). If I found a board related to moms, babies, toddlers, preschool, or making money, I applied.
Before seeing any real traffic I spent the majority of my time this month applying to group boards. Like every day. It paid off, as I got onto about 30 (not all are great and I will be leaving some that I never get repins from). This is the single most valuable thing you can do to get started because it takes a ton of time and no one is going to read the most amazing post you just wrote if they can't find it. It's my goal to get onto at least 50 group boards that all repin my content.
How to apply for group boards on Pinterest
Then I applied if there were instructions on the description of the group board. Most wanted my Pinterest email and Pinterest URL.  You must include those when contacting the board owner.  Also, in order for them to add you as a contributer, you have to follow them and the board.
To get on 30 boards I probably sent out 100 emails. Only a few boards had over 5,000, but most were around 1,500-3,000 followers.  I found the boards that were repinning my pins were the mama niche boards (all my pins are mom pins), not the group boards that accept all niches.
It helps Pinterest to know what my pins are about when I pin a preschool pin to a board that says "Homeschool Preschool" or "Toddler Activities" rather than "Pin your best pins". Since I write about babies, mom life, frugal living, and preschool, and some recipe posts, I will be more focused on finding more boards specifically for those types of pins only.
To tell if a board is a group board, you will see the circle in the corner with multiple faces, like the ones below. Can you guess who my audience is?
Trying out a pin scheduler
I chose to try my hand at Boardbooster instead of Tailwind due to pricepoint alone. However I will say I think this only nominally brought me traffic since I didn't have a ton of pins made, wasn't on a ton of group boards till half way through the month, and in general didn't have a good gameplan for what I would pin manually and what I would schedule.
Boardbooster is as low as $5/month for 500 pins if you do want to try it. I'll be honest in saying that while it probably helped get more pins out there for me, I don't think it was the reason for my success and am barely using it at all even now when my page views are much much higher. I don't think you need a scheduler but if you can figure out how to use one (which takes a lot of time), then it can save you time later I'm sure.
What campaigns I scheduled
I only used Boardbooster to set up 2 of their "random campaigns" that pinned my selected pins (in random order) to relevant group boards at a random timeframe. One for motherhood posts, and one for kid posts scheduling only a total of 18 pins per day. Other's content I pinned manually. But since I want to be honest in sharing everything I did this month, this is part of it.
One thing I did do a few times was to do a "scheduled campaign" for new pins.  I'd schedule a new pin to get pinned every 15 minutes to all relevant group boards.  It was easy to schedule that so I wasn't on my phone as much. I would like to utilize this feature a bit more.
How I learned to use Boardbooster
I bought a course for $27 called Boardbooster Breakthrough from McKinzie at momsmakecents. She gained my trust from her free course I took that I mentioned above. I love that she lets you buy in pieces for what you really need help with. And I needed help figuring out how to automate some pins without losing my mind figuring out Boardbooster.
She showed me exactly how to use it, what the different schedulers are for, and walked through how she has her account set up. That saved me probably 10 hours no joke.
And, with Boardbooster Breakthrough, there was a code for 3,000 free pins if you start a new Boardbooster account (worth $30, normally Boardbooster charges $5 for 500 scheduled pins). So be sure not to sign up for Boardbooster before getting those free pins from the course if you plan to buy it (I had just signed up so unfortunately wasn't able to use the promo).
Boardbooster Tribes
Boardbooster has this function that was new when I found it. Basically, I joined Tribes related to the pins I would be pinning. You can do this on the Boardbooster platform after creating an account. Most tribes repin two of yours daily and you pin two of theirs. (Boardbooster automates this so it's pretty fair). Each tribe has it's own rules.
For the sake of transparency I'm telling you about these since I used them. But, I will say that I pulled out of all my Tribes after this power month because I didn't like the quality of Pins that were getting auto pinned for me from these Tribes. Nor did I like that the pins of mine getting pinned by these Tribes were getting almost no repins (thank you Boardbooster for the transparency). So basically, this was a useless experiment and I would only do it again if I could join an exclusive Tribe that had really quality pins.
I don't want to be pinning ugly pins, as that decreases my credibility with the Pinterest algorithm if pins are not repinned.
New pins for old posts
I went through and as I could (daily almost) made an old post new. I made two pins for each post, put one in the blog post itself, and pinned both to group boards every day.  Not to every group board daily, or it would be spammy. I make my pins in Canva, using the dimensions 600 x 1200.
For each pin, I would name the file with my keyword on my computer before uploading to my blog post, because Pinterest reads that to help them figure out what my pin is about. For instance, my preschool pin was named "teach preschool at home"on my computer file. That phrase was also part of my alt text description for the pin on my blog as well as my Pinterest pin description.
I added keyword rich descriptions with about 4 releant hashtags to the alt text of the image in WordPress because that is sometimes what Pinterest pulls the description from to apply to their search engine. So my alt tag for the pin in my post says something like "How to teach preschool at home. See what kids need to know before Kindergarten, and how to make an easy preschool routine. #preschool #toddler #sahm #blueandhazel #preschoolactivities" And yes, I guess Pinterest now likes a few hashtags for organizing so start doing that if you are not.
Setting up email
The point of email subscribers is to email them so they come back to your blog, and hopefully buy something from you down the road when they trust you!
I'll be honest. I set up email and collected emails, which Anna taught me how to do in her course Zero to 10,000 page views in less than 30 days.  but I didn't actually connect with them during this month. Which is exactly what your not supposed to do. And since you can email your list with new blog posts, to get the extra few page views you will be scrapping to get this month, I should have done that in hopes that it would bring some repeat visitors and add to my 10,000 goal. Whoops.
I chose Mailchimp because it is free for the first 2,000 subscribers. I erased my original optin that said "subscribe to my blog for updates" that got a whole 2 subscribers ever and replaced it with an optin form targeting moms with preschool age kids.  Then I learned how to set up Mailchimp so it would send my subscribers the link to their freebie hosted on my website. You can learn how to set everything up by going here.
My opt-in freebie, because you need one to get subscribers.
I made a freebie in Canva for signing up for my list. It was a daily preschool checklist.
I embedded the sign-up form on my two new posts related to preschoolers and gained about 200 subscribers! It was a content upgrade meaning people visiting that page were obviously already interested in preschool.
As a mommy blogger, I will be trying to find other optins for posts that don't have preschool related content and will learn to email separate lists with relevant content. I've heard it's much easier to do that on Convert Kit. That's one problem of having a broad audience of moms is that not all moms want to be emailed about the same things.
Also, MailChimp just last month added a new amazing automation feature for free. You can now automatically send welcome emails to your subscribers even after they get your freebie! That is something I didn't set up this month, but did the next month.  You can sign up for Mailchimp free here.
Added affiliate links
This month I earned $22.48 as an Amazon Affiliate! I knew if I could make that, I could add a zero eventually!
I went through my most popular posts (because this takes time to do!) and added affiliate Amazon links to products I was naturally talking about within the post.  It's my goal to make sure every post has a relevant product linked that isn't salesy, but honest.  I'm also a part of a couple other affiliate programs that have not earned a penny.
One thing I realize is that readers really take my recommendations to heart enough to purchase if it solves a problem for them! For instance, in my post How to teach your kid to read using this one easy book several people have purchased this book every single day. Not only do we love and use it, but my readers had to actually purchase it if they wanted to teach their kid to read with it like we did. That post was genius because it solves a problem for those wanting to teach their kids to read, and the product in my post is the way to solve the problem.
This made me realize that 1. only recommend products I believe in and 2. every post needs to have affiliate links so that it can be monetized.
Stopped sponsored posts
During this power month, I intentionally took on no sponsored posts. I was realizing that as much as I love doing them, I had no time to create my own content or to work on a blog traffic increase strategy. went on hold.
Social media paused to save time
I completely dropped doing new Instagram posts, as that also takes a lot of time and brings no traffic to my blog. Instagram is more to grow a brand presence as well as to get sponsored posts at this point.
I also stopped putting any time into growing followers for my Facebook Page. Or Twitter. Because those take time and I had to put all my time to learn Pinterest, make pins, apply to group boards, and write good content.
Yes, when I finished writing a post I'd add it to those pages. But I did not spend much time growing those numbers. Just advertising on them. Even still, Pinterest was 99% of my traffic, so it really makes sense to put your effort there this month.
How I advertised besides Pinterest
I posted 3-5 times daily on Twitter as I remembered. Weekly with a new post on my Facebook page, and about every few days on Google Plus. I wish I had time to get to all the other channels! Anna goes in depth in her Ebook i told you about, such as Stumble Upon and Reddit. However that will be another time for me. I really focused on Pinterest traffic and that is what did it for me.
One thing I did to work on my blog traffic increase was to post daily on some sort of share thread on Facebook. Usually one thread per day because reciprocating is time consuming. Being small I was pretty much invisible and not ranking high enough on Google any organic traffic.  So I tried to find threads to boost traffic. While these threads can be time consuming, I searched for and joined groups like "blog share thread" or "Pinterest repin thread" or "mom blog"
It wasn't the absolute best use of time, and mostly results in one time traffic. But it added a few hundred extra blog visits which do add up when you are aiming to get to 10,000 or higher! Anytime someone else can share your post it is going to hopefully increase traffic.
Writing new content
Anna inspired me to think about writing only evergreen posts to really see a quick blog traffic increase. I tried to think about what I would google about as a mom, or type into a Pinterest search.
I had time to write about three new posts over one month. And promote. A post not promoted is no post at all. And then made two pins for each post, and pin pin pinned daily. Before writing a post I did tons of research. I scoured Pinterest for pins that went viral. What  content would never get old and would solve a huge problem lots of my ideal audience had?  You can see my posts I wrote during the month here:
How To Teach Preschool At Home; A Practical Guide
How To Teach Your kid to Read Using This Easy Step By Step Book
One Family, One Income, 5 people; How to live on $3,000/month
Check your Google analytics
Sadly, this will consume your thoughts for a while as you have this huge goal to hit. I checked mine a lot, too much really. Numbers can be sad to look at, but motivating too. I found often times I would start to receive blog traffic increase for a pin 3-4 days after I pinned it consistently. Not sure if that's how Pinterest works, but know that it can take a while to see the traffic.
To see what channels are sending you traffic go to Acquisition –>Social –> Overview.
Set up Adsense.
Hey, you won't make much with them but it's something! I made like $11.30 my first month, and $87.49 the next month. You want to set up ads before you get a blog traffic increase, which means now. And when you get to 25,000 sessions, you  can apply for Mediavine which pays waaaaay better than Amazon. I just got accepted in March so I'll update this with how it pays soon. ( I know that seems impossible now, but it's not! Keep working!)
Summary
There are just SO many things to do to see a blog traffic increase. It's overwhelming.  Getting my first 10,000 page views in a month was about 10,000 times harder than going from 10,000-25,000 page views. You have so much ground work to lay. So work hard and know that you will rest soon, and hopefully enjoy some passive income in the near future! I cannot guarantee an outcome for you.  But I can show you what worked for me, and show you the resources I used to learn from. Hope that helps you! Let me know what your last biggest blogging victory or problem is in the comments. I'll reply!
SaveSave
SaveSave
SaveSave
SaveSaveSaveSave
SaveSave
SaveSave
SaveSave
SaveSave
SaveSave
SaveSave
SaveSave
SaveSave